WWII 10th Mountain veteran visits Fort Drum, shares wisdom with some of Army's newest recruits
By
Watertown Daily Times, N.Y.
August 11, 2022
---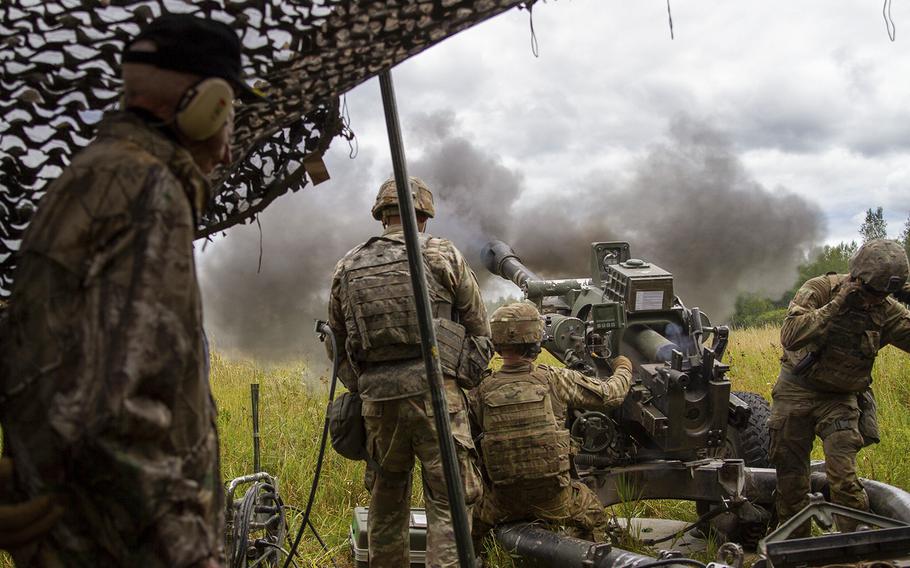 FORT DRUM (Tribune News Service) — On a relatively cool August afternoon, the past, present and future of the 10th Mountain Division came together on an artillery field on the training grounds north of the division's home post.
Joined by some of the most senior commanders in the 10th Mountain Division, World War II veteran of the 10th Mountain Division Hilton R. Labow visited the post on Wednesday to meet new recruits, division leadership and to witness some of the modern Army's most interesting equipment.
At the newly opened 10th Mountain Division museum outside Fort Drum, Mr. Labow looked at exhibits that explained his own experiences, fighting at Mount Belvedere and Riva Ridge in the Italian campaign during World War II.
Mr. Labow was 21 years old at the Riva Ridge battle that gave the original 10th Mountain Division its most well-known stories. An infantryman and rifleman in the 87th Regiment, he said he still recalls the orders that Maj. General George P. Hays gave to the men as they advanced on enemy positions.
"We advanced all the while," he said. " General Hays didn't believe in retreat."
He said Gen. Hays ordered his men to march forward with just their bayonets ready, unloaded so an errant shot wouldn't risk giving away their location as they slowly advanced.
The Maj. General, the first to command the 10th Mountain Division in combat during its first years during WWII, earned a Congressional Medal of Honor for his leadership and success, with his division, in the war. The division's main headquarters on Fort Drum today is named after Maj. General Hays.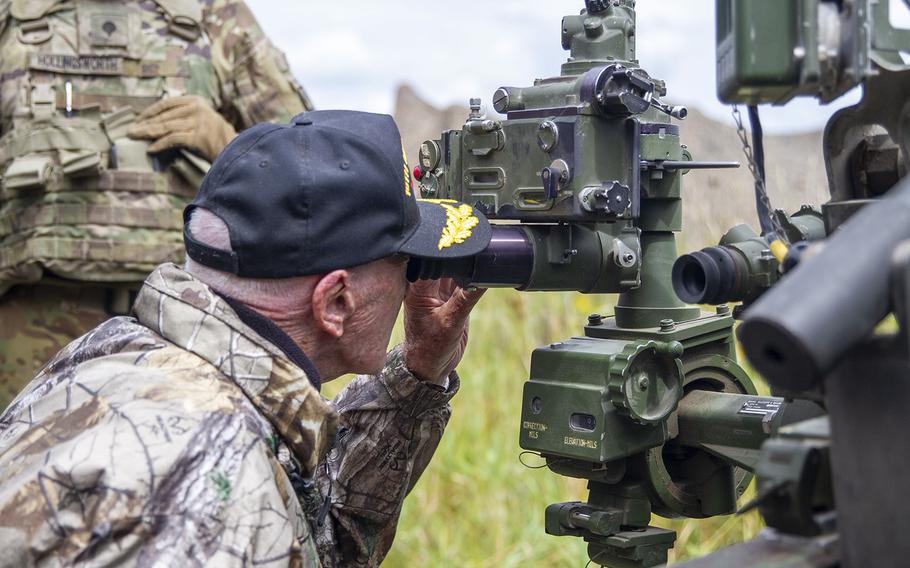 The 10th Mountain Division, in that war, was laser-focused on Alpine, wintertime combat. Trained at Camp Hale in Colorado, the division was well-suited to the Appenine Mountains where they fought and took control of German positions in the mountains and successfully destroyed five German divisions and opposed more than 100,000 German troops, sustaining 5,000 casualties and 999 deaths in action.
The Division was briefly stationed in Yugoslavia following the German surrender and was deactivated at the end of November 1945. The division was briefly revived in the late 1940s for training, sent back to Germany as a full division in the 1950s, before being shut down again in 1958. It wasn't until 1985, following the publication of Col. Michael T. Plummer's "Light Infantry Division White Paper," that the 10th Mountain Division's modern iteration was formed in Northern New York.
Mr. Labow, who grew up in Hailesboro, St. Lawrence County, just south of Gouverneur, said he was extremely pleased to see his old division reactivated again in the 1980s.
When he heard Fort Drum would be the home, he said he wanted to see it immediately.
"I wanted to get over here right away," he said.
On Wednesday, Mr. Labow and a number of the division's senior commanders oversaw a live artillery fire drill, part of the division's ongoing training exercises. Howitzers, long-range artillery that is now common in Army operations, fired their massive rounds across Fort Drum's training grounds at regular intervals. The guns, which now use digital targeting systems, are much larger and more advanced than the original equipment Mr. Labow would have seen during combat in Italy.
As explained by Colonel Thomas A. Gottke, Commander of 10th Mountain Division Artillery, Mr. Labow would have worked alongside Pack 75 howitzers, much smaller, more portable artillery that could be easily moved with sleds and manpower as the division advanced over rough, mountainous terrain.
Mr. Labow was given the chance to see the new, modern guns up close and personal. He was given the rare chance to step behind the sights and see the way the modern weaponry used by the 10th Mountain Division operates. He said these weapons are clearly strong, effective and used by well-trained soldiers.
"You're only as good as your artillery," he said.
Mr. Labow has been a guest at Fort Drum a few times over the years, and as a veteran of the division's original team, he's always treated with the utmost respect and awe.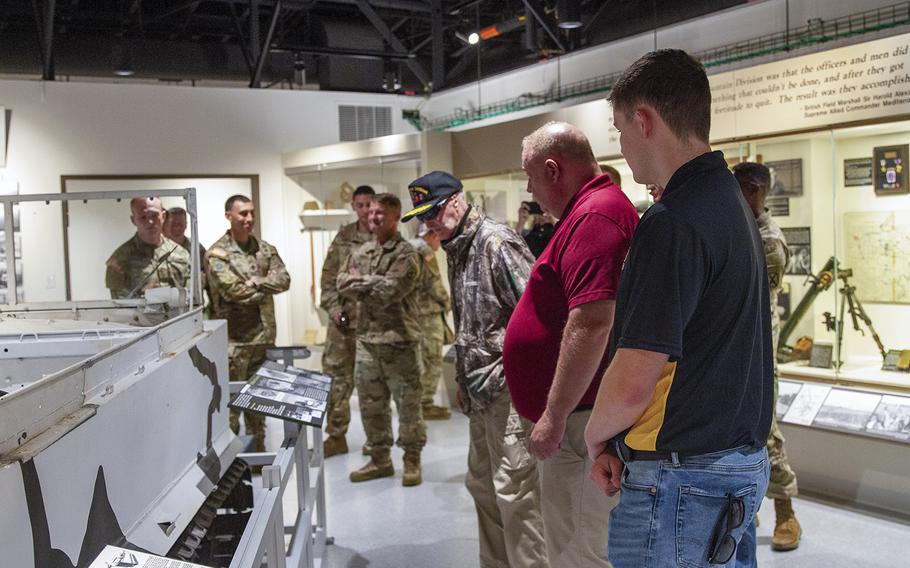 Also in attendance on Wednesday was one of the Army's newest recruits, Evans Mills native Keegan J.M. Larive. The 22-year-old SUNY Oswego graduate enlisted on Tuesday, and said he was more than honored to be able to meet one of the legends of the 10th Mountain Division, the division his stepfather serves in and the division he hopes to serve in. Touring with the senior commanders of the Army's most-used division is far from a typical first day for an enlisted man, and Mr. Larive said he was honored to be present.
"It's a privilege to have everyone here, gathered at a day like this," he said. "I didn't expect myself to be here, it was nice, like paying homage or respect to someone that served during World War II."
Mr. Larive spoke with Mr. Labow, who said the Army is in need of strong, aware and honorable men.
"We need a good army," Mr. Labow said. "Freedom isn't free."
Colonel Matthew W. Braman, Deputy Commander at Fort Drum, was one of the senior division leaders in attendance for Wednesday's event. He said it was incredible to hear the history of the division from someone who saw it.
"Having met previous original members of the division in the past, I'm reminded of how few are left," he said. "The opportunity to have an original campaign man come to Fort Drum, see the division's museum where he was part of the history, it's pretty amazing."
As the live artillery training wrapped up, Mr. Labow was handed a challenge coin for the 15th Field Artillery Regiment, to signify his time with the regiment on Wednesday and his incredible history with the division.
"I'll put it right next to my heart," Mr. Labow said as he accepted the coin.
___
(c)2022 Watertown Daily Times (Watertown, N.Y.)
Visit Watertown Daily Times at watertowndailytimes.com
Distributed by Tribune Content Agency, LLC.
---
---
---
---