Point taken: US paratrooper in Italy cooks up incentives to get 173rd Airborne out and about
By
Stars and Stripes
August 11, 2022
---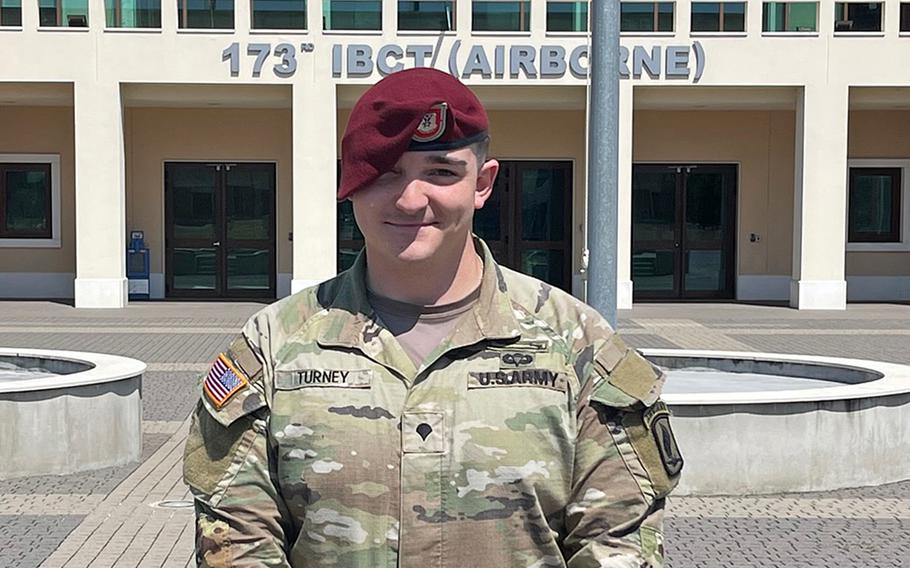 VICENZA, Italy — Spc. Harrison Turney was returning from a long weekend in Positano two months ago when he saw fellow paratroopers outside the barracks playing music and grilling meat.
That seemed like a waste to the 22-year-old California native. Why not go somewhere?
"They can grill out on a regular day," Turney said.
During his nearly three-year assignment with the 173rd Airborne Brigade, he's gotten around, traveling to numerous spots in Italy as well as to Ireland, Croatia, Greece, Monaco, Paris and Amsterdam.
"And some of these privates, they should be aware that you can go pretty far on a four-day (weekend)," he said.
So Turney and his girlfriend worked up an idea to encourage young paratroopers in the unit to do just that. By completing tasks, especially with others, they would get time off. He emailed the brigade commander, Col. Michael Kloepper, who loved the idea.
He and Turney jointly devised a points system consisting of 22 activities that allows soldiers to accumulate points and earn three- day and four-day passes. The incentive plan was implemented this month.
"Sky Soldiers like time off. We like Sky Soldiers to pursue excellence," Kloepper said in a recent statement about the program. "So we mashed those two ideas together."
The threshold for a three-day pass is 75 points, and a four-day pass requires 100 points. Troops are limited to one points-related pass per month.
The activities include going on hikes, visiting battlefields, taking college classes, volunteering, earning awards, maxing out PT scores and taking a weekend trip by train or plane.
Each activity has an assigned point value, and troops can earn extra points for most activities by taking part in them as a group of four.
The scale ranges from 10-point activities, such as visiting a European battlefield or cemetery by oneself, to 100-point incentives, which include beating the brigade commander's PT challenge with three other paratroopers.
Winning Soldier of the Month is worth 50 points and graduating from Ranger School is worth 100 points.
Anyone in the brigade can accrue points, including senior officers, said Maj. Rob Haake, a brigade spokesman.
He said Turney's brainstorming is "exactly what 'owning the brigade' should feel like by making it better no matter what rank you are."
As for Turney, he's off to his next assignment in October. It's with the 25th Infantry Division — in Hawaii.
---
---
---
---