Blue Grass Army Depot changes command
By
Richmond Register
July 13, 2022
---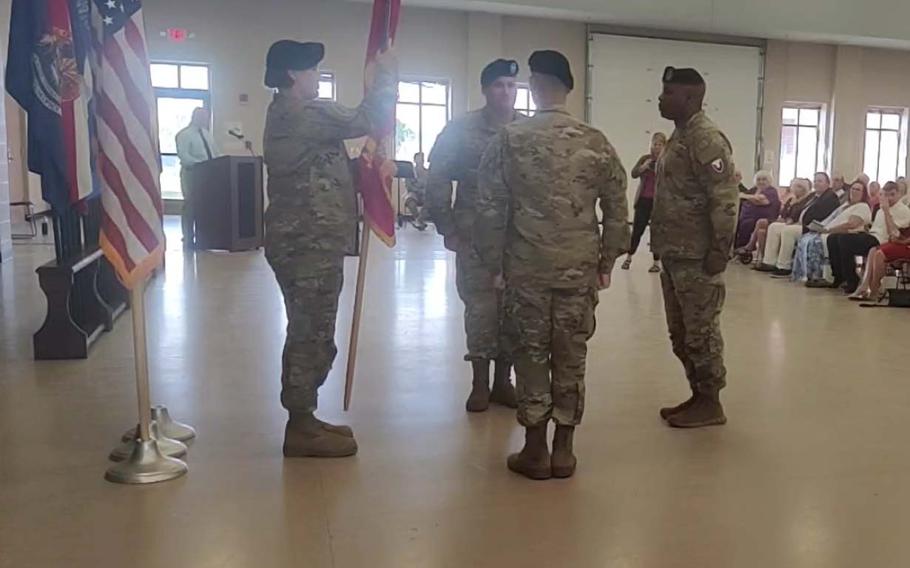 (Tribune News Service) — A change of command ceremony was held at the Blue Grass Army Depot on Tuesday morning.
After two years of commanding the depot, Col. Stephen Dorris retired and transferred his position to Col. Brett Ayvazian.
"This ceremony symbolizes a time-honored tradition of recognizing those who served in command with excellence," said Col. Landis C. Maddox, commander of Joint Munitions Command, who also presided over the ceremony. "Under Col. Dorris' leadership, Blue Grass (Army Depot) did just that by meeting delivery requirements 100% of the time for a total of 56 consecutive months."
The ceremony was an emotional one — an Army band performed throughout the official ceremony. Flowers and gifts were given to the families of both Dorris and Ayvazian, who were also in attendance at the event.
The passing of the colors served as both a symbolic and literal transfer of powers as Dorris placed a flag in Ayvazian's hands.
Col. Dorris gave a speech following the ceremony. In addition to thanking his family for their support, Dorris praised all staff at the depot.
"I can use the next few minutes to rattle off a lot of numbers and statistics to justify the relevance and successful accomplishments of this depot and this amazing team," Dorris said. "But I did want to take a moment and talk about the special people. Those who quietly and professionally perform their jobs each day to enable all of the capacity productivity we generate with a small patch of DOD real estate."
He noted these people work a variety of jobs and come from a variety of counties and even states on their commute.
"It's because of people who do all of these tasks and make it look commonplace — working with the same passion that they demonstrate for their UK Wildcat basketball team. Working like the Wildcats, this team of professionals just don't ever quit or even know how to fail," Dorris said.
Closing his speech, a teary-eyed Dorris embraced his friends, family and Ayvazian before the new commander of the depot gave a brief speech to the audience.
The new commander spoke to the Register about his time in the service and the future of the depot moving forward.
"Overall I have 29 years of service. I started off as an armor officer in 1994. I did five years active duty and took a break in service for eight years. During that time, I worked as a chemical plant manager for a civilian distribution company," Ayvazian said. "I decided that I missed the Army. … So I came back in as a reservist, deployed, and then decided I needed to do this full time, because I loved it that much. I transitioned back to the regular Army in 2011 and I've been here since."
He noted that his time working as manager of a chemical plant will be helpful in taking over at the depot.
"It certainly helps because it gives me some background on not just the chemical plant piece, but running a business operation — which is far from the norm as far as a logistics officer career at the Army," he said. "Running an organic industrial base site with the Army Working Capital Fund is completely foreign to most of us, but I've got a little bit of experience that might just help me figure things out a little bit quicker."
While Ayvazian is taking over at the depot during the final campaign to destroy the the GB M55 sarin gas missiles stored there, he was adamant that it was only part of the mission undertaken at the facility.
"Understand that the Blue Grass Army Depot mission, its conventional munitions mission will continue and endure for the long term," Ayvazian said. "Glad to be a part of that history, but I'm looking forward to setting the conditions for long term endurance for the rest of the depot and its operations. … We've got big things on the horizon. We want to get the word out that the Blue Grass Army Depot is here to stay for the long haul. Once the chemical mission sunsets this place; we will keep going strong."
William D. Ritter, the depot's public affairs officer, released a statement to the Register, clarifying that while the Blue Grass Chemical Agent Destruction Pilot Plant (BGCAPP) portion of the depot's operations is ending, there is still much work to be done at the facility as a whole.
"There is a misconception in parts of the community that the Blue Grass Army Depot is closing once the chemical demilitarization mission is complete next year. That is not the case at all. BGAD's primary mission is the receipt, storage, and distribution of conventional munitions, and that will not end when the chemical demilitarization mission is over," Ritter said. "The Blue Grass Chemical Agent Destruction Pilot Plant (BGCAPP), which handles the chemical demilitarization mission, is simply a tenant unit residing on BGAD land, utilizing BGAD facilities. BGAD will look for a new tenant once the chemical demilitarization mission is complete."
"We're gonna take a look at every aspect of it. Like we said, this is a business operation thing. Not your standard thing. So we have to take a look at reallocating some resources and sliding things around to make sure we've got enough support personnel to keep moving operations," Ayvazian said.
This will be Ayvazian's fourth time stationed in Kentucky after three stints at Fort Knox. He said he and his family have enjoyed their time in Madison County so far and are looking forward to exploring and sightseeing around the area.
(c)2022 the Richmond Register (Richmond, Ky.)
Visit the Richmond Register (Richmond, Ky.) at richmondregister.com
Distributed by Tribune Content Agency, LLC.
---
---
---
---