New patch authorized for soldiers with US Army Japan
By
Stars and Stripes
June 17, 2022
---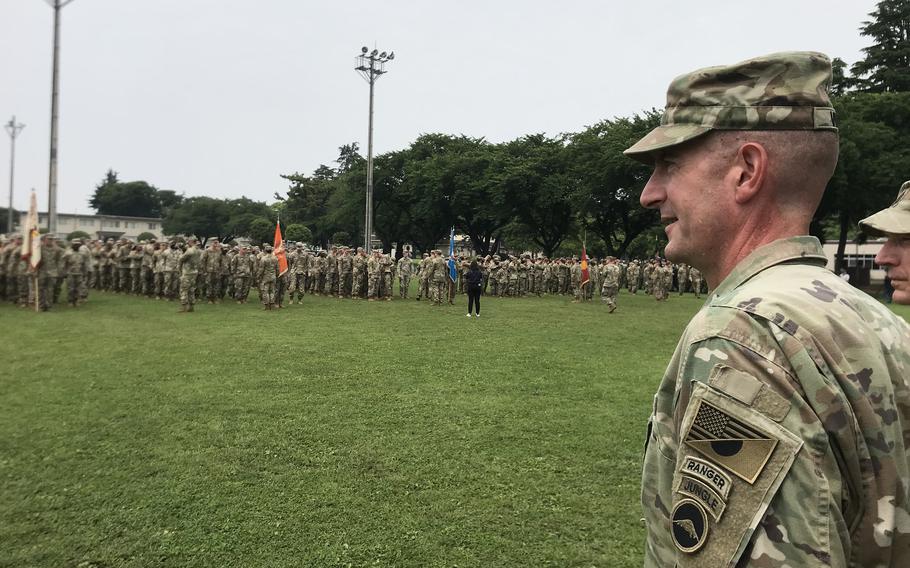 CAMP ZAMA, Japan — The commander of U.S. Army Japan has authorized his soldiers to wear a new patch symbolizing their alliance with America's Far East ally.
Hundreds of troops at the home of U.S. Army Japan in Kanagawa prefecture put on the rectangular patches depicting combined U.S. and Japanese flags during a formation Friday.
Five thousand U.S. soldiers spread across 17 bases in Japan are authorized to wear the patches, U.S. Army Japan commander Maj. Gen. Joel Vowell said Friday after attaching patches with fabric fasteners on several troops during the formation.
Soldiers in Japan work in a variety of fields doing everything from special operations to military intelligence, but all are focused on building relationships with their Japanese Ground Self-Defense Force counterparts, Vowell said.
"It's a recognition that everybody belongs to that mission," he said of the new patch.
About 200 Japanese soldiers assigned to Camp Zama are also authorized to wear the patch, he said.
One of those sporting the new emblem on his shoulder was Staff Sgt. Christopher Williams, 31, of Olympia, Wash., a bass player in the U.S. Army Japan band.
The new patch is as special to Williams as the Screaming Eagle badge he wears to signify his service in the 101st Airborne Division, his first unit, he said.
Soldiers assigned to U.S. Army Japan continue to wear the patch that features a depiction of Mount Fuji.
---
---
---
---