Infectious disease expert takes charge as Army's top health officer in Europe 
By
Stars and Stripes
June 1, 2022
---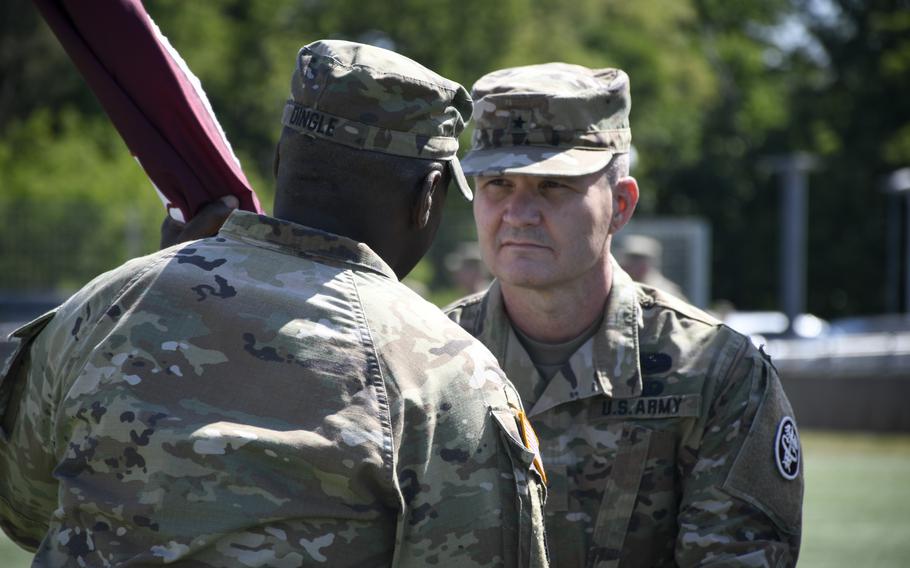 Stars and Stripes is making stories on the coronavirus pandemic available free of charge. See more stories here. Sign up for our daily coronavirus newsletter here. Please support our journalism with a subscription.
LANDSTUHL, Germany — U.S. troops are unlikely to have to endure a repeat of the heavy COVID-19 restrictions they faced during the early days of the pandemic, the Army's new top health officer in Europe said Wednesday. 
"The extreme lockdown that we experienced, I don't think we'll see that again," Brig. Gen. Clinton Murray told Stars and Stripes after taking command of Regional Health Command-Europe. 
The regional command provides medical and dental services to personnel in about 40 countries, including support for troops in U.S. central and Africa commands. 
Murray took charge of the unit from Brig. Gen. Mark Thompson in a ceremony at Landstuhl Regional Medical Center. Soldiers stood in close formation before dozens of attendees, all without masks. 
It contrasted starkly with the welcome Thompson received when he arrived in the spring of 2020, in the early stages of an outbreak that countries the world over struggled for two years to control. 
In his speech Wednesday, Thompson recalled the challenges of assuming command as the COVID-19 pandemic began raging. 
He thanked the medical staff, who he said had administered some 210,000 vaccine doses and 360,000 coronavirus tests. 
"You collectively did the impossible over the last two years," Thompson said. 
Thompson also noted efforts by the command to care for Afghan evacuees who passed through U.S. bases in Germany on their way to the United States after the fall of their country to the Taliban.
Medical staff at Landstuhl treated 391 Afghan patients and delivered 26 babies, he said.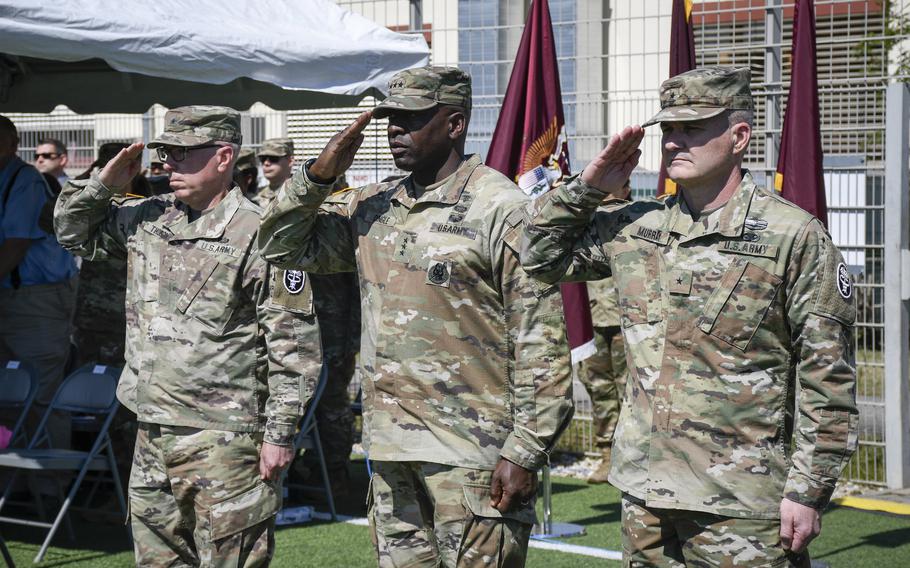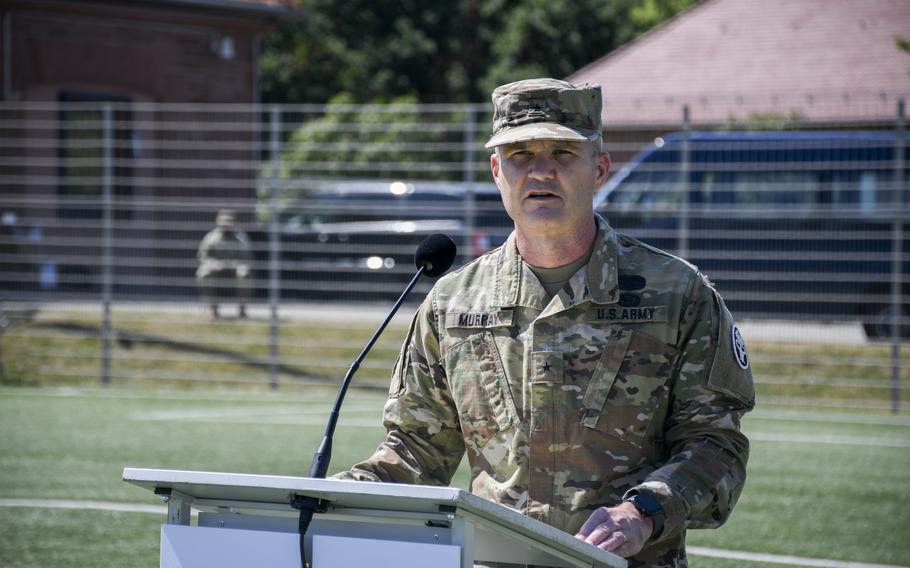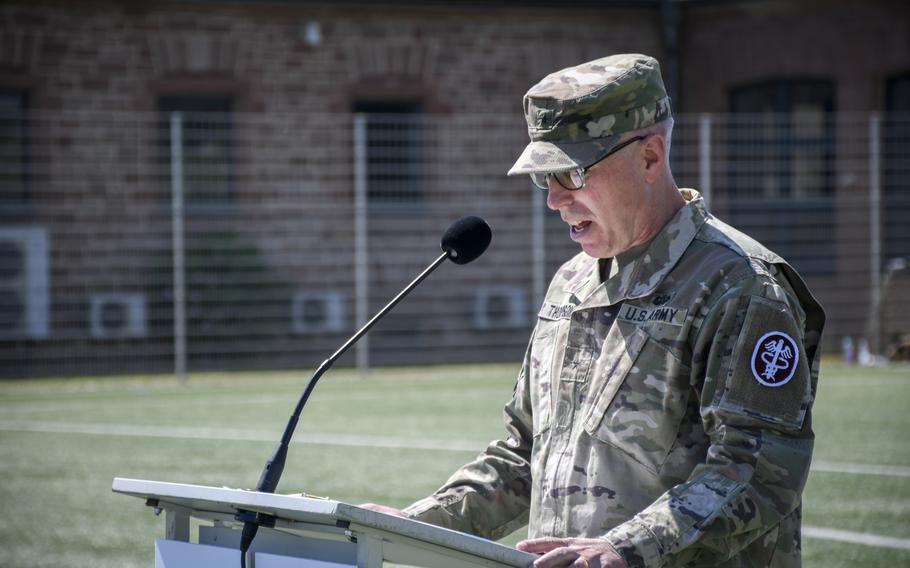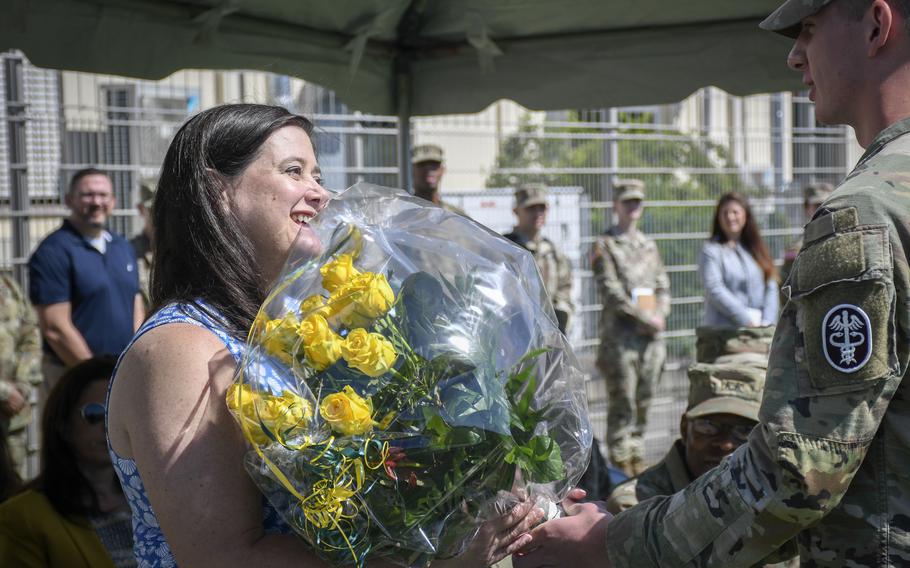 Thompson will head to U.S. Army Medical Command headquarters at Fort Sam Houston in San Antonio, Texas, said Gino Mattorano, a spokesman for Regional Health Command-Europe. 
He will trade cities with Murray, who previously helmed Brooke Army Medical Center in San Antonio. 
The harsh restrictions at the beginning of the pandemic were due to concerns about a lack of hospital beds as well as the absence of vaccines and testing tools, which are now available, Murray told Stars and Stripes. 
Health officials will have to see whether the virus continues to mutate into new variants. But should that happen, they're more prepared than they were at the beginning of the pandemic, he added. 
"We may move back and forth on wearing masks and having events, changing a little bit of what we do, but I don't think we'll ever go back to when we truly shut down," Murray said. 
Murray specialized in infectious diseases at multiple points during his career, according to a biography provided by Regional Health Command-Europe. 
He completed a fellowship in infectious diseases in 2002 and reviewed infection control procedures during a deployment to Afghanistan in 2012. He is a member of the Infectious Diseases Society of America, a medical association based in Arlington, Va. 
---
---
---
---