Purple Heart awarded to US special operations soldier wounded in attack in Africa
By
Stars and Stripes
April 12, 2022
---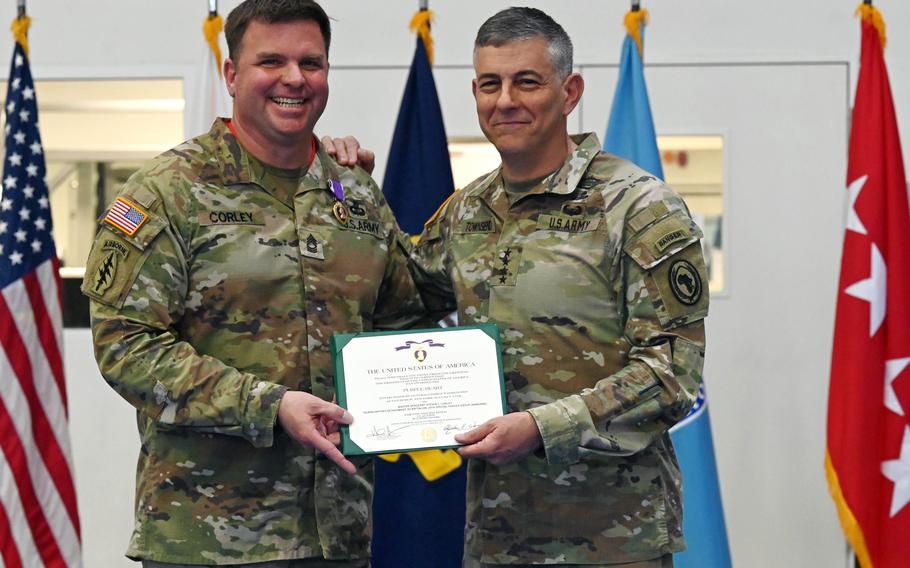 STUTTGART, Germany — A U.S. soldier serving in northwestern Africa was awarded the Purple Heart in recognition of his injuries during a January attack while he was leading a six-person team, U.S. Special Operations Command Africa said in a statement.
Master Sgt. Steven Corley, an intelligence worker with 2nd Battalion, 20th Special Forces Group (Airborne), received the medal at a ceremony Friday at U.S. Africa Command headquarters in Stuttgart.
SOCAFRICA did not detail Corley's mission or say where exactly he was operating when the injuries occurred.
However, in January, AFRICOM confirmed to Stars and Stripes that a U.S. service member had been injured when a French base in Mali came under mortar attack.
At the time, a small contingent of U.S. troops was in Mali to provide support for a French-led counterterrorism effort.
SOCAFRICA said Corley was responsible for "intelligence exploitation and integration with partners and allies," adding that he had aided partner forces in locating the enemy's position despite his wounds.
"Wherever you look in Africa, when it's somewhere tough or dangerous, SOCAFRICA is there," AFRICOM's Gen. Steven Townsend said in a statement. "Sergeant Corley did what U.S. forces typically do when wounded: stay in the fight until they pass out or are instructed to stand down."
Corley credited his military teammates and Landstuhl Regional Medical Center for his recovery.
---
---
---
---