Hawaii Army base brings help under one roof to victims of sexual assault and harassment
By
Stars and Stripes
April 1, 2022
---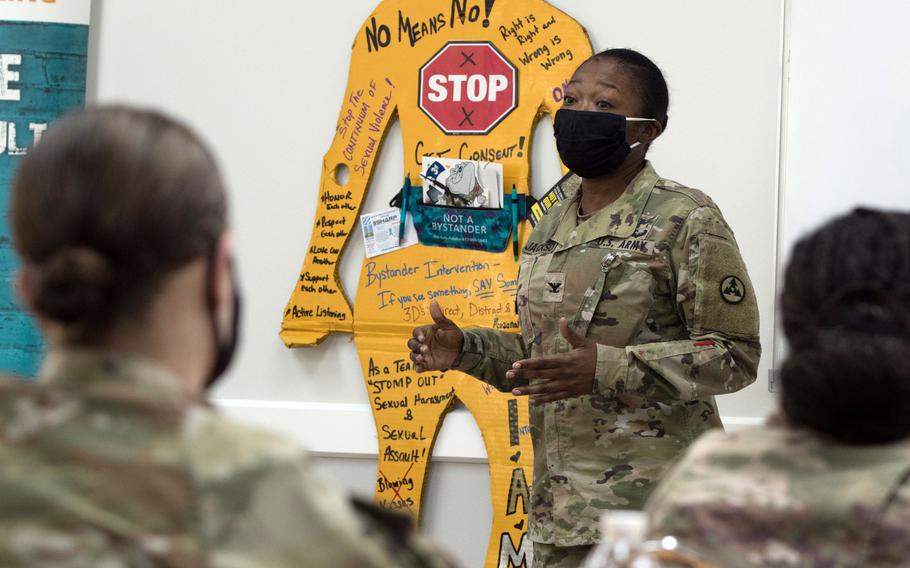 FORT SHAFTER, Hawaii – A resource center aimed at streamlining assistance to soldiers victimized by sexual assault or harassment opens Friday at Schofield Barracks on Oahu, one of six such sites the Army is standing up for a one-year trial.
The centers – formally called fusion directorates – are part of the Army's existing Sexual Harassment/Assault Response and Prevention, or SHARP, program but are intended to build a more victim-centered approach, said Jodee Watters, director of Schofield's fusion directorate, in a phone interview Thursday.
"We've always been taking care of victims," Watters said. "We've always been taking care of complaints. That will not change. What is changing is the synergy of it, the fusion of the agencies coming together in one central location for that client, whether it's sexual assault or sexual harassment."
The centers coordinate medical, investigative, legal and support services and are independent of the victim's immediate command.
All six pilot directorates are expected to be open this spring, she said. The others are located at Aberdeen Proving Ground, Md., Fort Bragg, N.C., Fort Irwin, Calif., Fort Riley, Kan., and Fort Sill, Okla.
The Army Reserve will pilot a virtual directorate for the 99th Readiness Division in New Jersey.
Sexual assault is a problem plaguing all the services. A Rand report issued last year estimated that one in 16 women and one in 143 men within the military have experienced sexual assault, with most incidents going unreported.
The fusion pilot program was triggered by the disappearance and death in April 2020 of Army Spc. Vanessa Guillen, who was killed by a fellow soldier at Fort Hood, Texas. She had twice complained to her superiors of being sexually harassed by a noncommissioned officer in her unit.
An Army Independent Review Committee concluded in a report later that year that her complaints had been improperly handled. More broadly, the report cited shortcomings in the Army's SHARP program that were obstacles to victims navigating the system.
"The Fusion Directorate is designed to specifically address some of the concerns that undermine Soldier trust in SHARP," Maj. Gen. Joseph Ryan, commander of U.S. Army Hawaii, said in an email Thursday in response to a Stars and Stripes query.
The pilot fusion directorates are all set up using the same basic framework, with some variations depending on local needs and circumstances, Watters said.
The staffing at the Schofield Barracks directorate includes a deputy director who oversees the day-to-day interactions by a team of sexual assault response coordinators, she said.
Three attorneys and one paralegal are on hand to work specifically for clients, she said.
There is additional space for personnel from the Criminal Investigation Division and a medical team, which includes behavioral health professionals, she said.
"When a person comes forward [with a complaint], it's already a stressing moment," Watters said. "So, to alleviate them having to go around to different locations on the post, we're bringing the services to them under one roof to make the process a little less stressful."
Watters reports directly to Ryan. That, in essence, gives victims direct access to the top commander if they have reason to believe their complaints are not being property handled by their immediate chain of command, Watters said.
There is value in providing "an additional mechanism outside of the victim's immediate chain of command for reporting," Ryan said.
"I believe in the chain of command but creating another option for those who simply don't trust that reporting mechanism is a positive step," he said.
"Soldiers must always feel comfortable raising allegations of sexual harassment or sexual assault, quickly receive the care and protection they need, and be treated with dignity and respect throughout the process," he said.
---
---
---
---