Celebrity chef Robert Irvine visits Fort Drum, provides meals to service members and their families
By
Watertown Daily Times
March 16, 2022
---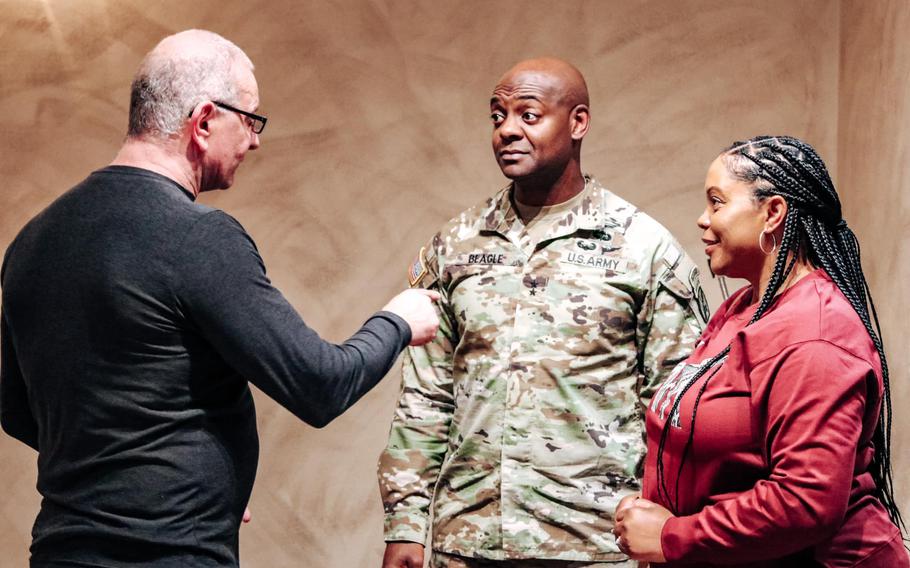 FORT DRUM, N.Y. (Tribune News Service) — Walking into the Commons on Fort Drum on Tuesday evening, it was hard to miss the mouthwatering aroma of barbecue.
The Commons is normally the home of the Army post's all-ranks club and community facilities, but on Tuesday, it was used for a social food event featuring a special guest: celebrity chef Robert P. Irvine.
Irvine is a world-renowned chef and entrepreneur, and a supporter of the U.S. military through various philanthropic endeavors. He visited Fort Drum this week as part of the Breaking Bread with Heroes program through the Robert Irvine Foundation, which he founded in 2014.
British-born and a former member of the Royal Navy, Irvine became a U.S. citizen in 2008. He joined the Royal Navy at the age of 15, rising to the rank of petty officer during his 10 years of service. Also in that time, he was introduced to the culinary world and worked as a chef. It instilled in him the importance and power of food and how it can be used to help others — especially those affiliated with the military.
"It's very important we support them, that we give them everything we've got, give them the tools to do their job," Irvine said. "That includes the big hug around the families when our posts are deployed. There's enough unrest in the world right now; we owe it to all these men and women and their families to give them that big hug."
On Monday morning, Irvine kicked off his visit to Fort Drum with a workout alongside culinary specialists from the 10th Mountain Division. He also visited the 10th Mountain Division Sustainment Brigade's Muleskinner Warrior Restaurant. The celebrity chef was at the 1st Brigade Combat Team, 10th Mountain Division's Warrior Inn Restaurant for dinner and to meet service members Monday evening.
Tuesday morning, Mr. Irvine paid a visit to Flight Line Dining Facility on Wheeler-Sack Army Airfield and interacted with Combat Aviation Brigade soldiers, giving some tips to Flight Line culinary specialists.
Funded by the Robert Irvine Foundation, Dinosaur Bar-B-Que served up meals to hundreds of soldiers and family members at the Commons on base at Fort Drum on Tuesday evening. The foundation donated the food, cooked on site by Dinosaur Bar-B-Que of Syracuse. The work began at about noon for Dinosaur to prepare more than 500 meals for the evening's event. The meal consisted of pulled pork sandwiches, St. Louis cut ribs, barbecue chicken quarters, macaroni and cheese, coleslaw and cornbread.
Attendees said the food was delicious and they were grateful for the meal. Chelsea A. Jones, catering manager at Dinosaur in Syracuse, said it is always a treat to serve the men and women on base. In the first 40 minutes of the event, she and her crew had already served hundreds.
For a good portion of the evening, Irvine stood greeting guests in a ballroom at the facility, asking them about themselves, laughing and joking. He especially made time for the kids who were present. One of the families he spent some time with included Staff Sgt. Christina A. Le, Sgt. 1st Class Henry L. Harley, and their son Giann T. Le.
"We're really grateful for it. It's nice for people — whether they're famous or not — just to be in the community and actually care about us military," Staff Sgt. Le said. "It means a lot that he's taking his personal time to come and see us."
Since the Robert Irvine Foundation's inception in 2014, food has been an important part of its programs, and Irvine brings his passions for food and making a difference to the forefront of his work. Breaking Bread with Heroes was started last year. The program was designed to bring military and first responder communities together, with a focus on preparing or sponsoring meals to be served at veteran homes, military bases and firehouses all year long. The program is one of many offered through the foundation, alongside providing scholarships to children of military families and providing mobility devices to wounded heroes.
Irvine will head to Louisiana next to film "Restaurant: Impossible," then he and the foundation team will be at Fort Hood, Texas, on Saturday for a food insecurity event co-sponsored by the Military Family Advisory Network.
Military wife Kristen N. Nash and her daughter Adeline, who will turn 3 next week, got to the Commons earlier than most Tuesday evening for fear it would be packed right away. Her husband was previously stationed at Fort Campbell on the border of Kentucky and Tennessee, and the family will have been in the north country for two years this summer.
"Honestly I just feel lucky that he takes the time to come and visit; you can tell he's passionate about these things," Nash said. "And it feels nice to know that us as military families are appreciated."
The host of Food Network's hit show "Restaurant: Impossible," Irvine has given struggling restaurateurs a second chance to turn their lives and businesses around in more than 200 episodes. In addition to a restaurant in Las Vegas and one at the Pentagon, he is the owner of FitCrunch, which produces protein bars, powders and snacks; Robert Irvine Foods, which makes prepared, restaurant-quality dishes available in grocery stores; and the Lansdale, Pa.-based Boardroom Spirits, creators of handcrafted vodka, rum, whiskey and more.
In addition to "Restaurant: Impossible," Irvine has hosted or made guest appearances on several Food Network shows, including "Worst Cooks in America" and "Guy's Grocery Games." He is also the author of four books and the publisher of Robert Irvine Magazine.
With every project, Irvine makes sure his successes support the Robert Irvine Foundation, the cornerstone of all he does.
When Pfc. Draik J. Beauchamp's father in Tennessee found out Irvine would be at Fort Drum for Tuesday's event, he told his son he had to do everything he could to be there.
"It's awesome to meet him," Beauchamp said. "My dad is really a big fan of him and always watches his show, so I made sure that I did my best to get off of work and come and say hi to him. It was a really cool opportunity, and then when I figured out that they were doing meats from down South, I was really interested in that because I'm from the South."
He said he and Irvine spoke about a restaurant he had visited for "Restaurant: Impossible" called Z Fish House in Loudon, Tenn., near where Beauchamp lives when at home. They also spoke about nearby restaurant Sons of Smoke that Beauchamp and his dad love visiting.
Judith C. Otter, Robert Irvine Foundation president, said the Breaking Bread with Heroes program started with a Friendsgiving event last year at Fort Bragg with President Joseph R. Biden and First Lady Jill T. Biden, and the team has been to a few bases since.
"We're just so grateful to be here at Fort Drum to serve all these amazing soldiers and their families, just to show a little bit of appreciation and that everybody does really care about them," she said. "We can go home and sleep on our pillows at night because we know they're always ready to step up to the call, and their families serve alongside them."
This was Irvine's first trip to Fort Drum following a Twitter exchange he had with Gen. Milford H. Beagle Jr., which quickly blossomed into a friendship and prompted the chef to come to the north country as soon as he could.
"First and foremost, I'm one of these people. I'm a service member myself and when you see these men and women, it's really imperative that we support them," Irvine said during Tuesday's event. "Gen. Beagle here is the most amazing two-star general who really cares about his soldiers and you can see that, and that's why these folks are here."
Pfc. Adrian M. Bermudez, a culinary specialist on post, has been greatly influenced by Irvine. A fan of the chef and his methods of cooking, Bermudez got the arm of his white chef's coat signed by the man himself and said he would never wash it again. He plans to pursue a career in the culinary arts and perhaps open a restaurant.
With more stops to make this year for Breaking Bread with Heroes, Irvine had a message Tuesday evening for his fans:
"To all the people that watch the shows on TV, keep watching the shows, keep supporting our men and women that wear the uniform, our families and veterans, and remember it doesn't cost anything to be nice," Irvine said. "It doesn't cost money to hold open a door, carry groceries, whatever it takes to make sure we can take care of these men and women because they take care of us 24 hours a day, seven days a week, 365 days a year."
(c)2022 Watertown Daily Times (Watertown, N.Y.)
Visit Watertown Daily Times (Watertown, N.Y.) at www.watertowndailytimes.com
Distributed by Tribune Content Agency, LLC.
---
---
---
---