At Niagara Falls nursing home, troops are 'doing things we never thought the National Guard would do'
By
The Buffalo News
March 8, 2022
---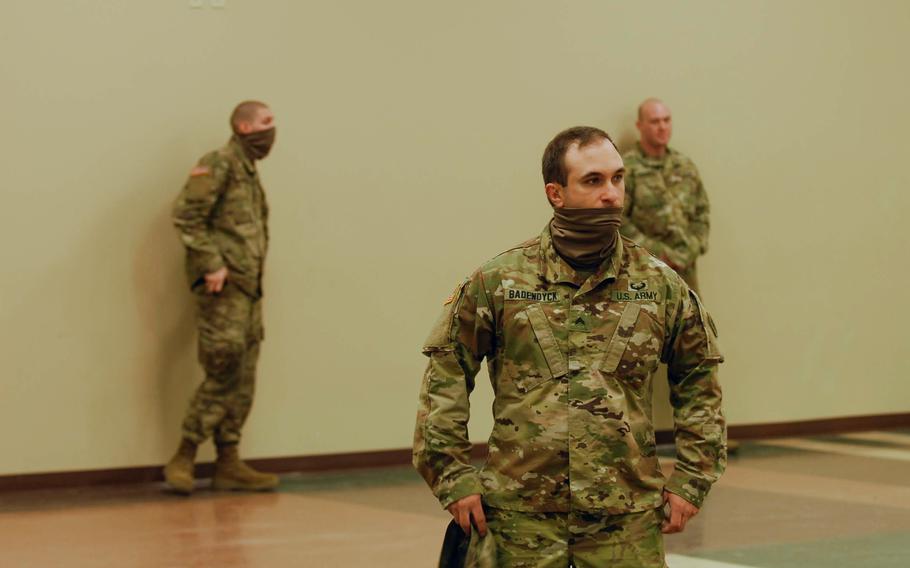 Stars and Stripes is making stories on the coronavirus pandemic available free of charge. See more stories here. Sign up for our daily coronavirus newsletter here. Please support our journalism with a subscription.
NIAGARA FALLS, N.Y. (Tribune News Service) — It was March 2020 when Robert Badendyck got the call. As a staff sergeant with the New York Army National Guard, the North Tonawanda resident and about 20 others from his unit were being sent to New York City — the epicenter of the COVID-19 outbreak.
"I didn't really believe that COVID was really going to be a thing," he said. "And then they sent us to New York City, and I was like, 'Whoa, I guess it is.'"
So he packed his bags, went on military leave from his job at Bridgestone APM in Wheatfield and said goodbye to his then-5-year-old daughter for a four-month mission in a city he had never visited.
"I'm a single dad, so it was rough for me to be away," he said.
Two years later, Badendyck, 31, remains an active member of the National Guard's COVID mission.
After New York City, however, his next stops were closer to home, including his current assignment at Schoellkopf Health Center, the nursing home connected to Niagara Falls Memorial Medical Center.
He's one of 485 National Guardsmen now on duty at 87 nursing homes across the state, helping to ease a severe staffing crunch in the midst of a pandemic.
Badendyck, a 2008 Niagara-Wheatfield graduate, is one of two service members who arrived at the center about a month ago. They're scheduled to remain there until April 1.
He and Lance Cpl. Wayne Bayle, a 20-year-old Queens resident who is in the U.S. Marine Corps Reserve and part of the New York Naval Militia, are working 40 hours a week, mostly doing janitorial work and laundry but occasionally answering phones in the front office and performing visitor screenings.
Roughly three-quarters of the National Guard troops statewide are helping with tasks like janitorial and administrative work. About a quarter are doing patient care.
He and Bayle had never met before but can relate to each other's situation. Whereas Badendyck started the pandemic on a mission near Bayle's home in New York City, now Bayle is stationed in Badendyck's hometown.
While Badendyck went to New York City with a group from his unit, Bayle doesn't know many people here. He's one of 387 members of the New York Naval Militia who have taken part in COVID missions at one time or another over the course of the pandemic.
Being seven hours from home isn't easy, Bayle said. New York City doesn't get nearly this much snow, he said, and everything downstate is right around the corner.
"It's pretty lonely up here," he said.
When he's not chipping in at Schoellkopf, Bayle has regularly gone to the gym after work and on the weekends. He's also had time to catch up with one of his high school friends who is studying at the University at Buffalo, occasionally going out to local spots to eat. Bayle will ring in his 21st birthday here later this month.
Bayle and Badendyck are two of 7,050 members of New York's military forces who have participated in a COVID mission during the pandemic.
Many of those troops, under the orders of the governor, have carried out various missions as needs and priorities have changed.
The latest priority, even as COVID-19 cases rapidly fall, is the staffing crunch hitting nursing homes, perhaps the hardest-hit health care sector by employee turnover. Across the country, employment at nursing homes and residential care facilities is down by 12% since the pandemic started.
It's been especially difficult for nursing homes to retain lower-paid workers, who can often leave and make more money in another industry doing the same work.
For now, New York's military forces are providing short-term relief, but the troops will eventually be pulled off duty as the pandemic subsides.
For Badendyck, that will mean a return to his job as a production operator at Bridgestone APM, an automotive component manufacturer where he has worked for five years. He and the company have stayed in touch over the course of the pandemic about when he might return. He also has a special event coming up in June: his daughter's eighth birthday.
Bayle plans to go back to school to become an EMT in the hopes of joining the New York City Fire Department.
Shifting priorities
COVID-19 has become the longest domestic response mission for the New York National Guard.
"We have just been doing things we never thought the National Guard would do," said Eric Durr, spokesperson for the New York State Division of Military and Naval Affairs, the agency that manages the state's military forces.
And where National Guard members have been sent has changed, as priorities have shifted during the pandemic.
When Badendyck got to New York City, he helped with food distribution. He and others worked at sites in the Bronx, loading taxis with shelf-stable meals to deliver to residents. By August, Badendyck was heading home to a new post at Niagara Falls Air Base.
Bayle, meanwhile, was stationed for several months last year at the Jacob Javits Convention Center in New York, which was the country's largest COVID-19 mass vaccination site.
Durr said the hot-button issues have jumped from testing, to food delivery, to vaccinations, to nursing homes. National Guard troops have done everything from answer phones in call centers to scrub municipal offices and child care centers, he added.
How long the nursing home missions in New York will continue is unclear. Durr said the latest authorization of federal relief funding to pay the troops has been extended until June.
But the mission's goal is not to replace workers. That means it can't last forever.
"The goal is that the National Guard provides a cushion for the nursing homes to hire civilian workers," Durr said.
Filling a need
Schoellkopf Health Center, for one, appreciates the extra hands.
The facility has 99 employees, down more than a dozen workers from where it was before the pandemic, said Marisa Prokop, the center's acting administrator.
Most of the staffing gap is in the housekeeping positions as well as certified nursing assistants, she said. Those positions, along with dietary aides, are among the areas where nursing homes and hospitals have struggled the most to hire. Those lower-paid positions face growing wage pressure from other industries.
Other positions, such as licensed practical nurses, who make around $24 an hour, according to federal data, also have been difficult to fill, Prokop said.
That's where having Badendyck fold laundry or Bayle operate the floor scrubber — "That's his baby," Badendyck says — provides some relief.
"They've just been a joy to have here," Prokop said. "They're hard workers. It's been able to free up some of our staff, so that they can do other tasks."
Badendyck and Bayle also have interacted with the nursing home's residents. Residents, especially those who served in the military, love seeing the two there, working in their uniforms, Prokop said.
One resident recently showed Badendyck her photo album, flipping through photos of her children and grandchildren.
Since arriving in Niagara Falls last month, Bayle said he has learned more about health care and gained an appreciation for the facility's workers, seeing how they play bingo with residents or arrange hairdressing sessions for them.
Even with residents who have trouble speaking or expressing their feelings, he has seen the nursing home staff's skill in communicating with patients. It's something he will take with him as he moves on to become an EMT.
"I think that's an important part of being an EMT because you're always going to be treating strangers that you just met," he said.
(c)2022 The Buffalo News (Buffalo, N.Y.)
Visit The Buffalo News (Buffalo, N.Y.) at www.buffalonews.com
Distributed by Tribune Content Agency, LLC.
---
---
---
---