Army approves updated nameplate for 'pinks and greens'-inspired uniform
By
Stars and Stripes
February 2, 2022
---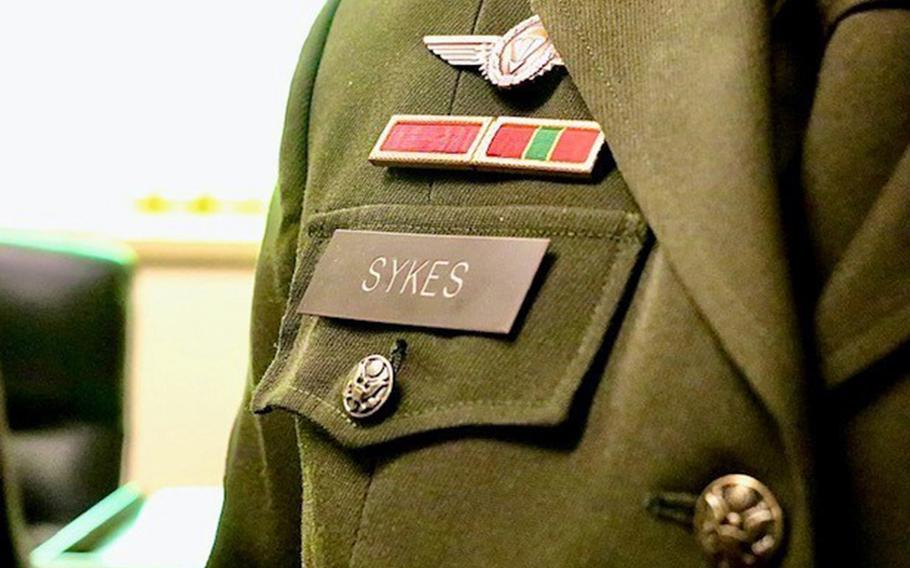 Soldiers are now authorized to wear a redesigned nameplate on their Army Green Service Uniforms, three years after the Army approved the uniform for everyday wear, the service said in a news release Monday.
The uniform, which was modeled after the "pinks and greens" version worn by officers during World War II, became widely available to soldiers in 2020 and is being slowly phased in for daily use and for settings similar to where civilians wear business attire.
It is slated to become mandatory wear on Oct. 1, 2027.
The new uniform style replaces the blue Army Service Uniform, which carries a black-and-white nameplate that is not authorized for use with the Green Service Uniform.
The new nameplate is dark brown with gray-brown lettering, a matte finish and beveled edge, the Army said.
The nameplates will, for the first time, allow accent marks and hyphens on the surnames they display.
"The Army authorized diacritics and hyphens on nameplates as a way for Soldiers to identify themselves," Sgt. Maj. Ashleigh Sykes, sergeant major of uniform policy at the Office of U.S. Army Personnel, said in the release.
"We should honor Soldiers' identity on all Army uniforms, which is why we are excited to release the new nameplate," she said.
That change is intended to aid in correctly pronouncing surnames, the Army said.
The Air Force announced in July 2020 that it would begin including diacritics in airmen's nameplates. The changes were part of the Air Force's effort to revise policies perceived by some as unfair to minority airmen.
The new nameplate remains optional until Oct. 1, 2023, after which it will be a required accessory with the Army Green Service coat, shirts, Eisenhower jacket and the Heritage 564 pullover sweater, the Army said.
olson.wyatt@stripes.com Twitter: @WyattWOlson
---
---
---
---