US Army Europe and Africa welcomes new senior enlisted leader
By
Stars and Stripes
January 28, 2022
---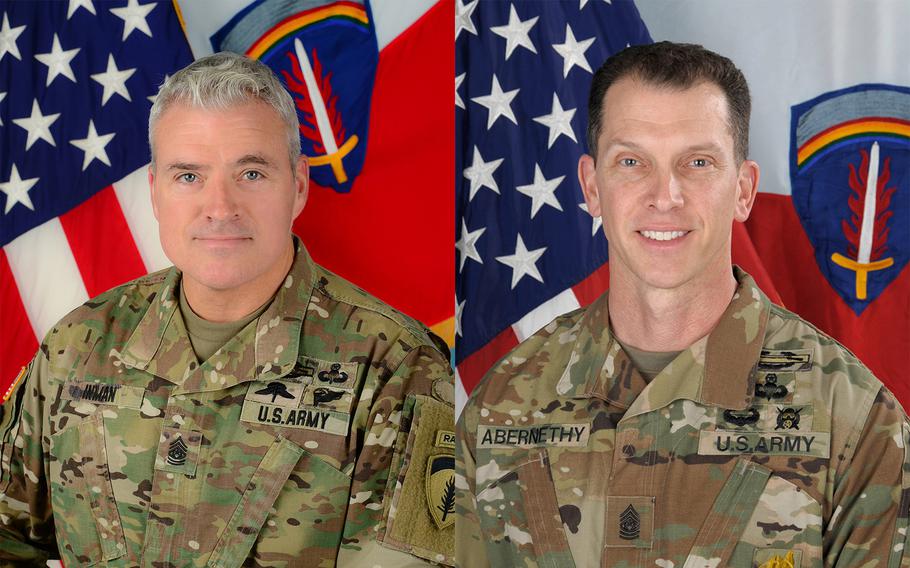 Command Sgt. Maj. Jeremiah Inman has returned to the U.S. Army's European footprint as the senior enlisted leader for the service in Europe and Africa.
Inman, who recently served in Afghanistan, took the reins Friday from Command Sgt. Maj. Robert Abernethy at U.S. Army Europe and Africa, headquartered in Wiesbaden, Germany. Inman also previously served as the former U.S. Army Africa's command sergeant major in Vicenza, Italy.
Abernethy will become the senior enlisted leader for U.S. European Command at Patch Barracks in Stuttgart, Germany.
"If there is any success that we found in the last few years, a lot of that is due to Rob Abernethy," Gen. Christopher Cavoli, the commander of USAREUR-AF said Friday during the ceremony in Wiesbaden. "He has made this command stronger."
USAREUR-AF has approximately 73,000 soldiers throughout its area of responsibility, which consists of 104 countries.
Abernethy spent almost four years at USAREUR-AF, having assumed the senior enlisted duties in April 2018.
---
---
---
---