Army breaks ground for high-tech hangar at Wheeler Airfield in Hawaii
By
Stars and Stripes
January 21, 2022
---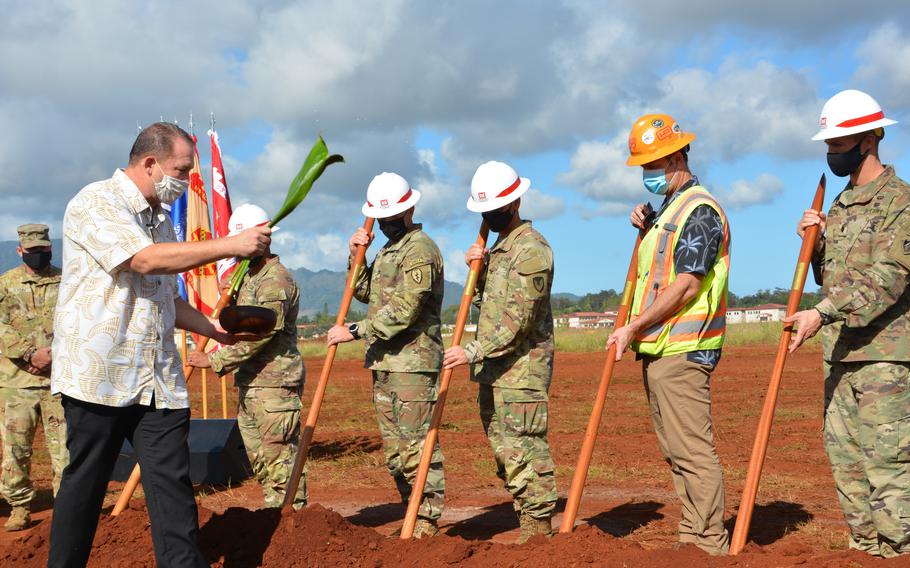 WHEELER ARMY AIRFIELD, Hawaii – Next month, this airfield in central Oahu turns 100, and its hangars still used by Army aviators are almost as old.
That is set to change in coming years with the Thursday groundbreaking for an $80-million maintenance hangar that the Army says will feature 21st century technology, high-speed virtual connectivity and ample space for work and training.
Construction of the hangar is expected to take three years, and it is one of three slated to be built in phases.
"The aviation maintenance hangar we break ground on today serves as the cornerstone for the future home of the 25th Combat Aviation Brigade and eventually replacing the 90-year-old historic hangars along the southern boundary of the airfield," Col. Daniel Misigoy, commander of Army Garrison Hawaii, said during a brief ceremony on an open field that will eventually hold an entire support complex.
Misigoy underscored how dated the existing hangars are while talking to reporters after the ceremony.
"The hangar …" Misigoy said as he turned and motioned across an open field abuzz with earthmovers, "well, we can't see it from here, but Amelia Earhart parked her airplane there."
It was in in 1935 that the famed aviator flew from Wheeler to California, piloting the first solo flight made from Hawaii to the West Coast.
"So, what this will give us is a space to do maintenance inside specifically for the new helicopters that we will get or the vertical lift aircraft," he said. "It'll co-locate the unit together and provide a place for soldiers to do training as well as maintenance on the aircraft."
The structure will include a six-bay hangar, maintenance shops, administrative space and storage for parts, ground-support equipment and hazardous materials.
The maintenance hangar was fully designed by the Honolulu District of the U.S. Army Corps of Engineers, Lt. Col. Eric Marshall, the district's commander, said during the ceremony.
"That may not sound remarkable – 'You are the Corps of Engineers,' you might say – but when one considers the volume of requirements given to us by Colonel Misigoy and other mission partners, we have to be very selective of what we take on for production," Marshall said.
But the district regarded the design of this project as too significant to be left to outside contractors, he said.
"This hangar will be a profound feature on this side of Wheeler Army Airfield," he said. "Its very existence will represent increased readiness and competitiveness of a very lethal fighting force. We wanted our autograph on it."
The construction contract was awarded to Hensel Phelps, a Colorado-based firm that maintains a district headquarters in Honolulu.
The airfield was called Wheeler Air Force Base during the Dec. 7, 1941, surprise attack on Oahu, and the Army Air Corps aircraft on it were a primary target. Japanese warplanes destroyed 83 planes, killing 33 personnel and wounding 75 more.
The airfield has been designated a National Historic Landmark for its role in the attack that led to America's entry into World War II. Scars remain on hangars that still stand from that day.
Misigoy told reporters that the future of the old hangars is still up in the air.
"I don't foresee tearing them down, whether it's for historical reasons or for the use we can get out of them," he said.
---
---
---
---