French connection: New England units strengthen ties with oldest ally on mountain course in Djibouti
by
Chad Garland
Stars and Stripes
January 14, 2022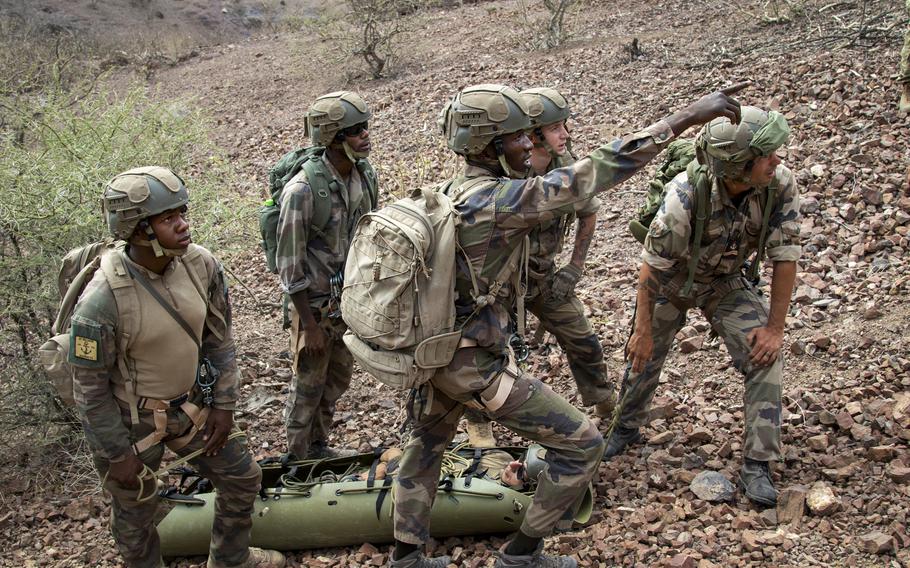 CAMP LEMONNIER, DJIBOUTI — A New England-based task force found a new way to give a rock-solid footing to a relationship with counterparts from France that dates to the American Revolution.
Army Mountain Warfare School instructors led dozens of French troops through a five-day mountain combat course at Djibouti's Arta Range Complex last month, aided by Task Force Iron Gray of the 86th Infantry Brigade Combat Team (Mountain).
The mountain warfare school was originally founded in Jericho, Vt., to train the brigade's soldiers, but now also trains others in the U.S. and foreign militaries. Its training site is named for Ethan Allen, the Revolutionary War hero and leader of the Green Mountain Boys, who took the French-built Fort Ticonderoga in New York from the British in May 1775.
"This unit has a very rich history with the French military," said Lt. Col. Frank Tantillo, Iron Gray's commander.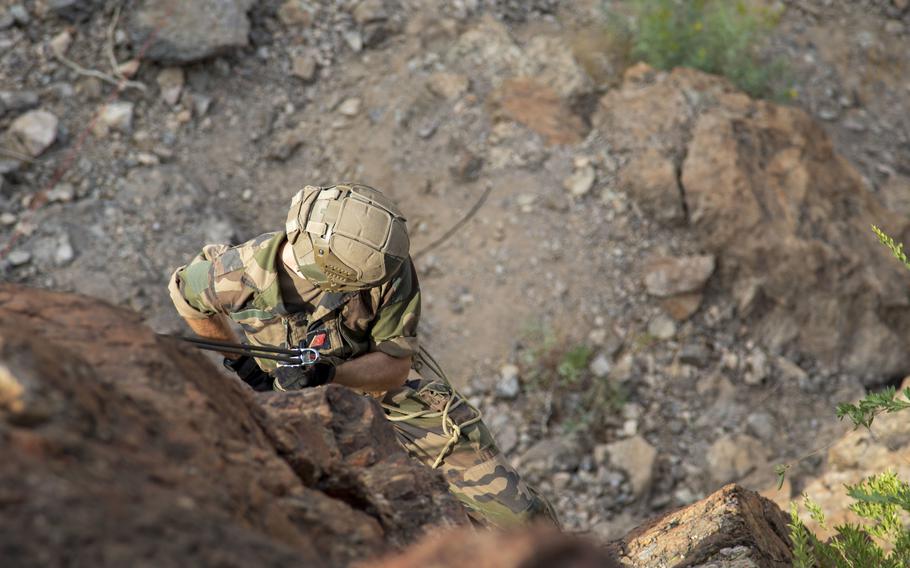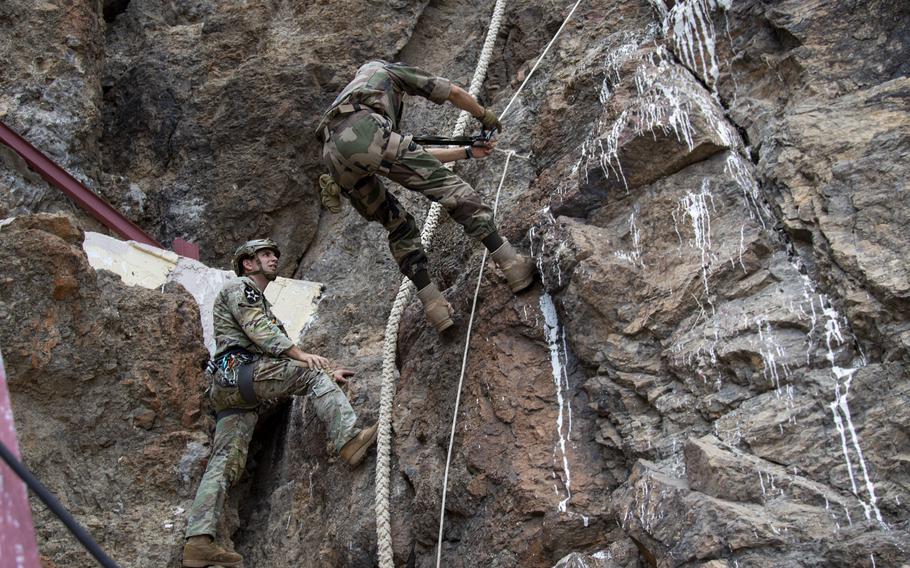 Two of the brigade's oldest units trace their lineage to America's earliest militias, which were allied with French forces during the Revolution. The brigade formed the 26th Division, which fought at Belleau Wood in World War I and again in France during World War II.
The task force consists of National Guard light infantry and other troops from units in Connecticut, Vermont, Massachusetts, Maine and Colorado that are all part of the Army's only active mountain brigade.
The U.S.-led course gave the 32 troops from France's Fifth Overseas Interarms Regiment "a new view on what we do," Capt. Benoit Malet, the officer in charge of the French Desert Commando Course, said in a U.S. military video.
Graduating French troops earned the Army National Guard's distinctive Ram's Head badge awarded by the mountain warfare school.
Officials brought the mountain course to Djibouti for the first time to return the favor after the French put dozens of Americans through several offerings of the grueling French desert commando training, Tantillo said during a wide-ranging interview in October.
The 42-year-old said his arm was still "13 shades of purple and blue" days after he bruised it on an obstacle on the French course.
During the mountain course, the longtime allies literally strengthened ties, learning skills such as knot-tying, rappelling, casualty evacuation, climbing and lowering techniques.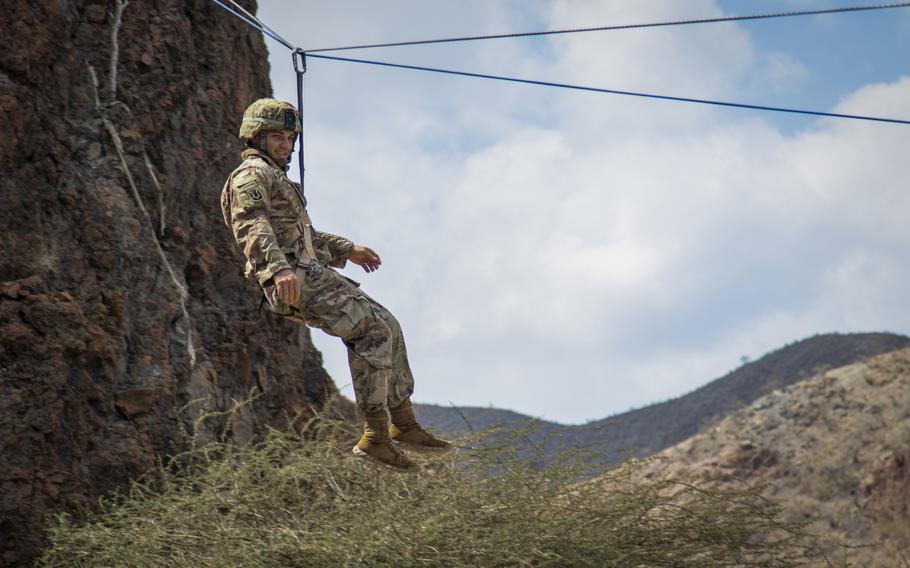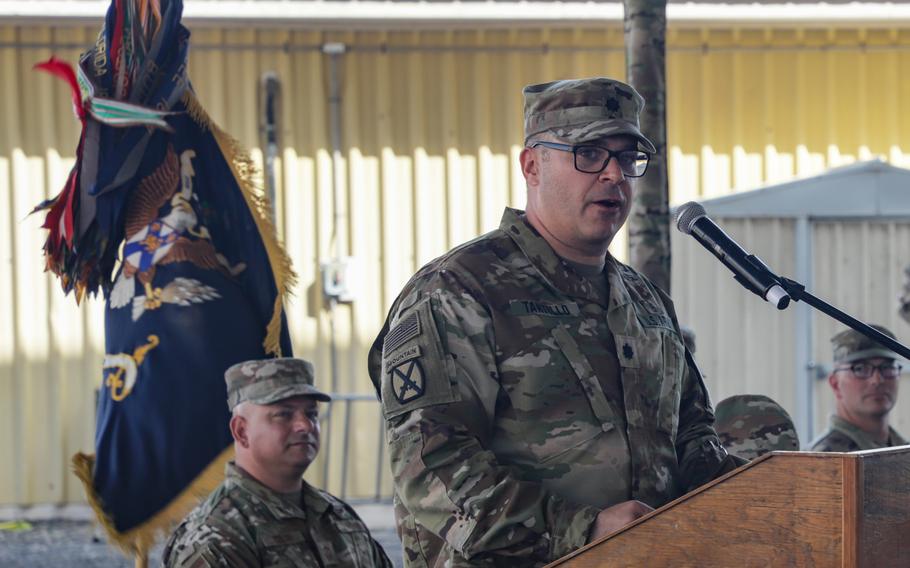 U.S. soldiers assisting the instructors also gained new perspectives. Trainers used techniques such as a "body belay," which advanced-level military mountaineer Staff Sgt. Elijah Amendola, 31, said he'd never seen in action.
Three French soldiers anchored the ropes with their bodies, creating a single connection point to lower a simulated casualty down a rocky outcropping, said the 12-year Army veteran.
"They didn't even flinch," said Amendola, who was in the litter playing the casualty. "I appreciate that nothing failed there."
The citizen-soldier from Connecticut, a forward observer-turned-religious affairs noncommissioned officer, deployed with the 1st Battalion, 102nd Infantry Regiment, which originated as a militia in the late 1600s.
"Three hundred years, we're back and working with the French again," he said in a phone interview.
Throughout the deployment, the Americans also conducted live-fire events with the French, took them on in fitness contests and conducted combat water survival training in their pool, Tantillo said.
"We don't get that exposure as a National Guard unit to work with the French military," said the veteran of two Afghanistan tours. "That's not, like, a thing."
Task Force Iron Gray returned home this week after a nine-month deployment providing security in the Horn of Africa, where the U.S. is helping fight extremist groups and building local forces.
As part of the East Africa Response Force, Iron Gray often drilled to stay sharp in case it was called up to protect U.S. interests in a crisis.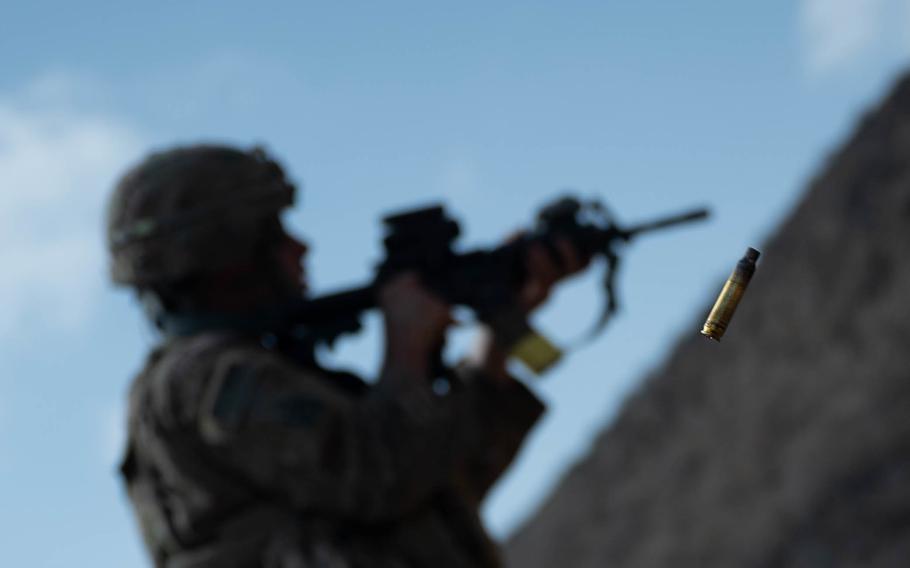 "We live on amber so everyone else can live on green," Tantillo said, using colors on a traffic light as alert levels.
At the time, the soldiers were on standby as a coup unfolded 750 miles away in Sudan. They'd been up late packing bags and loading gear onto pallets, Tantillo said.
They would have had minutes to mobilize if they had been called on, much like their Minutemen forebears.
Correction
An earlier version of this story incorrectly described the relationship between the 86th Infantry Brigade Combat Team and the Army Mountain Warfare School.
---
---
---
---