Fort Bliss soldier charged in the death of a child faces court-martial Monday
by
Rose L. Thayer
Stars and Stripes
January 7, 2022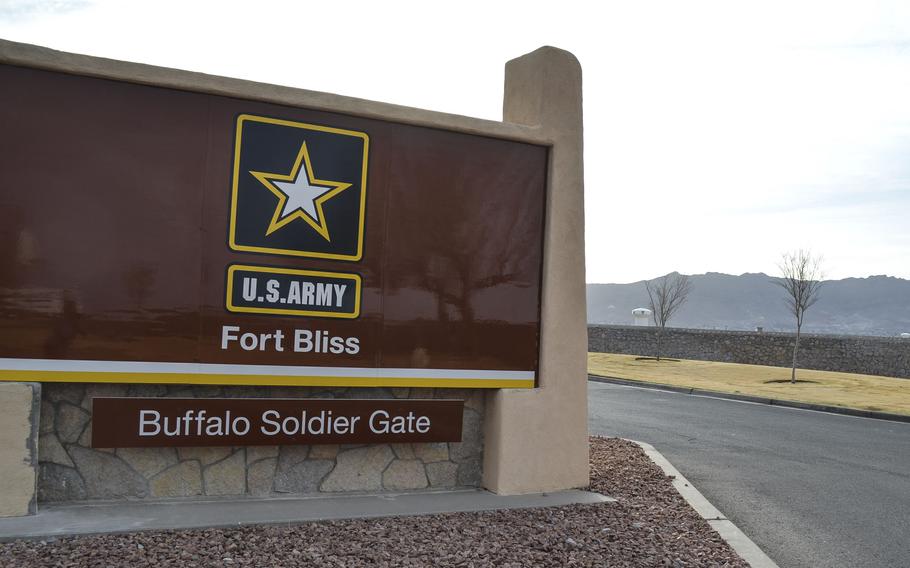 A court-martial is scheduled to begin Monday for a Fort Bliss soldier charged with murder for the death of a child in Texas, according to Army records.
Sgt. Justin Cope is accused of causing the death of a child younger than 16 years old, according to the Army's charging documents. Authorities have said the child suffered head trauma and he or she was squeezed or shaken on or about Feb. 10, 2019, in El Paso. Cope also faces an aggravated assault charge for squeezing the face of a second child in December 2017 in Wiesau, Germany, and causing head trauma.
The names and ages of the victims and their relationship to Cope were not included in the documents provided by Fort Bliss officials. The documents also do not include Cope's age or whether he has been placed in pre-trial confinement.
Cope has pleaded guilty, according to Army court records. However, the records do not specify to which charges he has pleaded guilty.
The child died in El Paso, the city outside of Fort Bliss, and local police said they conducted an investigation into the death but made no arrest.
The Army's Criminal Investigation Division, known as CID, took over the case, and Cope was arraigned June 20, 2020. He is assigned to the 2nd Armored Brigade Combat Team of the 1st Armored Division, according to a Fort Bliss statement.
CID officials declined to release more information about the investigation, citing the ongoing court proceedings.
Cope's murder charge is divided into two parts, known legally as specifications. One specification states he acted with the intent to kill or harm the child, and the other states he acted with knowledge that his actions could lead to severe bodily harm or death, according to the charging documents.
Lawyer Robert Capovilla, a founding partner of Capovilla & Williams and a former Army judge advocate, said this is the equivalent of the Army charging Cope with premeditated murder and a lesser crime that appears to include the elements of murder while engaging in an act inherently dangerous to another.
"If Sgt. Cope is convicted of both murder specifications, he will only serve a sentence for one because the charge comprises the same act — one act, and two different specifications. He cannot be punished twice for the exact same act," said Capovilla, who is not affiliated with the case. "The government may not be certain they can prove that he committed the act with premeditation, which is harder to prove than a lesser degree of murder. That's why we have two specifications for the same offense."
If found guilty of premeditated murder, the soldier could, under certain circumstances, face the death penalty or life in prison with eligibility for parole, Capovilla said. Cope could face eight years in prison for the aggravated assault charge.
By entering into a plea agreement with the court-martial's convening authority, Cope and his attorneys will try to negotiate what his punishment should be, Capovilla said. That punishment will almost certainly include years of confinement, reduction in rank and pay, and a dishonorable discharge, he said.
---
---
---
---