Law grants National Guardsmen and Army Reservists access to job board from personal devices
by
J.P. Lawrence
Stars and Stripes
January 5, 2022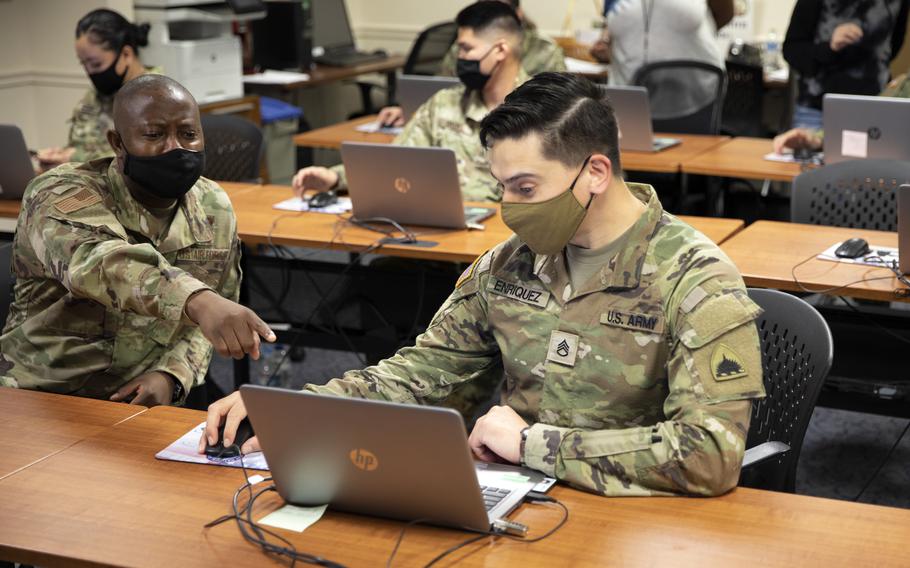 National Guardsmen and Army Reservists soon may be able to search a government database for short-term work on their smartphones, thanks to a provision in the recently passed annual defense spending bill. 
The change will make it easier for the Army to retain talent, the four members of Congress who pushed for it said in a statement last week. 
"Removing unnecessary red tape and providing more flexibility to securely search for career-enhancing active-duty opportunities is going to help our soldiers," Sen. Jacky Rosen, D-Nev., said last week in the statement.
Joining Rosen in the statement were Sen. Joni Ernst, R-Iowa; Rep. Chris Jacobs, R-N.Y.; and Rep. Tim Ryan, D-Ohio. 
The Tour of Duty online job board already offers deployments and short-term active duty orders. But since 2017, it has required access to a government network, frequently necessitating a trip to an armory for those who don't have a military device at home. 
This year's National Defense Authorization Act directs the Army to ensure that members of its reserve component can access the Tour of Duty system using a "personal internet-enabled device." 
The new law says the Army must ensure security as it opens up access to the site from personal devices. 
Without good cybersecurity, adversaries might be able to see what vacancies and shortfalls the Army has, said Staff Sgt. Steven Smith, who has used Tour of Duty to find orders during his 12 years in the New York National Guard. 
"We've already given weapons and supplies galore to the enemy. Let's not give them intel as well," Smith told Stars and Stripes.
The Army will release more information over the next few weeks about how it will institute a pilot program allowing soldiers to bring their own devices to work, spokesman Bruce Anderson said in an email.  
"Upon successful test and validation of the access, the Army expects the system to be made available to all Guard and Reserve personnel as quickly as possible in accordance with the NDAA requirements," Anderson said.   
---
---
---
---