Soldiers seen dangling from belly of helicopter in surreal combat exercise video
by
Mark Price
The Charlotte Observer
December 29, 2021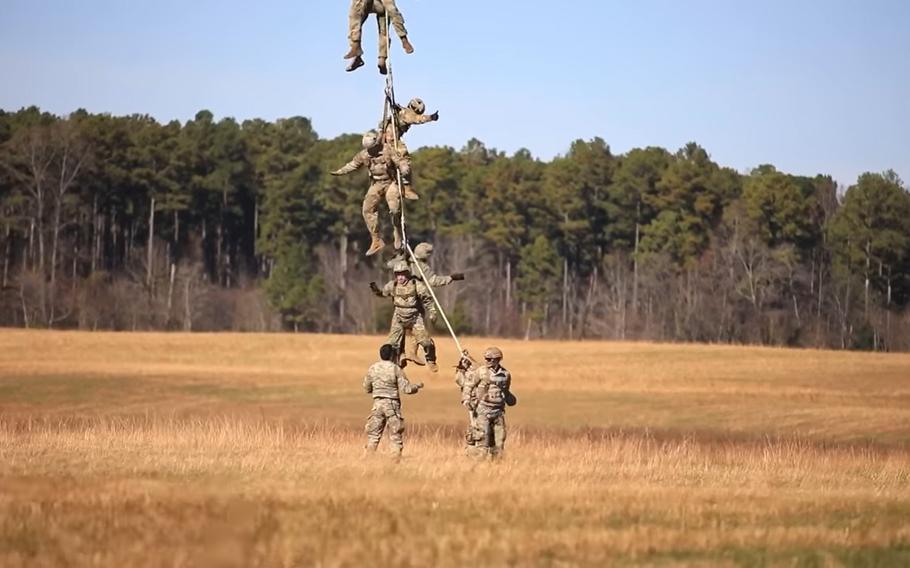 (Tribune News Service) — A surreal video showing 10 U.S. Army soldiers dangling from the belly of a helicopter has racked up nearly 300,000 views on Facebook and some comparisons to Spider-Man's web swinging.
It has also inspired a growing list of odd questions, like: Why would anyone in their right mind do this? Is this the Army's idea of commuting to work? Why not just ride in the helicopter?
And, perhaps most importantly, what happens if the soldier at the top gets air sick?
"Always be on the top rung. That way if someone upchucks you stay clean. Just saying!" David Dust advised on social media.
The video was shared by 101st Combat Aviation Brigade "Wings of Destiny" and the exercise is called Special Purpose Insertion and Extraction System (SPIES). The brigade is based out of Fort Campbell, Ky.
SPIES is considered a critical means of transport "when personnel need to be inserted or extracted from terrain not suitable for a helicopter landing," according to Americanspecialsops.com.
The 101st Combat Aviation Brigade and the 3rd Brigade Combat Team ("Rakkasans") both recently posted scenes of their SPIES exercises on Facebook, prompting reactions ranging from awe to disbelief. Some commenters were jealous of the thrill ride, while others called it "a little bit terrifying."
"I am covered in goosebumps from these photos," Tricia Landel wrote on Facebook.
"How was your commute to work this morning? Let me hear anyone complaining about traffic!" Luis Rojas posted.
"I'd call in sick that day!" Bill Boyd wrote.
"These soldiers redefine hanging out," Brian Benge joked.
©2021 The Charlotte Observer.
Visit charlotteobserver.com.
Distributed by Tribune Content Agency, LLC.
---
---
---
---