Soldiers burn their colors in remembrance of 'desperate' Korean War battle
By
Stars and Stripes
December 13, 2021
---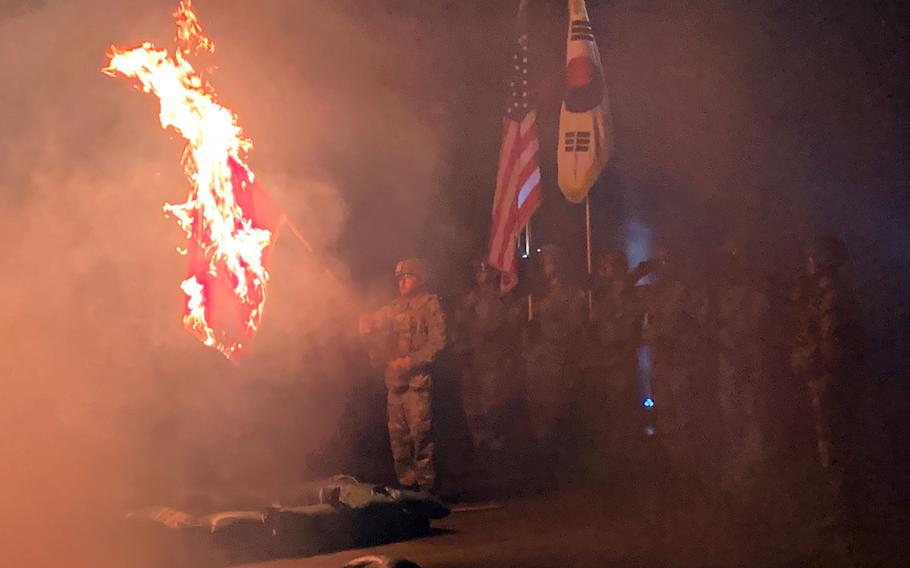 CAMP CASEY, South Korea — Soldiers of the 2nd Brigade Engineer Battalion paid tribute to their forebears by setting ablaze their unit colors and recalling a desperate fight of the Korean War.
The annual Burning of the Colors ceremony Friday evening on a field at Camp Casey, roughly 15 miles from the border with North Korea, reenacts the battalion's actions on Nov. 30, 1950. The battalion typically conducts the ceremony at its home station in Fort Bliss, Texas. This year, it took place in South Korea because of a unit rotation.
"The significance of this is coming home for us, where the battle actually took place," battalion commander Lt. Col. Jim Pence said after the ceremony.
During the Korean War, the engineer battalion, then part of the 2nd Infantry Division, became surrounded as China's intervention in the war stalled the U.S. Army's northward advance.
The "Sapper Steel" battalion was formed Nov. 29, 1950, and ordered to defend a ridge near the division's command post south of the Kunu-ri pass in North Korea.
As the 2nd ID retreated, the engineer battalion was ordered to defend the area and later became the division's rear guard.
Surrounded by enemy forces and with limited manpower, the battalion commander, Lt. Col. Alarich Zacherle, ordered the Army's heavy equipment destroyed using magnesium grenades and gasoline.
The battalion also set fire to its colors and 25 combat streamers to prevent them from becoming a war trophy.
Of the 997 troops in the battalion, just 266 remained by Dec. 1, 1950. Only one officer was present at roll call; Zacherle had become a prisoner of war. About 95% of the battalion's equipment was destroyed.
In addition to burning the colors Friday during the nighttime ceremony, the engineer battalion fired flares and blank rounds to represent the Battle of Kunu-ri.
Pence said the situation became "desperate" as his predecessor was surrounded by Chinese forces, and "there was no guarantee that those colors would have escaped the battle."
"The importance of this was to remember those who came before us and honor their legacy," he told Stars and Stripes after the ceremony. "I think it's always important for us to remember those courageous warriors who came before us."
Roughly 33,739 U.S. troops were killed in action during the Korean War, according to the Defense Casualty Analysis System. About 28,500 U.S. troops are now stationed on the divided peninsula.
---
---
---
---