Army CID offers $1,000 reward to help identify remains found on Fort Bliss in March
by
Rose L. Thayer
Stars and Stripes 
November 26, 2021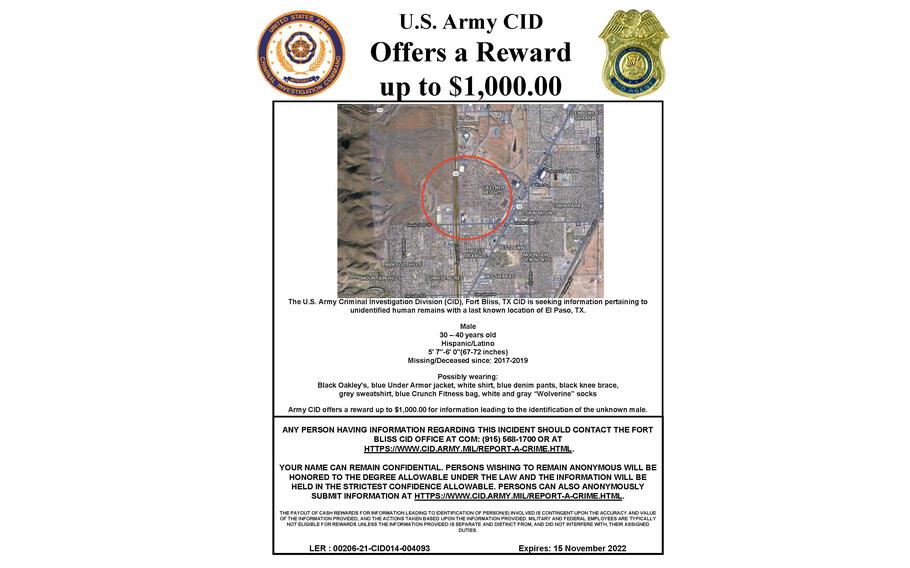 Army investigators have offered up to $1,000 for anyone able to provide information to help identify a body found eight months ago in a publicly accessible portion of Fort Bliss, Texas.
Investigators determined the remains were of a 30- to 40-year-old Hispanic or Latino man who likely was last seen or heard from between 2017 and 2019, according to Army Criminal Investigation Division, or CID.
The skeletal remains were found in March in the Castner Range, Hondo Pass area on Fort Bliss, in the vicinity of a Border Patrol Station in northeast El Paso. The area is near the base of the Franklin Mountains, accessible to the public and about 12 miles from the U.S.-Mexican border.
A person walking a dog saw the remains and notified local law enforcement, who then contacted the Fort Bliss Provost Marshals Office, according to base officials.
The deceased man is believed to have been between 5 feet, 7 inches tall and 6 feet, according to CID. He was possibly wearing Black Oakley sunglasses, a blue Under Armor jacket, white shirt, blue denim pants, a black knee brace, gray sweatshirt, a blue Crunch Fitness bag, and white and gray "Wolverine" socks.
There was no indication that the remains had been buried, according to Fort Bliss.
Anyone with information is asked to contact the Fort Bliss CID Office at 915-568-1700 or www.cid.army.mil/report-a-crime.html. 
---
---
---
---