Army gunner found dead at off-post home near Fort Wainwright, Alaska
by
Wyatt Olson
Stars and Stripes
November 19, 2021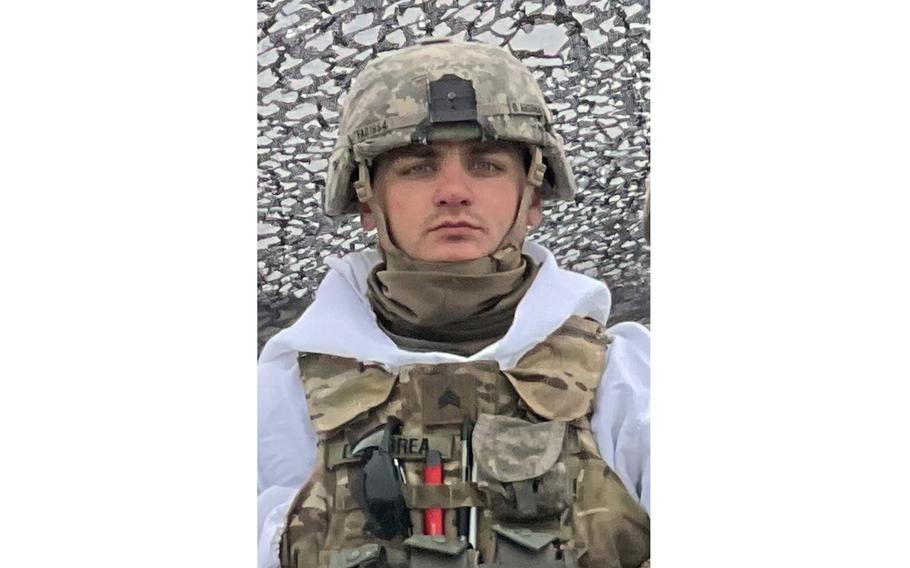 Alaska officials are investigating the death of an Army sergeant at his off-post home in Fairbanks on Nov. 12, the Army announced Thursday.
Sgt. Christian Joseph D'Andrea, 22, was stationed at Fort Wainwright as a gunner and ammunition team chief with the 2nd Battalion, 8th Field Artillery Regiment, 1st Stryker Brigade Combat Team, 25th Infantry Division, the Army said in a news release.
The Fairbanks Police Department and the Army Criminal Investigation Division are investigating the cause of death.
The Army did not release any further details but asked soldiers to "continue to look out and take care of each other."
"During this difficult time, we ask those distressed to seek assistance — and for all teammates to be attuned to Soldiers who may be having a difficult experience," Lt. Col. Eugene Palka said in the release.
A native of Amarillo, Texas, D'Andrea joined the Army in June 2017. He trained at Fort Sill, Okla., South Korea and Fort Bliss, Texas, before reporting to Alaska in May 2020, the Army said.
Among his awards and decorations are the Army Commendation Medal, two awards of the Army Achievement Medal, the Army Good Conduct Medal and the National Defense Service Medal.
D'Andrea is survived by his parents, an older brother and younger sister, according to a GoFundMe account set up by Aurora Gregory, a lifelong friend, to help his family with transportation and funeral costs.