Army sergeant arrested, accused of killing mother of their unborn child in Georgia
by
Caroline Silva
The Atlanta Journal-Constitution
October 8, 2021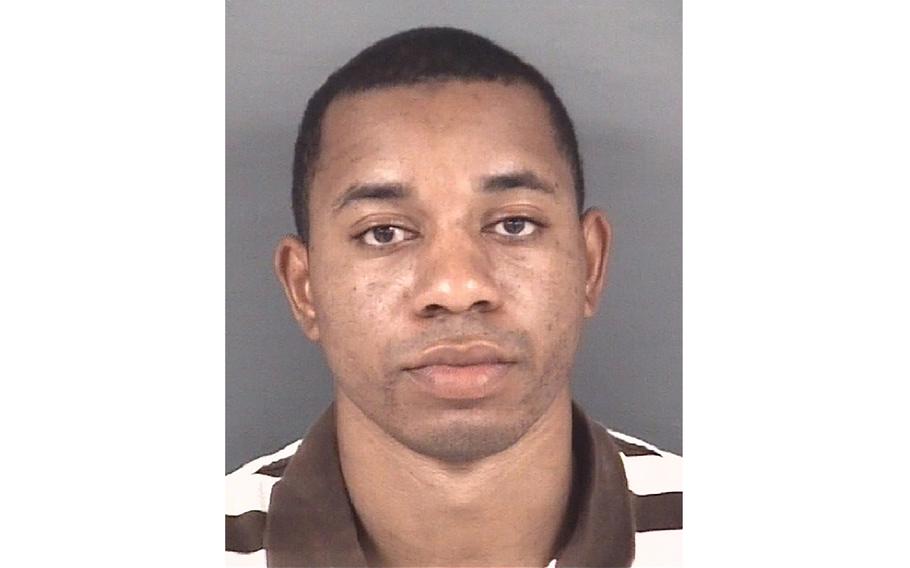 ATLANTA (Tribune News Service) — A U.S. Army sergeant accused of fatally shooting a pregnant woman who was carrying their unborn son in Georgia earlier this week was arrested this week in North Carolina, authorities said.
Alonzo Dargan Jr., 30, was taken into custody Thursday at Fort Bragg, where he was on active duty as a staff sergeant, Troup County Sheriff James Woodruff said Friday morning during a news conference. Dargan has been charged with murder, feticide and possession of a firearm during the commission of a crime in the Tuesday killing of Akeila Ware, 29, of LaGrange, and their unborn child on a Troup highway. Ware was a mother of five.
"I could not believe somebody had shot and killed a young mother with five children," Woodruff said. "And on top of that, killed her and she had a baby inside her that resulted in the death of that baby."
On Tuesday, deputies and Georgia State Patrol troopers were called to Ga. 18 near East Drummond Road around 12:50 p.m. about a single-car crash, Troup sheriff's office spokesman Sgt. Stewart Smith said. Authorities found Ware shot and unresponsive inside a bullet-riddled Honda Accord, authorities said.
"We got a call for what we thought was a simple automobile accident," Woodruff said. "It turned out to be a murder."
Ware was extricated from the car and taken to a Columbus-area hospital in critical condition. She and her unborn child were pronounced dead there, Smith said.
Troup County Capt. Kelli Ellington confirmed that Ware was 33 weeks pregnant with a boy and that Dargan was the father.
Authorities said shots were fired by Dargan, who was driving a 2020 Nissan Altima, near the intersection of Ga. 18 and Whitesville Road. Ware was eventually run off the road and wrecked about 3 miles south, Ellington said. Authorities could not provide a motive.
During the investigation, it was determined that evidence at the scene came from a silver Nissan. On Wednesday, the sheriff's office received information that Dargan was on active duty at Fort Bragg, that he owned a 2000 silver Nissan Altima and was in Troup County at the time of the incident, Ellington said.
On Thursday, Criminal Investigation Command at Fort Bragg was able to locate Dargan's car and he was taken into custody around 3:30 p.m. He is being held at the Cumberland County Sheriff's Office until he is extradited to Troup County.
"(We worked) tirelessly through the night, each night, each day until an arrest was made," Woodruff said.
Dargan joined the Army in 2009 as a signal support system specialist and was previously stationed in Florence, South Carolina, as an Army recruiter until April 2021 when he was moved to Fort Bragg, Army spokesman Peter Nguyen told The Atlanta Journal-Constitution. He was deployed to Afghanistan from 2011 to 2012 for "Operation Enduring Freedom." During Dragan's duty, he has received the Army Commendation Medal, the Army Achievement Medal and the Air Assault Badge.
Dargan grew up in Troup County and met Ware while in school, Ellington said. The two were in a relationship at some point, but Ellington could not confirm if they were together at the time of the incident. They had been in a long-distance relationship at some point while he was at Fort Bragg, Ellington confirmed.
Ellington said Dargan is married and has other children. None of Ware's other children belong to Dargan, Ellington added.
"I personally ... went to the home of her father and had to deliver this news that his daughter was dead — that's very terrible news to have to give to anybody, especially if it's one of your children and grandchild," Woodruff said.
Anyone with information is asked to call the Troup County Sheriff's Office Criminal Investigation Division at (706) 883-1616. Tipsters can remain anonymous by contacting Crime Stoppers Atlanta at (404) 577-8477, texting information to 274637 or visiting the Crime Stoppers website.
©2021 The Atlanta Journal-Constitution.
Visit at ajc.com.
Distributed by Tribune Content Agency, LLC.