Army helicopters damaged after heavy winds, rain and hail pelt base in South Korea
by
David Choi
Stars and Stripes
October 4, 2021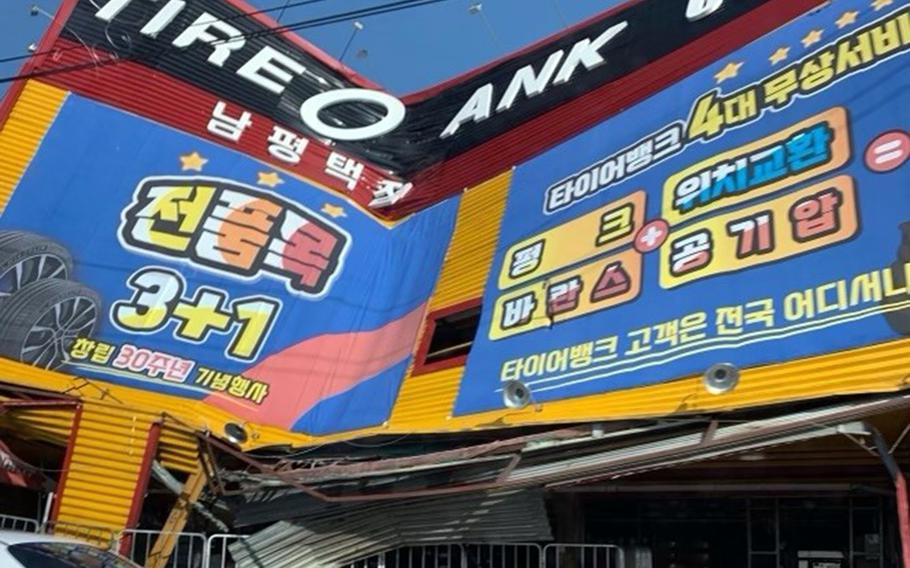 CAMP HUMPHREYS, South Korea — Several Army helicopters were damaged in a storm that battered this U.S. base 40 miles south of Seoul on Friday evening, according to the 2nd Infantry Division.
The division declined to provide specifics on the damage, citing operational security policies, but the command was "conducting maintenance checks across the fleet," according to a statement to Stars and Stripes on Monday.
The helicopters were not in the air during the storm and no injuries were reported, Lt. Col. Ryan Donald, the division's public affairs director, said Saturday.
The garrison said in a public notice Saturday on Facebook it was continuing to clean up from the storm and encouraged residents with damaged property to contact public works.
Humphreys is home to the 2nd Combat Aviation Brigade, which routinely trains with Black Hawk, Apache and Chinook helicopters.
Photos and videos of the area showed heavy wind, rain and hail, along with collapsed buildings and signs. Some images showed the caved-in front wall of a tire shop less than a mile from the installation.
The lion's share of the 28,500 U.S. troops stationed in South Korea are assigned to Humphreys, which is home to 2nd ID, Eighth Army and U.S. Forces Korea.
More than 32,000 people access the installation, the largest U.S. military installation overseas, on a daily basis.