US Army supply sergeant dies at off-base hospital in South Korea
by
David Choi
Stars and Stripes
September 30, 2021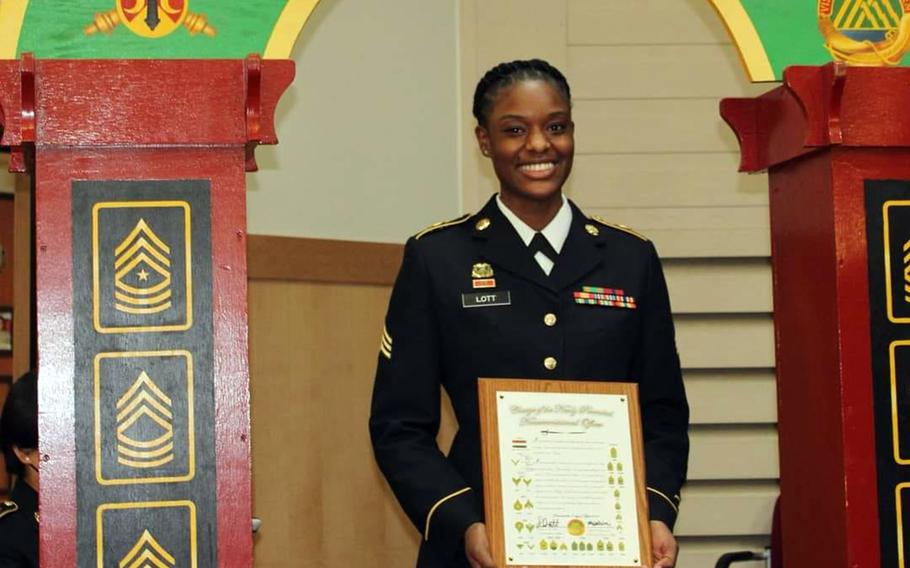 CAMP HUMPHREYS, South Korea — A 2nd Infantry Division soldier stationed near the border with North Korea died at a local hospital on Sept. 19, the command said in a press release Wednesday.
Sgt. Damionia Lott served as a supply sergeant with the 70th Brigade Support Battalion, 210th Field Artillery Brigade at Camp Casey, according to the release. The command said her death was not attributed to a training incident but declined to provide additional information.
Lott, a Louisiana native, enlisted in the Marine Corps in 2016 and joined the Army four years later. She arrived at the battalion in South Korea in July. Her age was not provided.
Lott's unit, in a statement, said it was "deeply saddened and shocked by the loss."
"Sergeant Lott was an excellent non-commissioned officer who always set the example and made coaching and mentoring others her top priority," said Command Sgt. Maj. Tiffany Montgomery, the support battalion's senior enlisted leader. "She was well respected and greatly admired by the entire chain of command."
Lott was posthumously awarded the Army Commendation Medal. She is survived by her parents and siblings.
Roughly 28,500 U.S. troops are stationed in South Korea, the majority of them at Camp Humphreys, the headquarters for 2nd ID, Eighth Army and U.S. Forces Korea. Casey, about 65 miles from Humphreys, is near the Demilitarized Zone.