Army-funded researchers built 'shrimp-scale' robot to mimic the animal kingdom's heaviest-hitter
by
Chad Garland
Stars and Stripes
September 10, 2021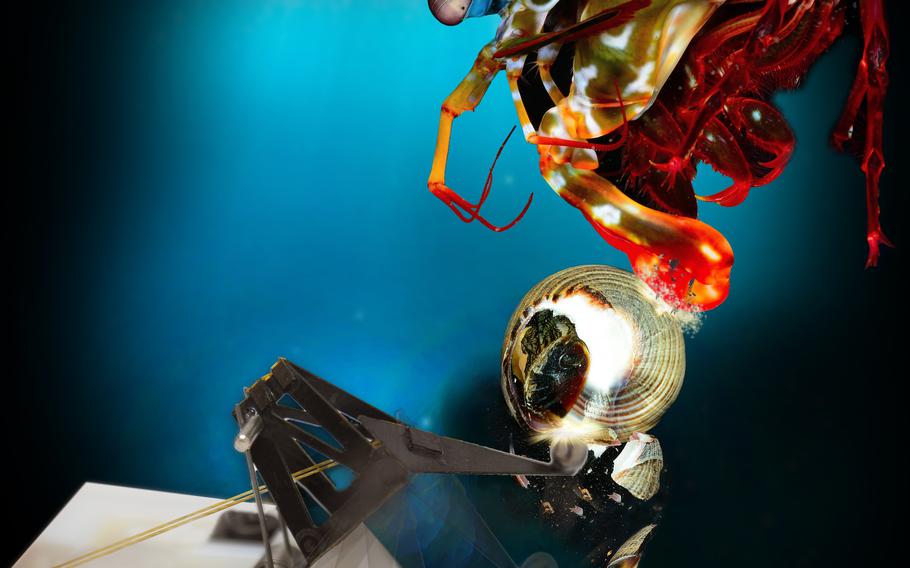 The small, well-armored mantis shrimp can fire off a shell-cracking jab faster than a speeding bullet, and researchers have now managed to mimic that feat with a tiny robot.
A team of Army-funded roboticists, engineers and biologists from Harvard and Duke universities recently published their findings on how the prawn-like pugilists can send out their club-like appendages in milliseconds with a force that can take off a crab's arm with one strike, the Army Research Laboratory said in a statement.
A robotic model developed as part of the research accelerates at the equivalent of a car reaching 58 mph in 4 milliseconds, according to a video by Harvard's John A. Paulson School of Engineering and Applied Sciences.
"Actuator architecture like this offers impressive capabilities to small and lightweight mechanisms that need to deliver impulsive forces for the Army," said Dr. Dean Culver program manager at the lab, which is part of Army Combat Capabilities Development Command, as quoted in the statement.
The 1.5-gram, "shrimp-scale robot" isn't as fast as the shrimp, but pound-for-pound it's faster than any similar device at that scale, according to Harvard.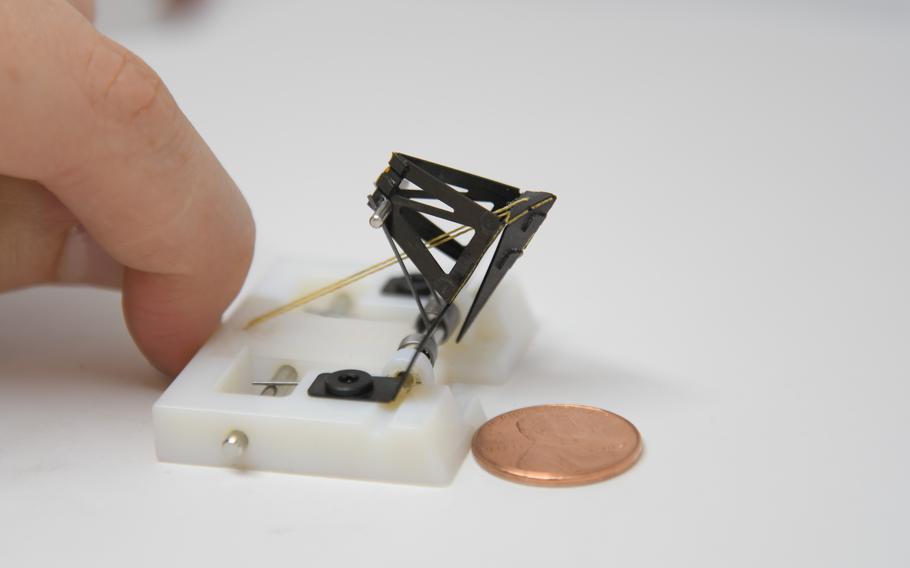 The research is the latest in a spate of military-funded studies into the extremely violent mantis shrimp, which is not really a shrimp but a type of crustacean known as a stomatopod. They're so unique, scientists have called them "shrimp from Mars." They gained notoriety online about a decade ago when they were praised in an homage on the web comic The Oatmeal.
Capable of seeing some 100,000 colors — 10 times what humans can — they're the only animal known to see circular polarizing light. That type of light is read by sensors in optical CD and DVD readers and satellite communications, but the sea creatures do it better, Air Force-funded research found over a decade ago.
The military has researched using their vision as a basis for developing undersea navigation without GPS.
Around 200 million years ago, the mantis shrimp developed special raptorial appendages, or "raps," the University of California Museum of Paleontology in Berkeley says in an online exhibit. Some species are "spearers" with sharp raps that stab soft prey through the heart. Others are "smashers" with club-like raps that crush shells and have been known to break aquarium glass and human fingers.
The punches form low pressure bubbles that collapse with such speed they create bursts of light and heat reaching an estimated 8,500 degrees Fahrenheit.
At the time, military-funded researchers at the University of California Riverside had published a study into how their clubs' shells withstood the force. That team has research the animal's shells for over a decade for ideas to help improve the design of things like football helmets and body armor.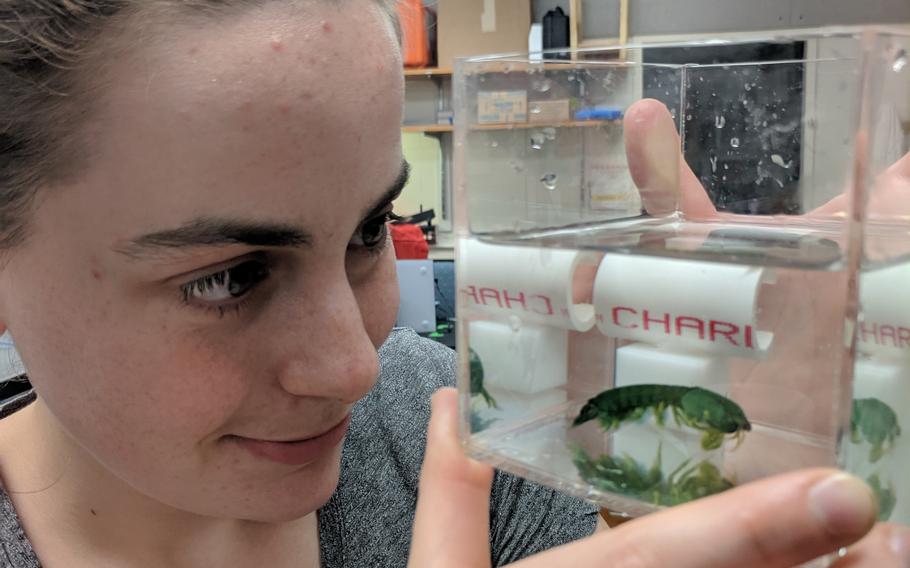 The secret to their ultrafast and powerful blow, whose shockwave can kill even if the punch doesn't land, is in a short but noticeable delay between when latch-like parts of the animal's tendons release and when the punch actually fires. Researchers sought to understand what held it back and allowed more energy to build up before being rapidly released.
Using high-speed cameras to study the appendage's movements and a tiny robotic model to replicate it, the team confirmed their theory that the geometry of the raps themselves caused the delay.
"By more closely mimicking the geometry … the team was able to exceed accelerations produced by limbs in other robotic devices by more than tenfold," Culver said.
But the interdisciplinary team's research had wider implications, he said.
"There's a broader takeaway here — something the engineering community and defense research can keep in mind," Culver said. "We're not done learning about mechanical performance from nature and biological systems."