Afghan refugees can get COVID-19 vaccine for free at Wisconsin's Fort McCoy
by
Emily Hamer
The Wisconsin State Journal
September 6, 2021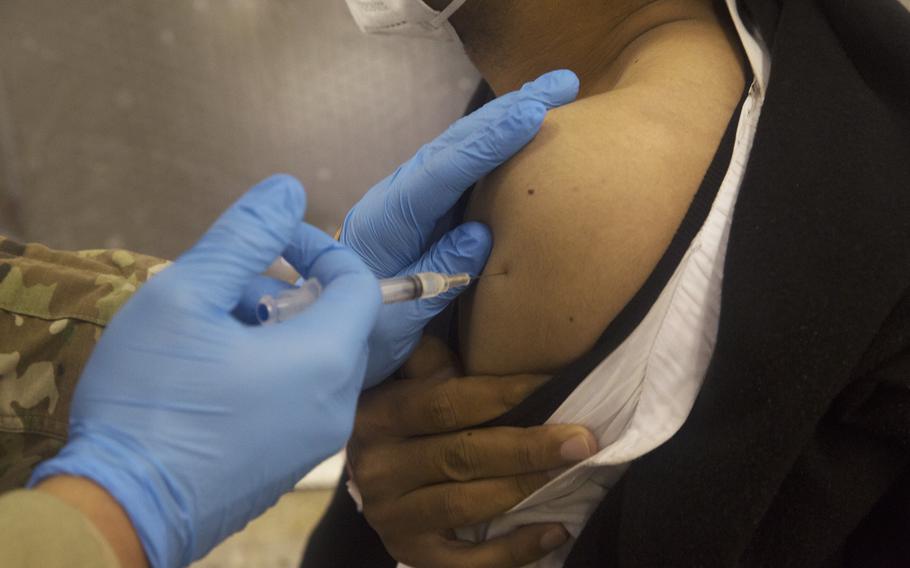 (Tribune News Service) — Afghan refugees at Fort McCoy in western Wisconsin are getting vaccinated against COVID-19 for free if they choose, among other precautions to prevent spread of the virus.
The Department of Defense shared photos of refugees receiving shots of the vaccine at Fort McCoy, 40 miles east of La Crosse and the Mississippi River. Pfc. Riley Tiedt is seen wearing a plastic face shield, a face mask, blue gloves and a military uniform preparing and administering vaccines for several Afghans at a facility in Fort McCoy on Friday.
Fort McCoy has not yet allowed the media to enter the military base, but has been providing photos and videos of its operation to welcome refugees into Wisconsin. Gov. Tony Evers and several Wisconsin lawmakers toured the base at the end of August.
All Afghans and U.S. residents coming from Afghanistan are tested for COVID when they first arrive to the U.S. and have the option to get a COVID-19 vaccine either at the airport when they first arrive or at Department of Defense facilities, such as Fort McCoy, according to a fact sheet from the Department of Homeland Security.
"The U.S. government continues to take every precaution to stop the spread of COVID-19, and other diseases, consistent with CDC guidance," the Department of Homeland Security said.
Fort McCoy is one of eight U.S. military bases that will temporarily house vulnerable Afghans who have fled Afghanistan after the recent collapse of the government to the Taliban. The base has a capacity to host up to 13,000. As of Friday, 8,780 refugees had arrived.
According to the Department of Homeland Security, the other seven bases are: Fort Bliss, Texas; Fort Lee, Va.; Marine Corps Base Quantico, Va.; Fort Pickett, Va.; Holloman Air Force Base, N.M.; Joint Base McGuire-Dix- Lakehurst, N.J.; and Camp Atterbury, Ind. The U.S. is providing support for at least 50,000 Afghan evacuees.
Screening
Once they arrive at one of the bases, Afghans go through a medical screening and also can receive other free medical services, the department said. Staff will also help them apply for immigration status and work authorization, and connect them to relocation services.
All Afghans also go through a security screening and vetting process aimed at protecting both national security and the refugees, the department said. The process involves law enforcement and counterterrorism professionals from the FBI, the Departments of Defense and Homeland Security, the National Counterterrorism Center and other intelligence partners.
"This has resulted in a robust interagency process that efficiently screens Afghans at risk prior to their travel to the United States," the Department of Homeland Security said.
After their respective tours of Fort McCoy, Republican U.S. Sen. Ron Johnson, of Oshkosh, questioned whether the refugees at Fort McCoy had been fully vetted, but Evers called that accusation unfounded "dog whistle crap."
Meanwhile, several local nonprofits continue to accept donations to support the refugees at Fort McCoy, the base said. Team Rubicon, a nonprofit that responds to disasters, is leading the effort in Wisconsin.
New clothing or gently used clothes that have been freshly laundered can be dropped off at the Sparta Armory at 602 E Division St., Sparta, from 9 a.m. to 4 p.m. daily. Clothes should be appropriate for the season, Fort McCoy said.
Those interested can email resettlementsupport@teamrubiconusa.org to get the most recent list of other items needed.
The Fort McCoy Visitor Control Center cannot accept donations, the military base noted.
Other nonprofits providing assistance or accepting donations include: Catholic Charities of the Diocese of La Crosse, Goodwill Industries International, the American Red Cross, International Rescue Committee and United States Conference of Catholic Bishops.
Donations to a local Goodwill could end up going to Afghan refugees in Wisconsin. Team Rubicon or the Red Cross will reach out to Goodwill when specific items are needed.
Fort McCoy said there has been an "outpouring of support" from residents looking to help the refugees.
The Associated Press contributed to this report.
(c)2021 The Wisconsin State Journal (Madison, Wis.)
Visit The Wisconsin State Journal (Madison, Wis.) at www.wisconsinstatejournal.com
Distributed by Tribune Content Agency, LLC.