As Confederate statues come down, West Point honors Buffalo Soldiers
by
Michael E. Ruane 
The Washington Post
September 1, 2021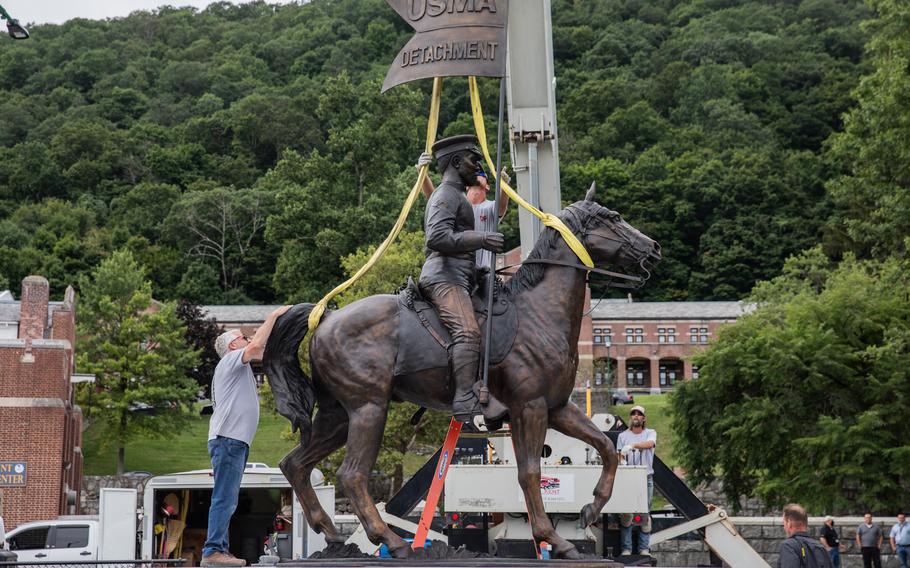 WEST POINT, N.Y. — Aundrea Matthews stood in her black dress, black skirt and sunglasses at the edge of Buffalo Soldier Field here and watched the construction crane lift the 2,000-pound equestrian statue of her grandfather.
"Here he is, West Point!" she called out— the man who as a little girl she knew as Papoo. "He's going to be watching forever!" She covered her face with her hands and then clasped them as if in prayer.
The crane, which held the bronze image with heavy yellow bands, slowly turned the statue of African American Staff Sgt. Sanders H. Matthews Sr. until it faced north and lowered it onto its octagonal granite base.
And 114 years after they first came to the Army's then-segregated academy to teach horsemanship to white cadets, the Black Buffalo Soldiers of West Point finally had their statue.
And at 2:10 p.m. Tuesday, the U.S. Military Academy raised its first statue of a Black man.
Etched into the granite are the words, "In Memory of the Buffalo Soldiers who served with the 9th and 10th Cavalry Regiments as part of the United States Military Academy Cavalry Detachment at West Point."
As equestrian images of Confederate generals come down across the country, here was a statue of an African American horseman being erected.
"That's another thing that I think is pretty powerful about it," said Matthews, the academy's cultural arts director for the corps of cadets.
"Everybody has a right to have their story told," she said. "Because it's a powerful story. Just what [the Buffalo Soldiers] endured, their determination and their commitment to prove to the world that African American men can contribute and are viable citizens of this country."
"We talk about so much pain that Black men experience in America and all the judgments people make about them," she said. "But when you put this monument up there, you're only going to be able to talk about their triumphs . . . their valor, their honor, their patriotism."
Sgt. Matthews is believed to be the last known Buffalo Soldier to serve at West Point.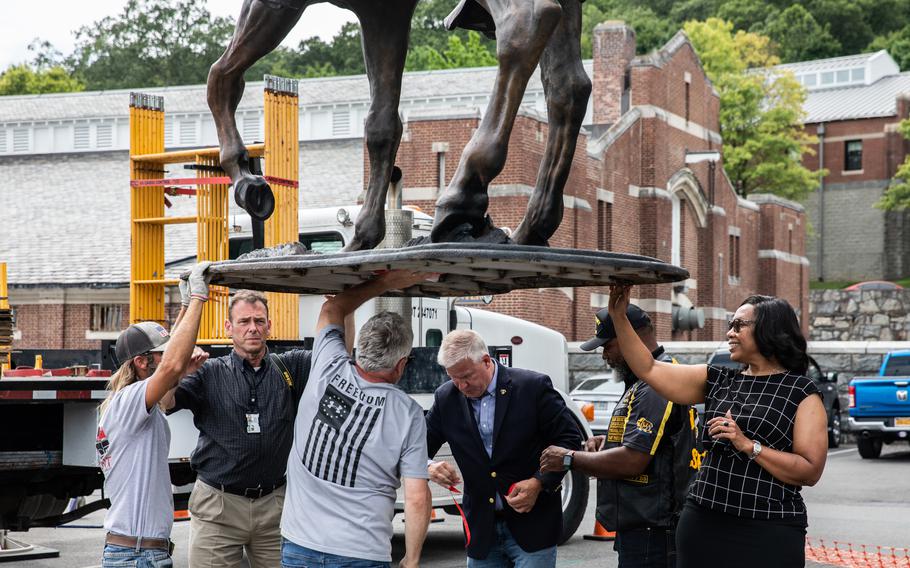 The statue was created by sculptor Eddie Dixon in his studio in a converted firehouse in Lubbock, Texas. Dixon worked with West Point historians and other experts to make sure that the uniform and horse equipment was historically accurate.
The rider's leggings were made to look like those worn in 1907, said David M. Reel, director of the West Point Museum, who assembled a team of historical advisers. The saddle had to be the 1885 McClellan style, and the flag anchor in the rider's right stirrup from 1904.
And Dixon pored over old photographs of Sanders Matthews to get the facial image right.
A model was built on an inner structure of carved foam, over which Dixon spread a layer of light-brown clay. Molds were made from the model, and the statue was cast with molten bronze at Schaefer Art Bronze Casting, in Arlington, Texas.
It was transported by truck and arrived Monday morning, escorted by eight motorcycles from the National Association of Buffalo Soldiers and Troopers Motorcycle Club.
The sculpture, which features an image of Matthews carrying a swallow-tailed cavalry flag that reads "USMA Detachment" is the culmination of a project that was started by him before he died at age 95 in 2016.
He had long dreamed of a suitable monument honoring the Buffalo Soldiers of West Point, his granddaughter said.
When his 23 years of service, most of it at West Point, ended in 1962, he became the first African American police officer in nearby Highland Falls, N.Y. He then returned to West Point as a campus bus driver, according to the Buffalo Soldiers Association of West Point, an organization he founded in 2008.
He and his wife, Cora, who were married for 74 years, are buried in the West Point cemetery.
But Matthews did not know he would be the model, his granddaughter said.
The statue is a gift to the academy from the Buffalo Soldiers Association of West Point, which raised roughly $1 million for the project, said retired Army Maj. Gen. Fred Gorden, who headed the fundraising effort.
Gorden, of Ellicott City, Md., was in the late 1980s the first Black commandant of cadets at West Point.
"It's quite exhilarating, to say the least," he said in a telephone interview Tuesday. "That's probably an understatement."
Most people have no idea that Buffalo Soldiers were at West Point, he has said. "They served . . . quietly, confidently, skillfully," he said. "They were standard-bearers."
The statue is to be unveiled in a ceremony Sept. 10.
"These Soldiers embodied the West Point motto of Duty, Honor, Country and ideals of the Army," West Point's superintendent, Lt. Gen. Darryl A. Williams, the first African American to hold the post, said in a statement.
"This monument will ensure that the legacy of Buffalo Soldiers is . . . revered, honored and celebrated while serving as an inspiration for the next generations of cadets," he said.
Chiefly members of the Black 9th and 10th U.S. cavalry regiments, the Buffalo Soldiers are known for fighting Native Americans in the American West in the late 1800s.
The Cheyenne and Comanche named them for what they saw as a similarity of the soldiers' hair and skin color to that of the American bison, historians say.
But starting in 1907, a detachment of Buffalo Soldiers was posted at segregated West Point to instruct the cadets in the fine points of horsemanship - and to do menial work across the campus.
The training previously had been done by a white cavalry outfit, which suffered from poor morale, indiscipline and low reenlistment rates. The arrival of the Black soldiers solved the problem "pretty much over night," Army reports showed.
The Buffalo Soldiers served at West Point until 1947; the next year, the Army was racially desegregated, historian Brian G. Shellum has said.