More Texas National Guard troops deploy to southern border, some to help build a wall
by
Rose L. Thayer
Stars and Stripes
August 26, 2021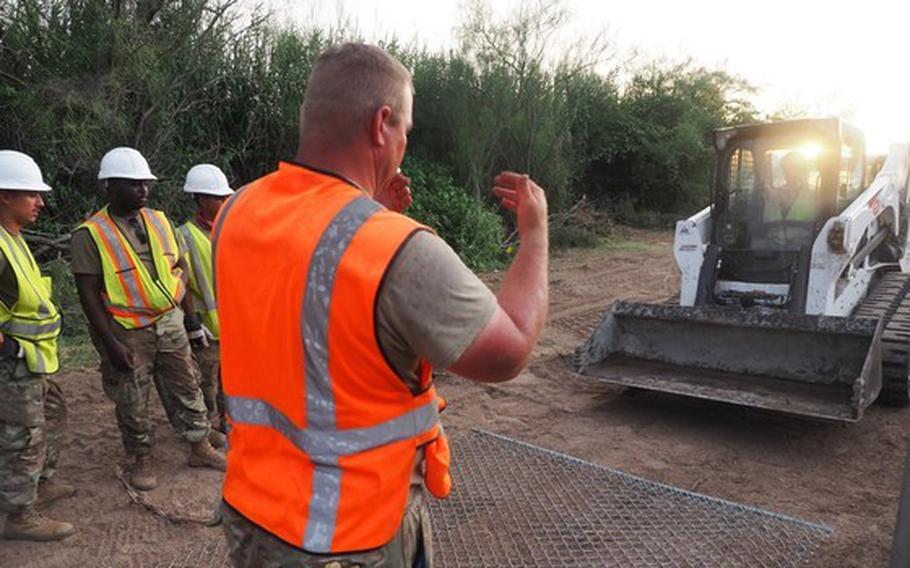 More than 1,000 Texas National Guard members are now deployed to the state's border with Mexico, with some troops helping with the early stages of building a border wall, the governor's office said.
Gov. Greg Abbott announced the additional construction mission Tuesday, saying he has "surged" troops to the border under state orders.
He initially deployed 500 troops in March to work with the Department of Public Safety in a border security mission dubbed Operation Lone Star.
More than 60 Guard engineers are now working with local and state agencies "to construct temporary barriers in key areas along the border, supporting the immediate need to deter criminal activity in the area," according to the Texas Military Department.
"The Texas National Guard engineer force is trained to [construct] expeditionary and temporary structures and barriers as a part of their base skill sets. Additionally, every service member assigned to Operation Lone Star receives additional training specifically for this mission," the department said.
Abbott, a Republican, secured $250 million in state funding and then began requesting donations to build a border wall this year following President Joe Biden's announcement to end the construction started under former President Donald Trump. Abbott's office said they have more than $1.2 million in donations as of last week.
"The Texas National Guard is playing an unprecedented role to secure the border because of the unprecedented refusal of the federal government to fulfill its obligations under federal law," he said in a statement.
Guard troops from at least two other states with Republican governors — South Dakota and Arkansas — were deployed to Texas.
Abbott also has requested more funding for border security that, if approved, could increase the number of troops deployed.
The state-controlled troops are in addition to about 3,800 troops deployed under federal orders to support the Department of Homeland Security across the entire U.S. border with Mexico. Those troops were initially deployed on the federal mission under Trump and remain under Biden, even after the national emergency declaration at the border was rescinded.
Last month, Abbott announced the Texas Guard members would shift from a largely supportive role with the Department of Public Safety to helping state troopers arrest migrants for trespassing. The governor's office and the Texas Military Department declined to say whether troops were only allowed to arrest people for certain violations or if they had the authority to enforce all state laws.
The Department of Public Safety did not immediately respond to questions.