'Forgotten Battalion' of US soldiers still preserving peace in Kosovo two decades on
by
Slobodan Lekic
Stars and Stripes
August 19, 2021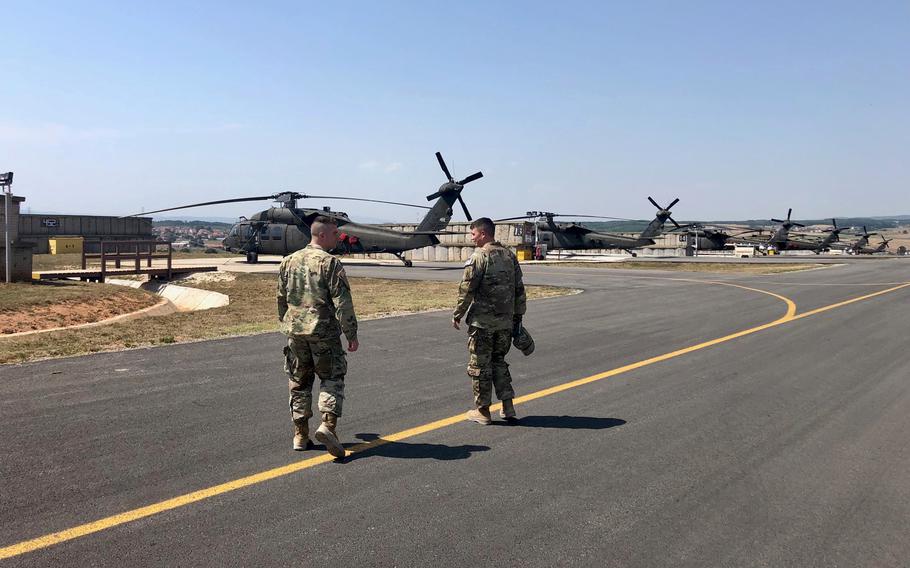 CAMP BONDSTEEL, Kosovo — The U.S.-led NATO force that has been keeping the peace for more than 20 years is on guard against disinformation campaigns aimed at stoking inter-ethnic tensions in Europe's youngest nation, officials said.
Security in Kosovo remains stable overall. But Washington and its NATO allies have no plans to reduce the Kosovo Force — or KFOR — which is still considered essential in maintaining peace between the Albanian majority and Serb minority, whose rivalry erupted in a war in the late 1990s in which at least 10,000 people died.
"I have no indication of any U.S. drawdown," said Col. Brey Hopkins, who commands the 86th Infantry Brigade Combat Team (Mountain) of the Vermont Army National Guard, which arrived in Kosovo in July for a regular nine-month deployment.
After a bombing campaign in 1999, the international coalition evicted Serb troops from what was then a southern province of a greatly reduced Yugoslavia. Kosovo, about 90% of whose 1.8 million people are ethnic Albanians, unilaterally declared independence from Serbia in 2008. But Belgrade insists that it remains Serbian territory.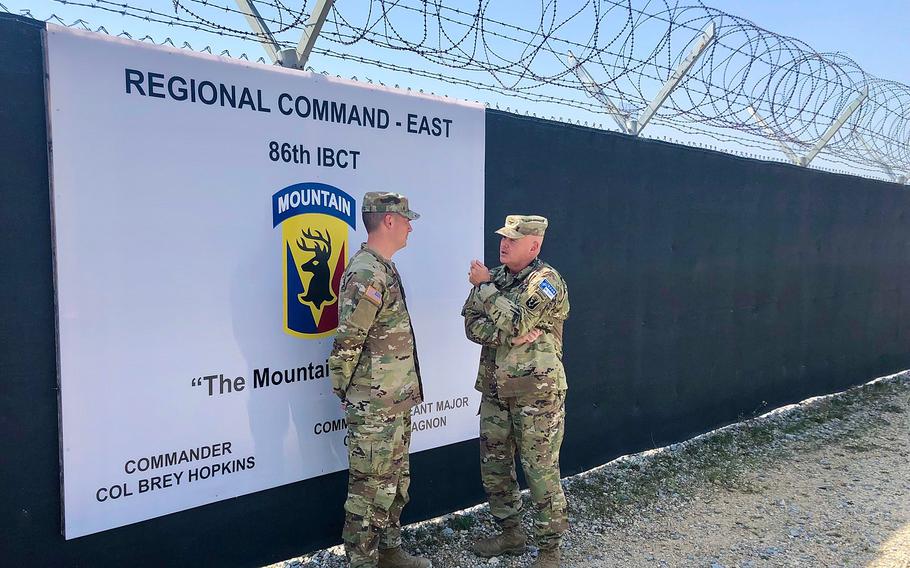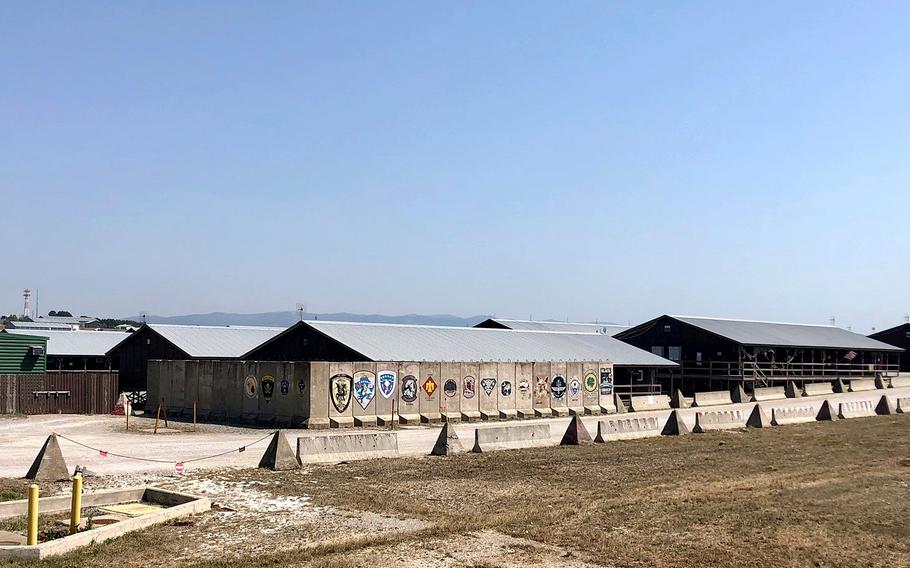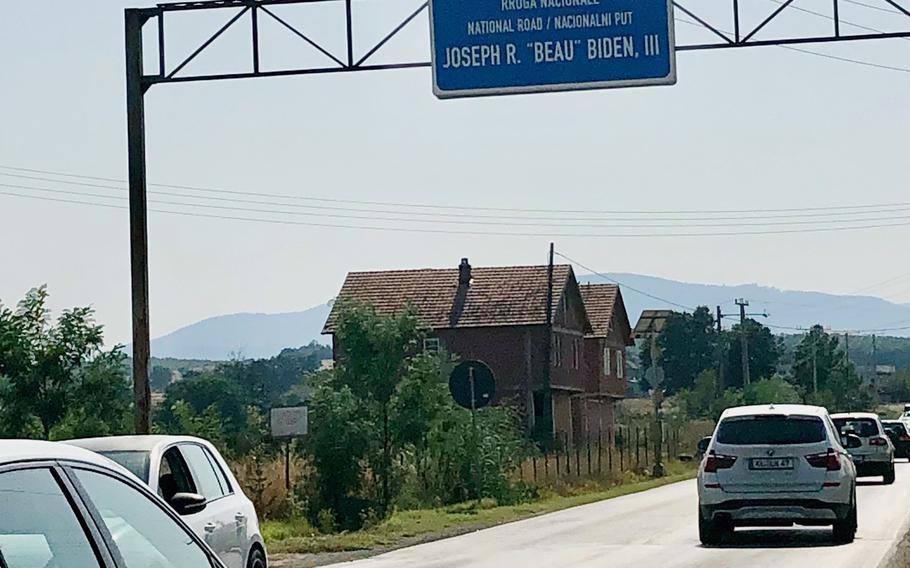 Since then, the two sides have engaged in sporadic talks aimed at resolving the decades-old ethnic rift.
They agreed last year at the White House to normalize some economic and energy issues, but there has been no progress on the political dispute. The main sticking point remains Kosovo's insistence that Belgrade recognize its independence, which Serbia refuses to even discuss.
While Kosovo has been recognized by the U.S. and most EU nations, Belgrade has relied on support from Russia and China in its bid to maintain its claim to its former province.
"The purpose (of KFOR) is to keep a secure and safe environment in order to allow the politicians on both sides the breathing space they need to sit down at the table and discuss how to resolve their differences," said Hopkins, who also heads KFOR's Regional Command East headquartered at this austere base.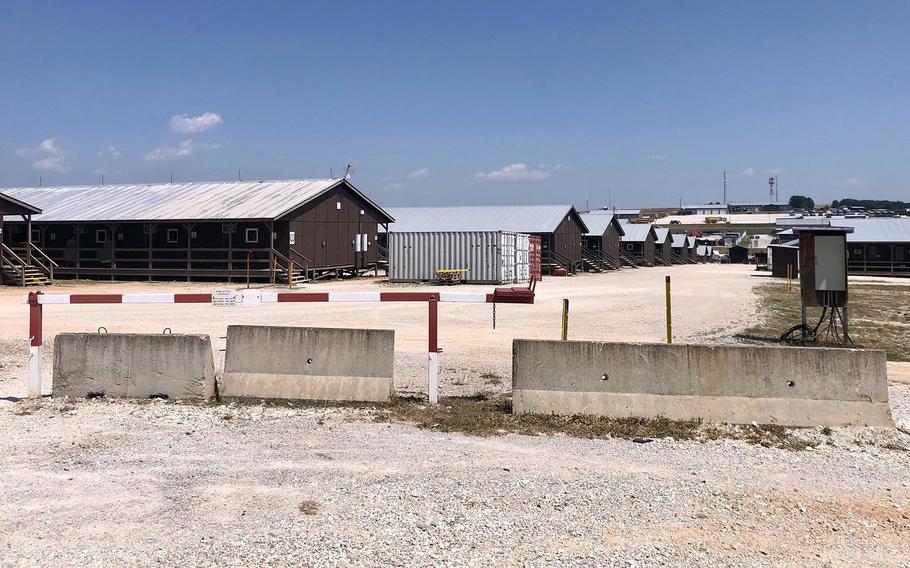 After his unit completes its deployment, it will be followed by the Virginia Army National Guard next spring. Each rotation typically lasts between nine to 12 months.
KFOR currently includes about 3,600 peacekeepers from 27 nations. The United States has the largest contingent, with 660 troops, most of them based at this sprawling facility in central Kosovo.
Italy has 542 soldiers and Hungary nearly 400. Some countries, such as Sweden or tiny Montenegro, contribute just a couple of officers each.
The U.S. group, which during the wars in Iraq and Afghanistan became known as the "Forgotten Battalion," has traditionally been the biggest part of the NATO force, which has shrunk steadily from a high of about 50,000 in 2000.
Despite its relatively small size, it consists of elements from 11 state National Guards, as well as Army Reserve and active-duty troops. While the headquarters and maneuver battalion are from Vermont, the aviation task force is made up of troops from the Connecticut, Maryland, New Hampshire and Puerto Rico National Guards.
Security has improved vastly in the past several years, Hopkins said. Most incidents between Kosovars and Serbs now involve derogatory graffiti, with occasional flare-ups of stone throwing and petty crime.
Still, KFOR keeps a close eye on possible sources of inter-ethnic tensions, including "information operations by both sides," Hopkins said.
He did not identify any culprits, but Serbia's pro-government media has been running numerous alarmist stories about the situation in Kosovo, claiming that Serbs there are under "daily attack" by extremist Albanians, and demanding that KFOR allow Serbian police and army units to deploy in order to defend their compatriots. These have been countered by reports in some Albanian-language outlets, which also have stoked tensions.
"The primary point is to track those information operations to make sure they don't become a destabilizing factor," Hopkins said.
Several U.S. service members interviewed at Bondsteel said they were glad to be contributing to the peace. Soldiers who had served in the Balkans previously said they were surprised by the amount of economic progress in the region since the early 2000s.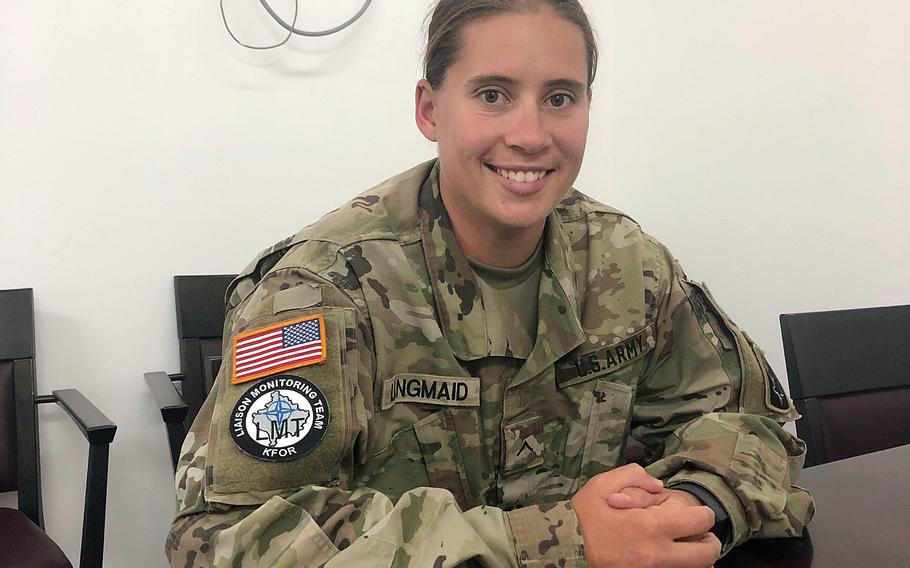 Pvt. Katja Langmaid, from the 186th Brigade Support Battalion, said she particularly enjoys her work as a member of the liaison team monitoring an ethnic Serb community located in a majority-Albanian area, where tensions still occasionally rise up.
"We go out to meet with the populace, the village elders and policemen to feel the pulse of the place," said the 28-year-old from Swanton, Vt.
The reception has generally been very good, she said.
Langmaid said she enjoys visiting old fortresses that dot the landscape, adding that she plans to spend her leave traveling in Europe.
"Just being here, the history in Europe is so much older than what we have in the U.S.," she said.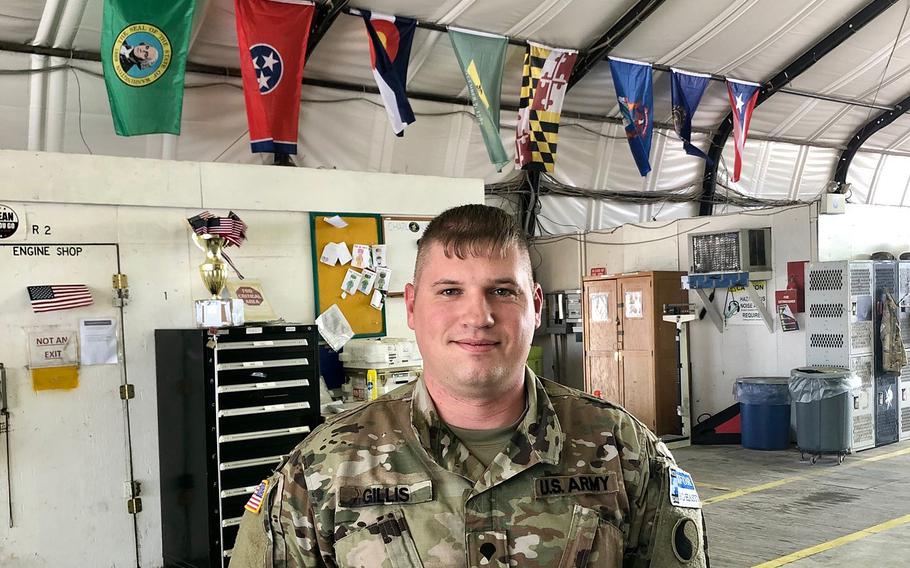 Guardsmen normally get a full month of leave after Kosovo as well as rest and recreation breaks during the deployment without charge to their leave time.
"There could be a lot worse deployments than Kosovo," said Spc. Timothy Gillis, of the Maryland Army National Guard's 169th Aviation Regiment, a Denton, Md. resident who serves as a helicopter mechanic. "It's my first deployment and I plan to make the best of it."
Camp Bondsteel, set among rolling hills and farmland near the town of Ferizaj in central Kosovo, covers about 955 acres. The perimeter is about 7 miles long at the base, which houses about 1,000 troops from the U.S., Turkey, Poland and Latvia in wooden barracks.
Sgt. 1st Class Will Newell, 46, who served in the Balkans in the 1990s, said he's glad to be at Camp Bondsteel because it gives him a chance to see how much progress has been made since the wars that affected the region more than two decades ago.
"It makes my heart happy to see it good now, for lack of a better term," said Newell, of Milton, Vt. "When we were here before, everything was very fresh. There were a lot of people displaced, there were a lot of families shattered (and) towns and villages.
"To be back in this area and see things moving well forward and people getting along well … it's a full circle."