New DNA techniques helped Army investigators close 34-year-old cold case
by
Chad Garland
Stars and Stripes
July 14, 2021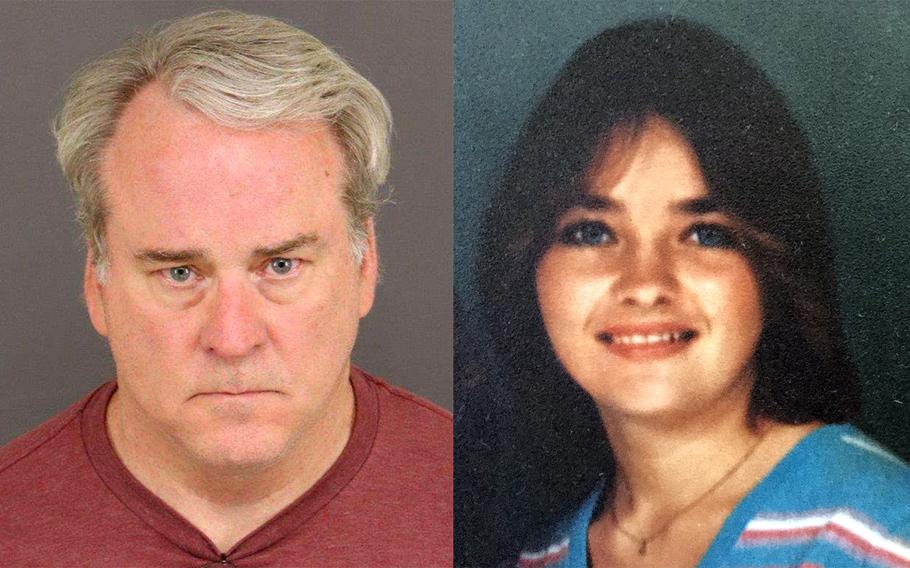 It took over three decades, but the killer of an Army specialist in Colorado has been brought to justice.
Michael Whyte was sentenced last month to life in prison for the murder of Spc. Darlene Krashoc in Colorado Springs, Colo., after Army cold case investigators used new DNA techniques to identify him as a suspect in the 1987 killing.
Whyte, a 19-year veteran of the Army who was stationed at Fort Carson at the time of the murder, reached the rank of sergeant first class before retiring in 1998. 
DNA evidence collected at the scene and genealogical databases connected Whyte to the murder, Army Criminal Investigation Command, or CID, said in a statement Monday.
"It feels satisfying to know that the hard work and collaboration among multiple agencies in the pursuit of justice finally led to a successful resolution," said CID Forensic Science Officer Jessica Veltri.
Veltri's efforts revived the probe when she was assigned to it in 2014, while stationed at the 22nd Military Police Battalion at Joint Base Lewis-McChord, Wash., CID said. She'd recently graduated from George Washington University's forensic science program and was interested in cold cases.
Colorado Springs police had found Krashoc's body early in the morning of March 17, 1987, in a parking lot behind the Korean Club Restaurant. It was about a mile north of where she'd last been seen at a nightclub drinking and dancing with fellow soldiers after midnight.
She was five months shy of her 21st birthday and had been serving on active duty with the 73rd Maintenance Company, 43rd Support Group, based at Fort Carson. An autopsy determined she was strangled to death somewhere else before being moved to the parking lot, CID said.
But despite hundreds of interviews by police and Army investigators, and DNA samples pulled in 2003 and 2011, efforts to identify a suspect were stymied as leads went cold. 
The murder was nearly 30 years old in 2016 when Veltri completed a review and submitted 27 pieces of evidence to the U.S. Army Criminal Investigation Laboratory in Forest Park, Ga., for DNA forensic testing not previously available.
That December, CID partnered with Parabon NanoLabs, a Reston, Va.-based company specializing in the relatively new technology of DNA phenotyping, a process that allowed them to develop composite "snapshots" of what the killer might have looked like at age 20 to 25 and 30 years later.
It was the first time CID used the technique, and it released the composites along with an announcement of a $10,000 reward in 2017, hoping to identify a suspect. Then, in 2019, they got a lead from ancestry research databases. 
California police had used similar genetic data collections a year earlier to identify a suspect linked to some 50 rapes and 12 murders in the late 1970s and early 1980s in the high-profile Golden State Killer case.
In Krashoc's case, the data led to distant relatives, then to a single name that was compared against military records to identify Whyte as a suspect, CID said.
"I wasn't sure if we would ever get to this point," said Jennifer Coslin, a supervisory biologist at the Army lab who had worked on evidence in the case since 2005.
Veltri was both excited and in disbelief that they "finally found him," Coslin recalled in an Army statement. "We finally had a viable lead."
Police in Colorado then surveilled Whyte and collected a DNA sample from a fast food cup he'd used and discarded. The samples matched, and he was arrested in June 2019 at his home near Denver.
"I'm so grateful they kept the DNA after all these years," Krashoc's sister, Rhonda Lilly, told Army Times after the arrest. "The Colorado Springs police and Army CID never forgot about her."
Veltri's dedication helped bring "some small amount of closure for the family," said David Zeliff, CID's chief forensic science officer.