Former enlisted leader charged with sexually assaulting officer, obstructing justice in another trial
by
Chad Garland
Stars and Stripes
June 30, 2021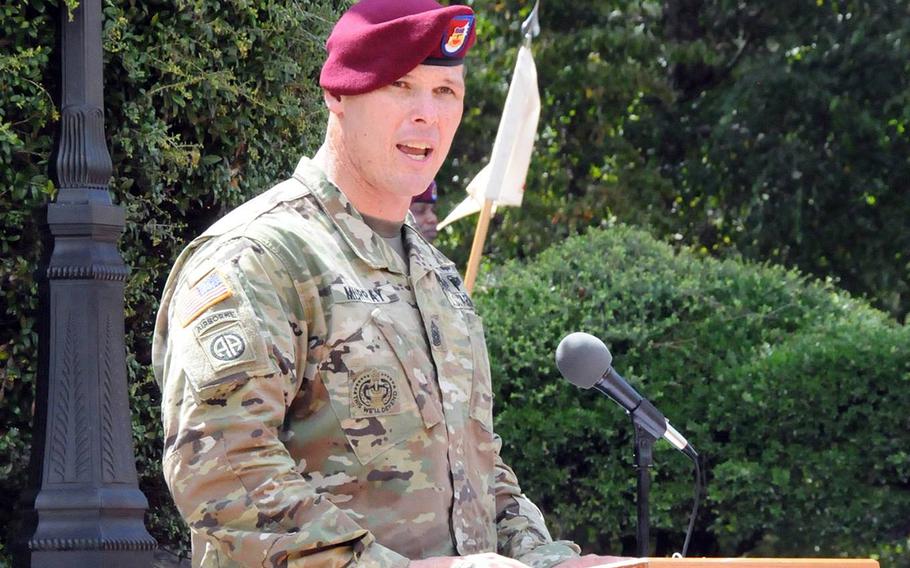 A former command sergeant major faces a court-martial on charges he sexually assaulted an officer and asked her to destroy evidence ahead of an earlier trial on separate sexual misconduct charges.
Clinton Murray, now a master sergeant at Fort Bragg, N.C., was acquitted of earlier charges he'd sexually assaulted a private first class, but was found guilty last year of having a prohibited relationship with her during a 2017 Afghanistan deployment.
Days after he was sentenced to a reprimand and reduction in rank in that January 2020 trial, he was again under investigation and "flagged" to prevent favorable personnel action. Yet Murray was able to retire briefly and now faces a slew of charges that include desertion and fraudulent separation.
Some details about Murray's career and the allegations against him, first reported by Army Times, were disclosed in a lawsuit he filed against the Army last July for revoking his retirement orders. Prosecutors said he was able to retire by forging signatures.
Murray has pleaded not guilty to the charges. His lead attorney, John Hafemann, told Army Times the defense team looks forward to representing him at court-martial, but declined to discuss specifics of the case.
The legal trouble for Murray began while he was in Kabul with the 82nd Airborne Division's 1st Brigade Combat Team.
Murray, who earned a Bronze Star for valor and an Army Commendation Medal with valor during over 20 years of service, was on his fifth combat deployment. He was the command sergeant major of the 3rd Squadron, 73rd Cavalry Regiment, when he came under investigation. 
The Army eventually charged him with several offenses, including sexually assaulting the private first class, mistreating her, engaging in a prohibited relationship with her, fostering a sense of undue familiarity with a female first lieutenant, and attempting to influence the investigation into his conduct.
Most of the charges were withdrawn, including the one involving the officer, and Murray was acquitted of the sexual assault and maltreatment charges. But after a four-day trial, he was found guilty of the six-month prohibited relationship with the junior enlisted soldier and was sentenced to a reprimand and reduction in rank.
It was during the court-martial that the officer approached prosecutors and said she had helped Murray cover up evidence of his sexual misconduct, at his request, and had an adulterous relationship with him, Maj. Clifford Walters, chief of military justice for the 82nd Airborne Division, said in a sworn statement filed in federal court last year.
Army Criminal Investigative Command then launched an investigation into the charges of obstruction of justice, Walters said.
Murray was informed on Feb. 6, 2020 of that investigation and that he would remain "flagged" until it was complete, officials said. But a little over a month later he received retirement orders with a June 2020 effective date through what the Army said was an administrative error.
Prosecutors told the federal court that he forged two soldier's signatures and made an unauthorized change to a signed leave form, allowing him to sign off base June 4, 2020. He got three weeks of retirement pay and received signed letters from the president and Army leaders thanking him for his service, court records show.
A little over a month later, after the Army realized what happened, his company commander left him a voicemail informing him his retirement orders had been revoked and that he had to report back to Fort Bragg. He didn't show up and was declared AWOL before he sued to block the recall, but he was apprehended weeks later. His suit was dismissed in September.
The Army charged him in August with trying to impede the 2017 investigation by requesting destruction of "physical and forensic evidence," and with sexual assault for coercing the officer to have sex with him in May 2018. He threatened to divulge details of their previous liaisons to her husband and the Army, says a lightly redacted charge sheet the 82nd Airborne Division provided to Stars and Stripes on Wednesday. 
He's also charged with using such threats to extort her for "intimate visual images." Charges were added in January that he'd attempted "revenge porn" by trying to broadcast intimate images of an unnamed woman in Fayetteville, N.C., without her consent.
Murray also faces charges that he began an adulterous relationship in Kabul that continued for several months after he returned to North Carolina.
"Charges are merely accusations and the accused is presumed innocent until proven guilty," said Lt. Col. Mike Burns, a spokesman for the 82nd Airborne, in an emailed statement.
His trial is scheduled for Oct. 11.
Twitter: @chadgarland