VI National Guard's Knox-Limbacker promoted to major general
by
Adian Brewer
The Virgin Islands Daily News
June 16, 2021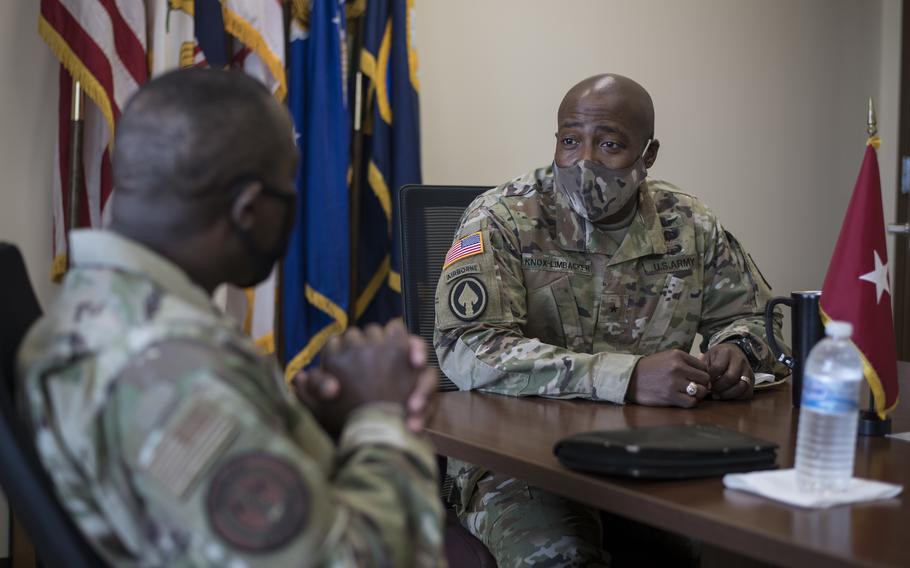 ST. THOMAS, U.S. Virgin Islands (Tribune News Service) — Virgin Islands National Guard Adjutant Gen. Kodjo Knox-Limbacker, the youngest person to serve in that position, has reached another milestone in his military career.
Gov. Albert Bryan Jr. promoted the 49-year-old Knox-Limbacker to the rank of major general during a pinning ceremony last week at the University of the Virgin Islands Sports and Fitness Center on St. Thomas.
Currently, the new rank is a local designation only as the two-star designation still needs to be approved by the U.S. Senate, according to Government House.
"This promotion today is not really about me. It's about the men and women you see before you and the rest of those who are in uniform across our territory and some of those who are in training right now," Knox-Limbacker said in prepared remarks. "It is their hard work, it is their dedication, and it is their commitment to excellence that has allowed me to lead an organization like this to achieve the things we have never achieved before."
'A family business'
Born and raised on St. Croix, Knox-Limbacker grew up in a military family.
"My mom was a retired master sergeant for the military, my father was in the Air Force Guard during the Korean war, and my stepfather retired from active duty military as well," he said. "It's almost like a family business."
Two of Knox-Limbacker's sons are currently serving in the military, one of whom he had the honor of promoting himself. His wife currently works for the Department of Veteran Affairs.
"The whole family has been all in supporting the soldiers, airmen, Marines, Coast Guard and sailors," Knox-Limbacker said.
In October 2020, then Brig. Gen. Knox-Limbacker, promoted his son, Demitrick Nieto, to the rank of staff sergeant, according to an online post by the U.S. Army Recruiting Station in Burleson, Texas.
"He presented his son with a machete that represented independence, blazing a trail for others to follow, strength, as well as consistent with change in the Caribbean," according to the post.
The early years
Although Knox-Limbacker moved frequently as a child — living in Texas, Alaska and New York — his family eventually returned to St. Croix, where he graduated from Central High School in 1989. After high school, he attended Georgia Military College with a scholarship from both the school's music organization and its drill team.
The start of his military career began when he enlisted in the Georgia National Guard as an infantryman. After completing the Army Reserve Officer Training Corps program at Augusta State University, he was commissioned as a Second Lieutenant in Army Aviation. He subsequently graduated from the U.S. Army flight school as an Army aviator, having logged over 2,700 flight hours including tours in Africa, Afghanistan, Bosnia, Kosovo and South America.
In February 2018, while serving as Director, Personnel Readiness and Safety to the Assistant Secretary of Defense, Knox-Limbacker had a homecoming of sorts. He was granted a special active duty assignment to the U.S. Virgin Islands to serve as a Senior Army advisor to the V.I. National Guard.
The advisors are senior active Army officers assigned to states and territories to advise and assist National Guard commanders.
Knox-Limbacker brought the hard work, ethics and stern leadership style honed at the Pentagon to V.I. National Guard, where he's been credited for positive change.
"I think the biggest difference you'll see in the Guard since I arrived is a change in the culture," he said. "My statement to the VING force as we transitioned to our new culture to exceed standards was 'lead, follow, or get out of the Guard.' The premise is that our small organization needs everyone to perform at their best to achieve success. We cannot afford to retain nonperformers or toxic followers as we move forward."
While he may be known for his military service, his daughter knows him simply as her hero.
"Some people don't believe in heroes, but they haven't met my dad. My father is a man like no other," Kalere' Knox-Limbacker, who recently graduated from the University of Alabama, said. "He's believed in me, protected me, strengthened me, but most of all he loved me unconditionally."
(c)2021 The Virgin Islands Daily News (St. Thomas, VIR)
Visit The Virgin Islands Daily News (St. Thomas, VIR) at www.virginislandsdailynews.com
Distributed by Tribune Content Agency, LLC.