'I'm always smiling': How an Army National Guard MP deployed to Kosovo became a meme
by
Chad Garland
Stars and Stripes
June 5, 2021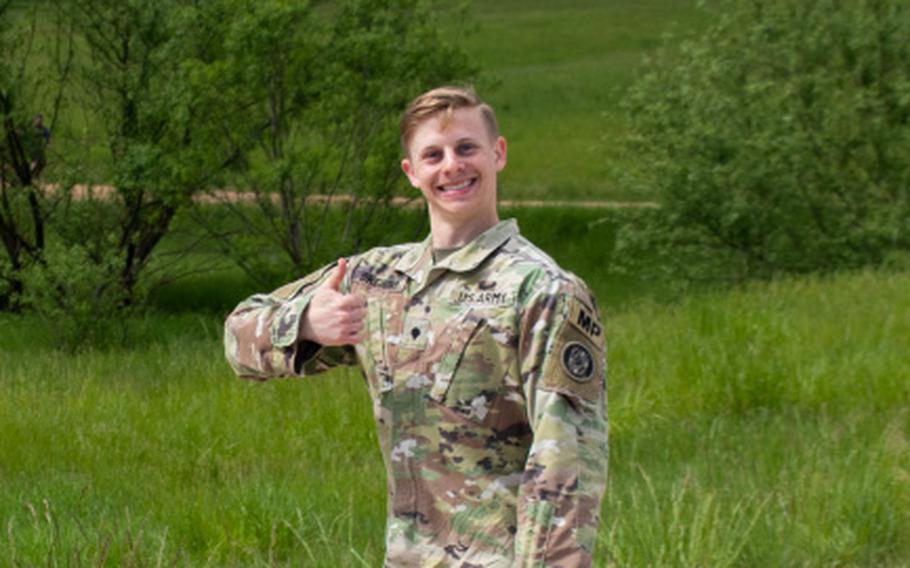 A photo of Spc. Joseph Breining smiling and giving a thumbs-up during a road march in Kosovo last month garnered the attention of hundreds on Twitter and spurred the creation of memes.
The photo drew comparisons of Breining to the Smilin' Bob character from the Enzyte "natural male enhancement" tablet commercials of the early 2000s or to Kenneth Ellen Parcell, the NBC page in the sitcom "30 Rock."
At least one commenter saw a modern reincarnation of the smiling soldier raising a canteen cup, originally from a 1943 World War II propaganda poster about rationing, but more familiar to social media users as the "how about a nice cup of shut the [expletive] up" meme.
But Breining, a Maryland Army National Guard member on his first overseas deployment, says he was just having a fun time picking the brains of a Polish soldier who was marching with a ruck beside him.
"I'm always smiling," Breining said in a phone interview Friday, explaining his philosophy: "If you can't smile through it, you might as well not be doing it."
Indeed, the Defense Department's imagery repository DVIDShub.net contains several photos of the smiling soldier with the 29th Military Police Company.
Military photographers "kind of hone in" on soldiers like him, said Maj. Sam Otto, public affairs officer for Regional Command-East, Kosovo Force.
"He's the only one smiling," Otto said.
There are photos of Breining without a grin, too, such as practicing deescalation tactics in a simulator or training on the use of radar guns alongside allied international MPs.
He's among the 28th rotation of American forces supporting the peacekeeping mission in Kosovo, Otto said. Their nine-month deployment began in November.
Right before that, Breining was activated to help guard a COVID-19 testing site at FedEx Field, where the Washington Football Team plays.
"Ever since COVID started, I've been pretty much full-time active duty," he said. "I'm not complaining."
In civilian life, he was attending Towson University near Baltimore — he's three semesters from earning his bachelor's degree in criminal justice — and stocking milk at a grocery store.
Breining marked his five-year anniversary of joining the Army National Guard in late May, he said. He previously did three weeks of annual training in Estonia, but this was his first full deployment.
After the road march last month, one of several national police week events, the Americans and Polish, Swiss, Italians and others enjoyed a cookout together, he said.
The level of cooperation with allies makes the Kosovo rotation special, said Capt. Nate Hoeger, provost marshal for Regional Command-East and a member of the Iowa Army National Guard, who previously deployed to Guantanamo Bay for 10 months from 2018 to 2019.
"Being that we're National Guard military police officers, we don't really get to do a lot of law enforcement missions," Hoeger said. "This has just been a really unique opportunity for us."
Breining doesn't have active Facebook or Twitter accounts and only became aware his photo was being turned into a meme when other soldiers on the KFOR mission showed him the social media posts.
"I just laughed through it all," he said. "It's funny. I was having a good time."
His grinning even drew the attention of senior noncommissioned officers in the service.
Sgt. Maj. Jason Baker, a public affairs sergeant major for U.S. Army Pacific, praised Breining as one of "two viral soldiers," along with Cpl. Emma Malonelord, the star of an Army recruiting video that drew criticism as "woke" last month.
"Super proud to have these two motivated young Americans serving in our ranks," Baker said in a tweet that was liked over 1,200 times. "It's the people that make this whole thing worth it."
Sgt. Major of the Army Michael Grinston responded: "These are good Soldiers."
And how did Breining react to being interviewed by Stars and Stripes?
"He's just sitting here smiling," Otto said.