Hilbert returns to Germany as boss of Army's largest training command in Europe
by
Immanuel Johnson
Stars and Stripes
June 2, 2021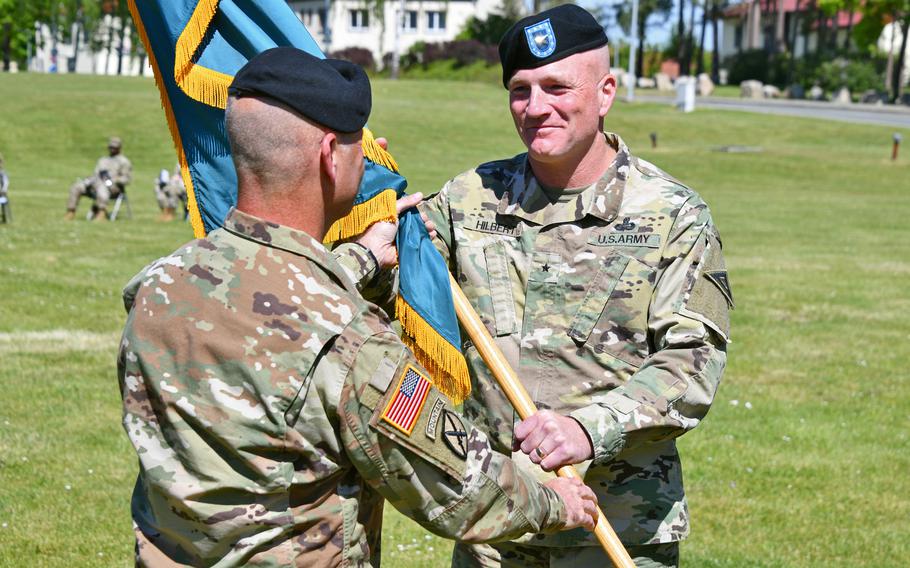 GRAFENWOEHR, Germany — Brig. Gen. Joseph Hilbert, who headed the Joint Multinational Readiness Center in Hohenfels until last year, has returned to Bavaria to assume command Wednesday of the Army's largest overseas training area.
Hilbert, who arrived from the 3rd Infantry Division at Fort Stewart, Ga., took over the 7th Army Training Command from Brig. Gen. Christopher Norrie.
"We are excited to rejoin the team here," Hilbert said. "I look forward to working with many of you again."
The 7th ATC is responsible for providing and overseeing the training requirements for U.S. Army Europe and Africa soldiers, as well as troops from NATO and partner countries.
Norrie oversaw the Army's response to the coronavirus pandemic in Bavaria, which once saw some of the highest case totals and strictest regulations in Germany.
"During the pandemic, I had to devote myself to the difficult task of making a selection from a list of consistently poor options," Norrie said in an open letter posted on the command Facebook page. "My experience in this was, just like many others, that our common path through the pandemic has been difficult, paved with obstacles and deprivation.
"But I will leave with a feeling of deep gratitude, grateful that our paths crossed with all of you here in Bavaria, combined with the honor of being a soldier here in this very special place."
Norrie's next assignment is to lead the Army's People First Task Force at the Pentagon, which was created following an independent review at Fort Hood, Texas, that found pervasive command climate problems and fear of retaliation for reporting sexual assaults, among other deficiencies..
johnson.immanuel@stripes.com
Twitter: Manny_Stripes