Joint Base Elmendorf-Richardson paratroopers scale peak to honor and remember fallen brothers and sisters in arms
by
Loren Holmes
The Alaska Dispatch News
May 28, 2021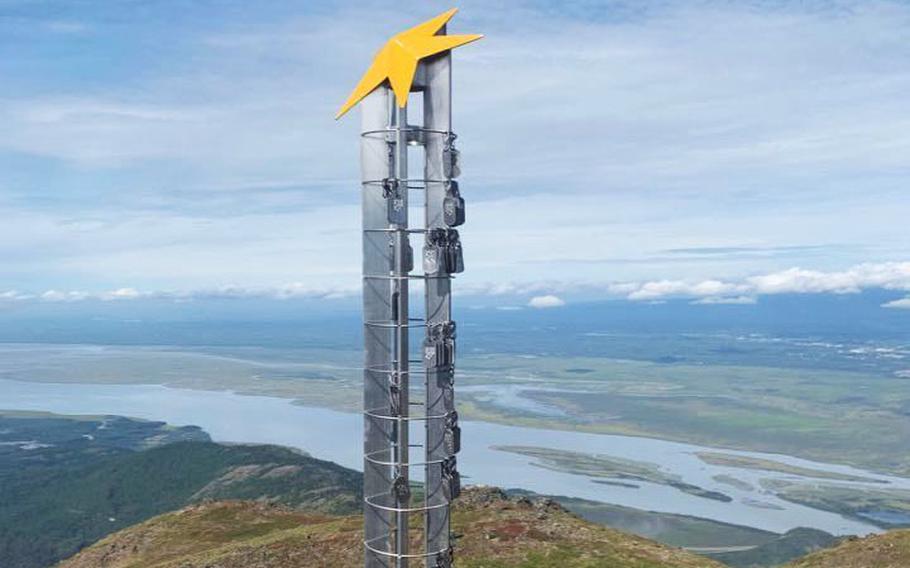 ANCHORAGE, Alaska (Tribune News Service) — Nearly 300 paratroopers from Joint Base Elmendorf-Richardson hiked up the steep and challenging slope of Gold Star Peak on Thursday, capping off a week of Memorial Day events that included a 17-hour run, a parachute jump and a ceremony at the military base.
Gold Star Peak, near Eklutna Lake, was renamed in 2018 after about two years of work by Kirk Alkire, a veteran who deployed to Iraq in 2006 with the JBER-based 4th Infantry Brigade Combat Team (Airborne), 25th Infantry Division. Fifty-three of his fellow soldiers died during the fighting there.
On Thursday, Alkire greeted soldiers as they arrived at the 4,148-foot summit, carrying with them 77 photos — one for each of the fallen paratroopers from the 4-25 who died in Iraq and Afghanistan. During a brief ceremony where each name was read, Alkire challenged soldiers to live each day with intention.
"I never thought today that it would turn into this," said Alkire. "Last year we had 170 paratroopers make the journey up here, and this year I'm hearing that we're probably going to have close to 300 or more that are making the journey today."
Justin Figenser, a paratrooper with the 1-40th Calvary, made the hike last year and wanted to come back again.
"I don't mind the pain," he said, referring to the steep 2.4-mile hike. "We come out here every year to support the people that we've lost within our squadron, and our brigade, and all over really. I have friends that have passed, so this is important to me."
"We call these meaningful miles," brigade chaplain John McDougall said, breathing heavily as he hiked the steep trail through the trees at the base of the mountain. "They're there for a purpose, to remember our 77 fallen and their families."
"It reminds us that life isn't always easy, but we're not alone. We've got our brothers and sisters walking with us, and we've got our fallen angels watching over us."
(c)2021 the Alaska Dispatch News (Anchorage, Alaska)
Visit the Alaska Dispatch News (Anchorage, Alaska) at www.adn.com
Distributed by Tribune Content Agency, LLC.