House committees to investigate deaths of soldiers at Fort Hood
by
Rose L. Thayer
Stars and Stripes
September 8, 2020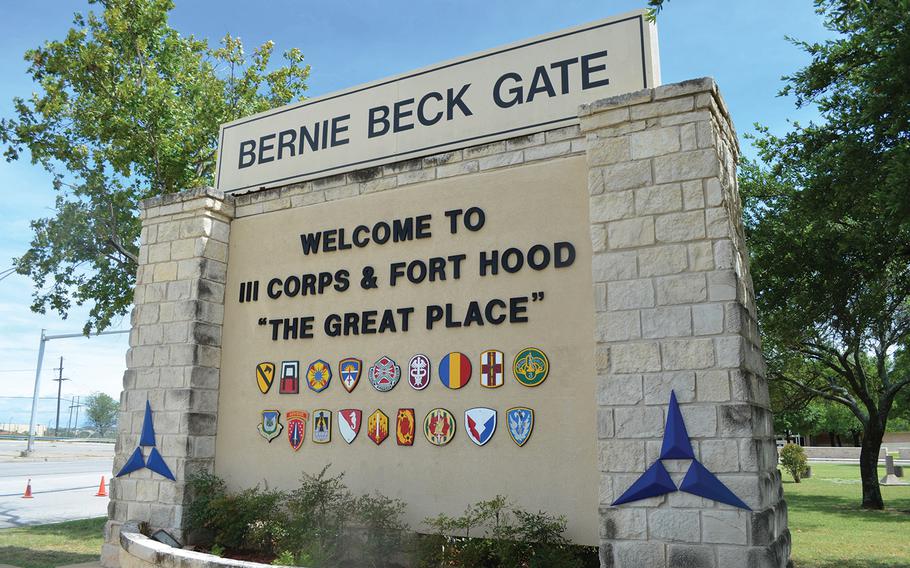 AUSTIN, Texas — Two House committees on Tuesday announced a joint investigation into the policies and practices at Fort Hood with a focus on seven soldiers who died this year while stationed at the Army post in central Texas.
The investigation will determine "whether an alarming pattern of recent tragedies at Fort Hood, Texas, may be symptomatic of underlying leadership, discipline, and morale deficiencies throughout the chain of command," according to a letter sent Tuesday by the House Committee on Oversight and Reform's subpanel on national security and the House Committee on Armed Services' subpanel on military personnel to Army Secretary Ryan McCarthy to inform him of the investigation and request a detailed list of documents and communications.
The letter is signed by the chairperson of each subpanel, Reps. Stephen F. Lynch, D-Mass., and Jackie Speier, D-Calif., who described the inquiry as their "solemn responsibility to provide a full accounting of the conditions and circumstances that may have contributed to the recent disappearances and deaths of U.S. Army personnel at Fort Hood."
"Where appropriate, we intend to seek justice on behalf of those in uniform, and their families, who may have been failed by a military system and culture that was ultimately responsible for their care and protection," they wrote.
The lawmakers cite the recent deaths of soldiers at the post as well as statements by McCarthy that reveal instances of violent crime committed by soldiers at Fort Hood exceed those of the rest of the Army.
The lawmakers also requested information on seven specific cases at Fort Hood, including those of Spc. Vanessa Guillen, Sgt. Elder Fernandes, Pvt. Gregory Wedel-Morales and Pvt. Mejhor Morta, each of whom was reported missing before being found dead.
Guillen was killed on post by another soldier on April 22 and her remains were found in a shallow grave miles from the base more than two months later. Fernandes went missing Aug. 17 and was found dead of an apparent suicide about a week later in Temple. Wedel-Morales went missing in August 2019 and his remains were found in June buried in a field in Killeen. Morta, whose disappearance was never reported publicly, was found dead of an apparent drowning at Stillhouse Hollow Lake in July.
The letter also calls for information about the deaths of Pfc. Brandon Rosecrans, Spc. Freddy Delacruz Jr., and Spc. Shelby Tyler Jones. Each of those soldiers died from gunshot wounds off post and their deaths are being investigated as homicides. Civilian suspects were arrested in the cases of Rosecrans and Delacruz, but the Bell County district attorney declined to file charges against a suspect presented to the grand jury for Jones' death. The Killeen Police Department closed the case.
There are other commonalities in the stories of these soldiers, which lawmakers noted to McCarthy. Guillen and Fernandes claimed to have faced sexual harassment on post. Fernandes and Morta were bullied, according to their families.
In July, McCarthy announced the formation of an independent review committee of five civilians to investigate into the command climate and culture at Fort Hood. But Lynch and Speier wrote congressional oversight is also necessary "to determine whether base leadership — by omission or commission — has allowed or enabled a culture to exist that undermines the values and traditions of the U.S. Army."
Tuesday's information request "is only a first step," said a congressional staff member who spoke about the investigation on the condition of anonymity. "Should the subcommittees obtain facts or information about additional cases that may be relevant to our inquiry, we will follow the facts wherever they lead."
Guillen's family began calling for Congress to investigate Fort Hood and the soldier's case during the summer and have continued to host rallies and protests calling for justice and reform within the Army. Natalie Khawam, the family's attorney, has made similar calls. Along with Guillen's family, she also represents the family of Fernandes.
"I am extremely proud and humbled that my relentless efforts to protect and fight for our soldiers has worked and that Congress has agreed to give us the congressional investigation that I demanded for our soldiers," Khawam said in a statement.
She said she looks forward to working with Congress on the investigation and on future legislation that she hopes lawmakers will approve to reform how sexual harassment and assault allegations in the military are handled.
The independent review committee arrived at Fort Hood one week ago to spend two weeks there to gather information. Their report is due Oct. 30 and a copy of that report was requested as part of the congressional inquiry once it is available.
Also requested are documents and communications related to the seven soldiers whose cases were highlighted in the letter dating to Jan. 1, 2019, timelines of response by post leadership into each soldier's situation, and investigative files from state and local law enforcement authorities.
Other requested information includes reports, data, surveys and policies on the command climate at Fort Hood, sexual assault, abuse and harassment at Fort Hood, and the occurrence of felony-level crimes involving Fort Hood service members on and off post.
Lynch and Speier requested that the Army provide all documents by Oct. 2.