Air Force women can now shed floor-length skirt for pants in formal 'mess dress' uniform
by
Wyatt Olson
August 5, 2020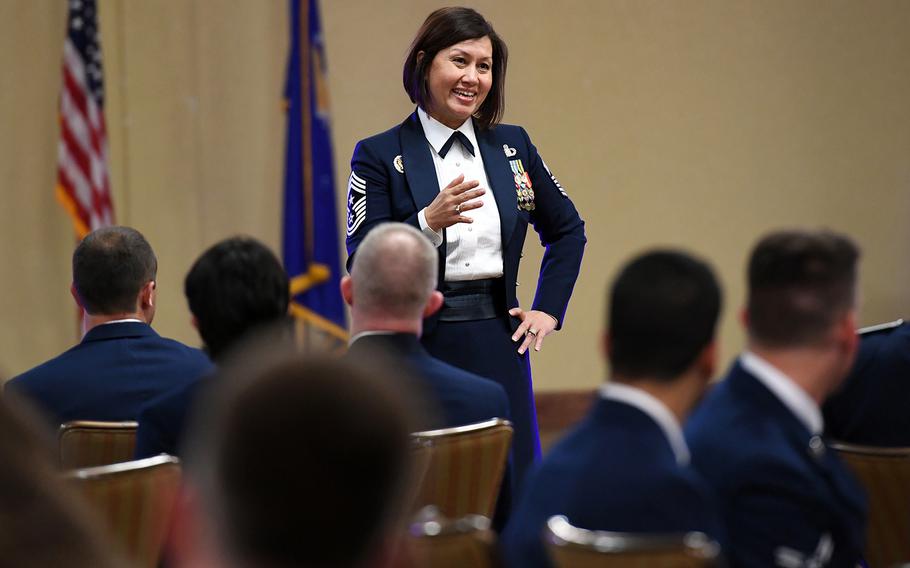 Women in the Air Force now have the option of wearing pants with their semi-formal "mess dress" uniforms instead of a floor-length skirt, the service said Tuesday.
Before the change in policy, which was effective immediately, women were required to wear a floor-length skirt with the mess dress uniform, which is the Air Force equivalent to the civilian world's black-tie tuxedo or evening gown. It is worn during official formal and semi-formal functions.
The pants option came as a result of "overwhelming feedback from the field" and is "a step in the right direction in creating an inclusive culture," the Air Force said in a statement Tuesday.
The new dress regulation is the latest in a series of changes by the Air Force prompted by widespread national protests after George Floyd, a 46-year-old Black man, died while being arrested in Minneapolis on May 25.
In June, the Air Force ordered an independent review of discipline and advancement opportunities in regard to racial disparities. The ongoing review is assessing "Air Force-specific causal factors like culture and policies, assimilate the analysis and conclusions of previous racial disparity studies by external organizations, and make concrete recommendations resulting in impactful and lasting change."
Last month, for example, the Air Force revised its Dress and Personal Appearance of Air Force Personnel instructions by deleting the term "faddish" in references to "complexion" because its enforcement was highly subjective in the context of race and culture.
"It's our responsibility to provide flexible uniform options that are functional and comfortable for all Air and Space Professionals," Lt. Gen. Brian Kelly, deputy chief of staff for manpower, personnel and services, said in the Tuesday statement. "We have a lot of people working really hard to review our existing policies to make sure there are no unintended barriers or unfair practices that may be impacting specific groups of people on our team."
Because official female mess dress slacks will not be available for at least 18 months, women are authorized to purchase and alter men's mess dress pants during the interim, the statement said. Alterations of men's trousers will be provided for free by the Army and Air Force Exchange Service, the statement said.
"We hear you," Chief Master Sgt. of the Air Force Kaleth Wright said in the statement. "This is a bit of good news for some of our teammates who've wanted this change for a while now. A small thing, but one that I hope can go a long way to helping Airmen realize that we listen, we hear and we care."
olson.wyatt@stripes.com Twitter: @WyattWOlson