Reluctant mayor OKs US military drones in southern Japan
By
Seth Robson and Hana Kusumoto
Stars and Stripes
July 13, 2022
---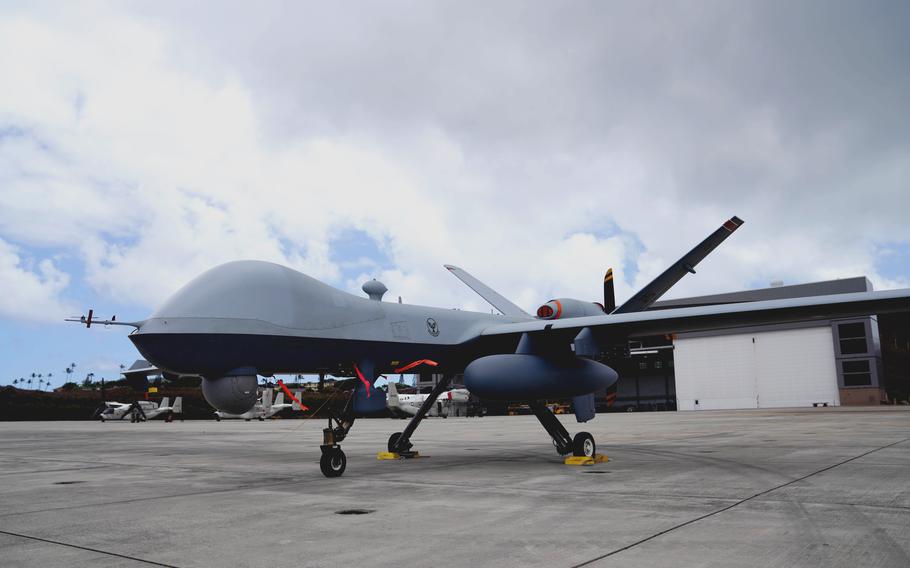 A Japanese mayor signed off this week on U.S. military plans to fly unarmed drones from a base in southern Japan to keep tabs on Chinese activity in the seas nearby.
Mayor Shigeru Nakanishi of Kanoya city agreed to a yearlong deployment of MQ-9 Reapers at the nearby base, a city official told Stars and Stripes by phone Wednesday. City residents had expressed reservations about the drones and Nakanishi labored over his approval, NHK reported.
"I have decided that it's inevitable to accept temporary deployment of U.S. forces' unmanned aircraft MQ-9," he told the city assembly Monday, according to a news clip posted by Kagoshima Television that day.
The Japanese and U.S. governments plan to fly eight drones from Kanoya Air Base, a Japan Maritime Self-Defense Force installation on Kyushu Island, starting in September, according to public broadcaster NHK on Tuesday.
Nakanishi signed off because "intelligence gathering is necessary for defense of our country under the Japan-U.S. alliance as the security environment surrounding Japan is becoming increasingly severe," the city official said.
The Reaper is primarily a surveillance aircraft but can carry an inventory of weapons, including Hellfire missiles and Paveway laser-guided bombs, according to the U.S. Air Force.
The Reapers will be configured for surveillance "and can't be equipped with weapons," according to a document from Japan's Ministry of Defense posted on the Kanoya city website. "We have confirmed with the U.S. side that it takes time to change the specifications and that the specifications won't be changed while they are at Kanoya Air Base."
Nakanishi plans to meet with Gov. Koichi Shiota of Kagoshima prefecture and explain his decision before the city signs an accord with the national government, the city official said.
U.S. Forces Japan did not immediately respond to questions about the deployment from Stars and Stripes on Wednesday.
A Ministry of Defense spokesman said that an agreement with local governments is necessary for the ministry and Self-Defense Forces to operate.
"We are grateful that he showed understanding for the temporary deployment, which is to perform our defense and to strengthen the intelligence gathering ability of Japan and U.S. alliance," the spokesman said Wednesday by phone.
He said the ministry has no plans to introduce unmanned aircraft that have offensive capabilities.
"We will prepare for the temporary deployment of the MQ-9 by continuing to listen to the suggestions and feedback from the local governments," he said.
Some government spokespeople in Japan customarily speak to the media on condition of anonymity.
Area residents in February expressed concerns about potential accidents and crimes involving U.S. military personnel operating the drones. Between 150 and 200 personnel will live at off-base hotels, according to the Defense Ministry.
Kanoya Air Base is already home to P-3C Orion maritime surveillance planes and UH-60J Black Hawk and SH-60K Seahawk helicopters of the Japan Maritime Self-Defense Force. U.S. aircraft such as Marine Corps KC-130 tankers and Osprey tiltrotor aircraft visit the base during training.
The Reapers, made by General Atomics of San Diego, can carry 3,000 pounds of ordnance and first saw combat in Afghanistan in 2007 and Iraq the following year. The U.S. has employed them on numerous missions throughout the Middle East and Africa.
---
---
---
---