Dawgin' it: Airmen test real-world skills in competition at Ramstein Air Base
By
Stars and Stripes
July 7, 2022
---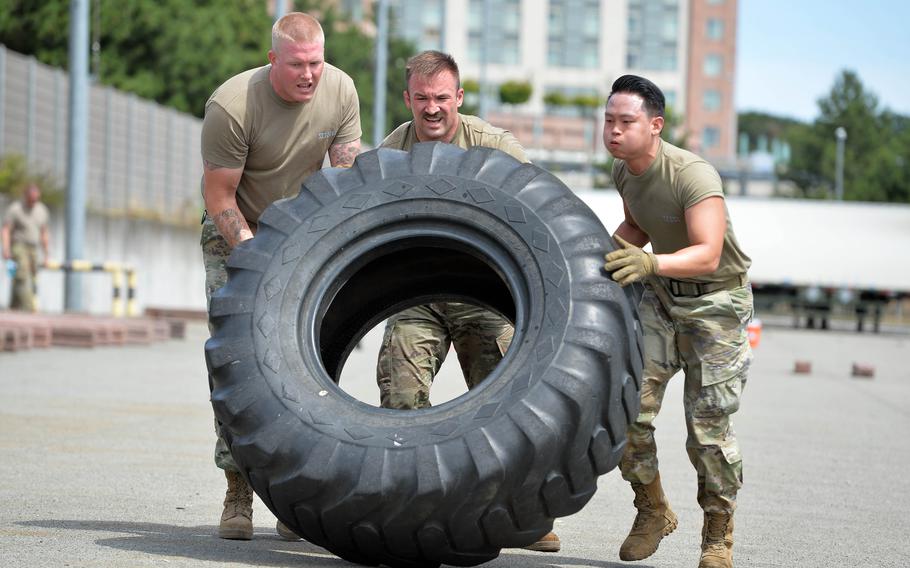 RAMSTEIN AIR BASE, Germany — Staff Sgt. Gerdon Jacobs knocked down six of 10 cones as he quickly maneuvered the 10K forklift while it carried a bucket of water filled to the brim.
That was all part of the plan, as he raced against the clock and competed against airmen from seven bases Wednesday in the 521st Air Mobility Operations Wing Port Dawg Rodeo.
"That's all we were focused on, the speed, not the cones," said Jacobs, a member of the team from the 726th Air Mobility Squadron at Spangdahlem Air Base.
The event tested the 10 five-member squads' skills and abilities in aerial port operations, whose practitioners proudly call themselves "port dawgs."
They're the mobility wing's workhorses, the airmen who move cargo, passengers, munitions and other equipment into and out of aircraft, sometimes with little advance notice.
The competition was a chance for them to have fun and build camaraderie amid an "extraordinarily unprecedented year," said Col. Jens Lyndrup, the 721st Air Mobility Operations Group commander.
Each of the seven events had strict time constraints. At one station, competitors whipped an unwieldy 60K aircraft cargo loader, so named for its ability to handle 60,000 pounds, around tight curves. But when it came time to unloading their freight, safety and precision were paramount.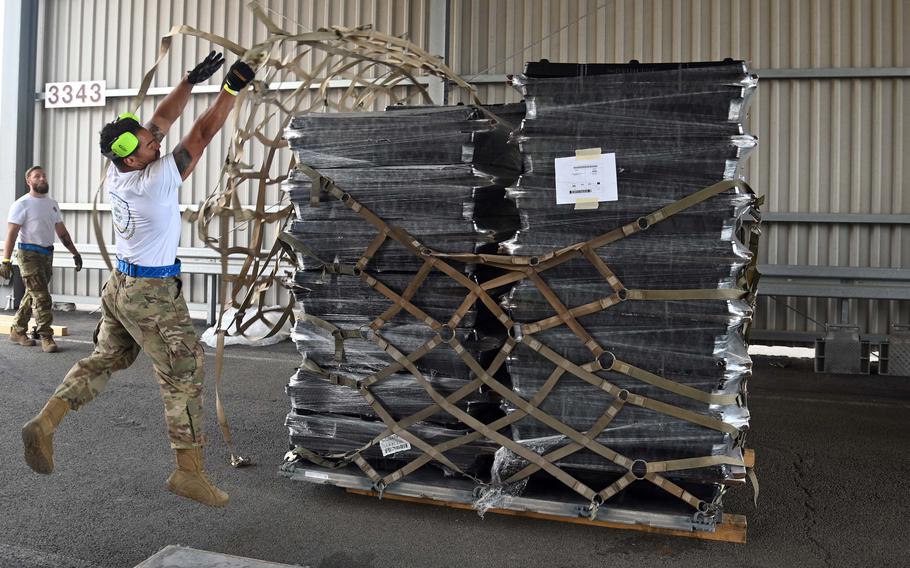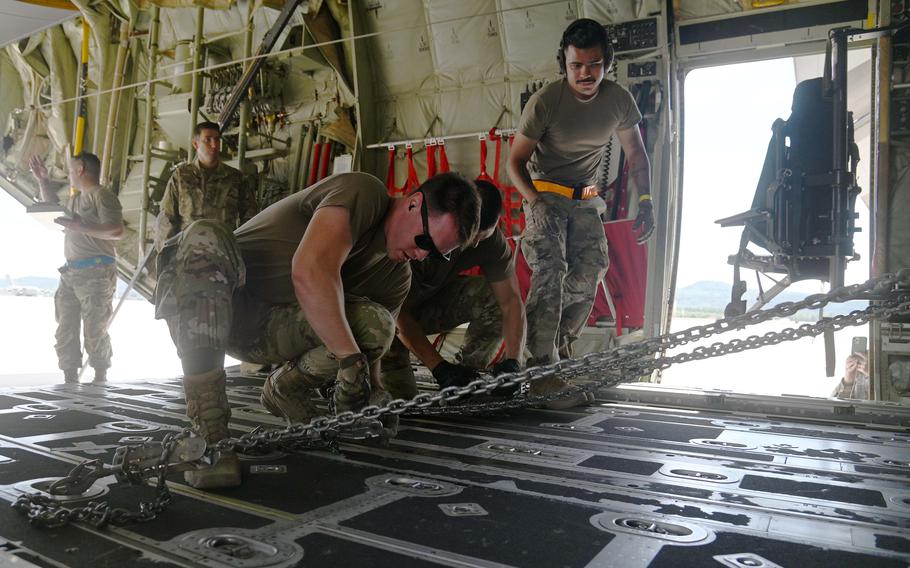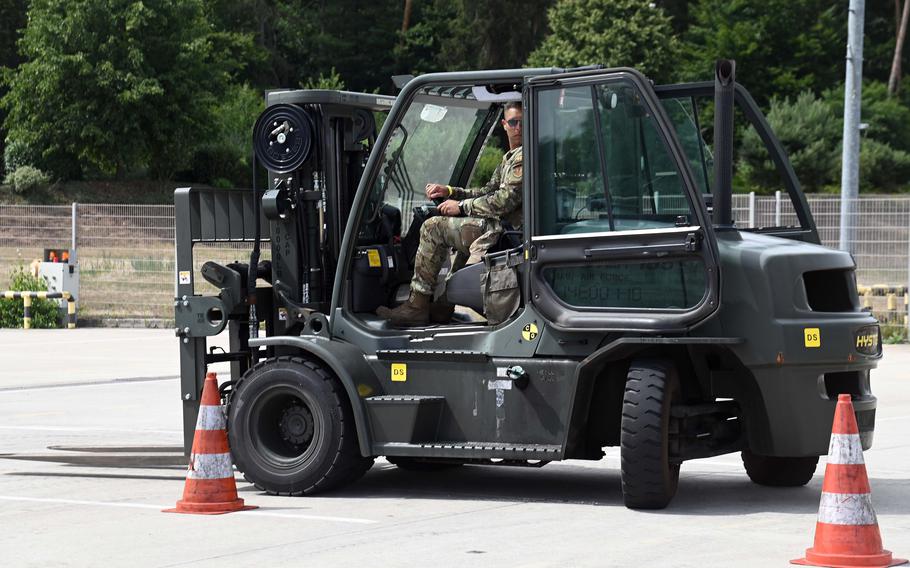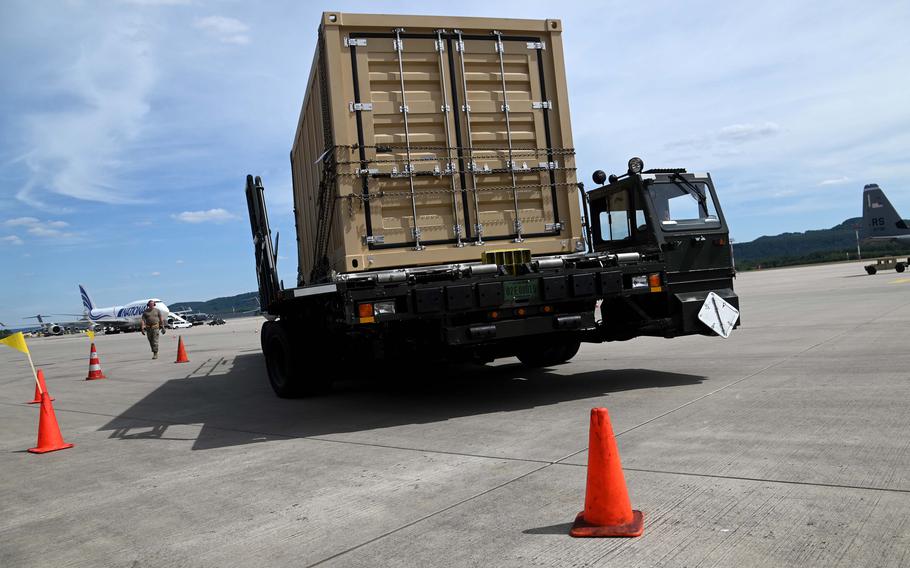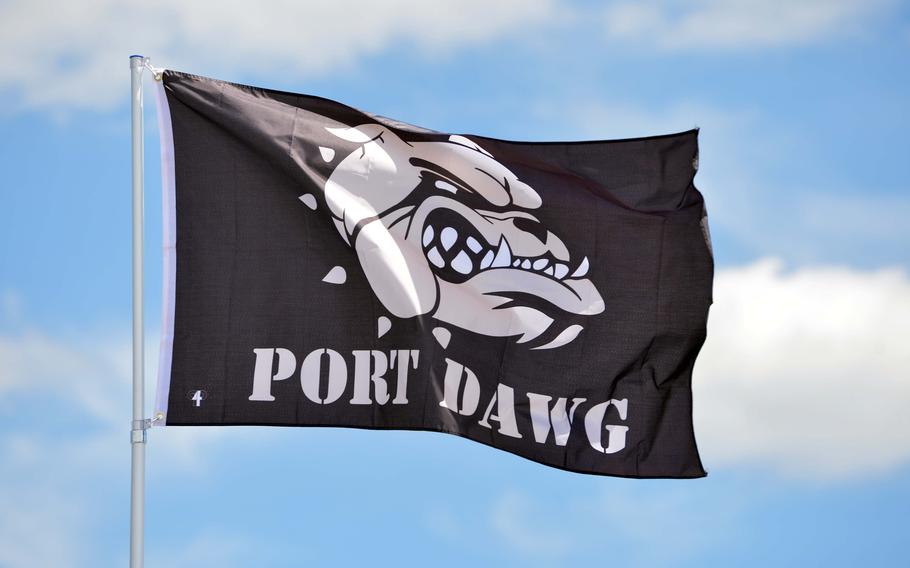 "It's a big piece of machinery," said Chief Master Sgt. Lamar Isaac, the senior enlisted leader for the 728th Air Mobility Squadron at Incirlik Air Base, Turkey. "You have to get within inches of the aircraft" without hitting it or other objects, he said.
Jacobs finished the forklift course in just over six minutes, managing to spill only an inch of water. Each toppled cone and inch of water spilled put time back on the clock, but he finished well under the 15-minute limit.
"We're a very tight-knit community," said Chief Master Sgt. Jessica Mallett, 721st Air Mobility Operations Group senior enlisted leader. "You pull from all your resources from within the community … to make magic happen sometimes, to get missions off the ground to where they need to be."
Mallett's group is part of the 521st Air Mobility Operations Wing. From Ramstein, it oversees units spread some 5,000 miles across Europe and the Middle East, coordinating Air Mobility Command missions into, out of and through the region.
Many of the airmen involved in the event supported the airlift of more than 124,000 refugees from Afghanistan after the U.S.-backed government fell to the Taliban in August 2021, Lyndrup said.
Some of those same airmen more recently were in Poland, unloading at one point up to seven planeloads of cargo per day to prepare supplies destined for Ukraine, he said.
The physical strength course, designed by the Ravens, who provide security on aircraft, was the toughest challenge, airmen said.
It involved flipping forklift tires weighing up to 300 pounds, lugging coolers weighted down by 60 pounds of metal chains and then doing squats with them, among other tasks that made the airmen sweat.
"The Ravens definitely made sure it was difficult," said Staff Sgt. Bahir Ham, 23, of the 724th Air Mobility Squadron at Aviano Air Base, Italy.
Though Ham described the rodeo as "friendly competition between the ports," his team was gunning for Ramstein, which fielded four teams.
But after the final tally, one of two Ramstein teams from the 721st Aerial Port Squadron nabbed the top prize, which included a trophy with a bronze eagle perched on top.
"We don't know what's coming next," Lyndrup told the airmen at the awards ceremony. "But I'll tell you this: Watching you all put it on the ramp today, we're going to be ready for it."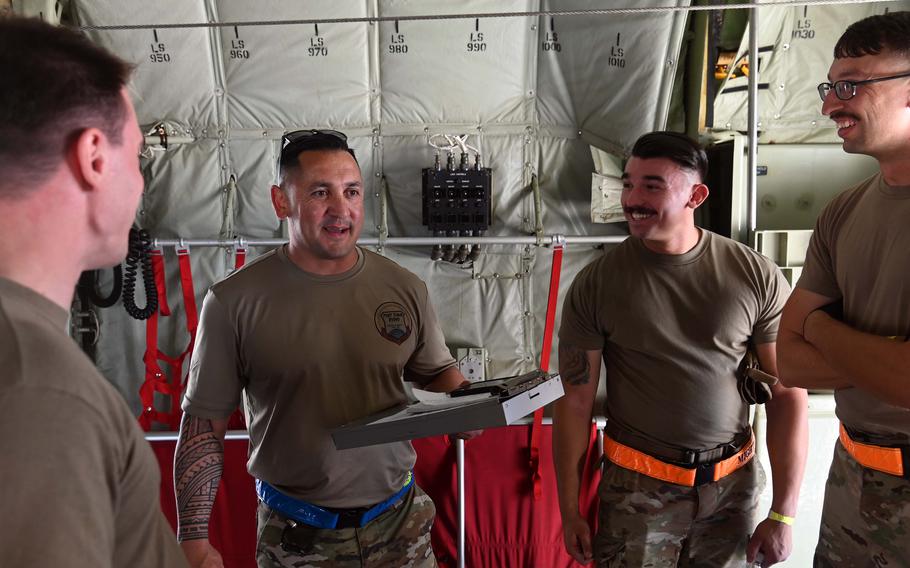 ---
---
---
---