US Air Force base in 'critical location' in northern Japan changes commanders
By
Stars and Stripes
June 30, 2022
---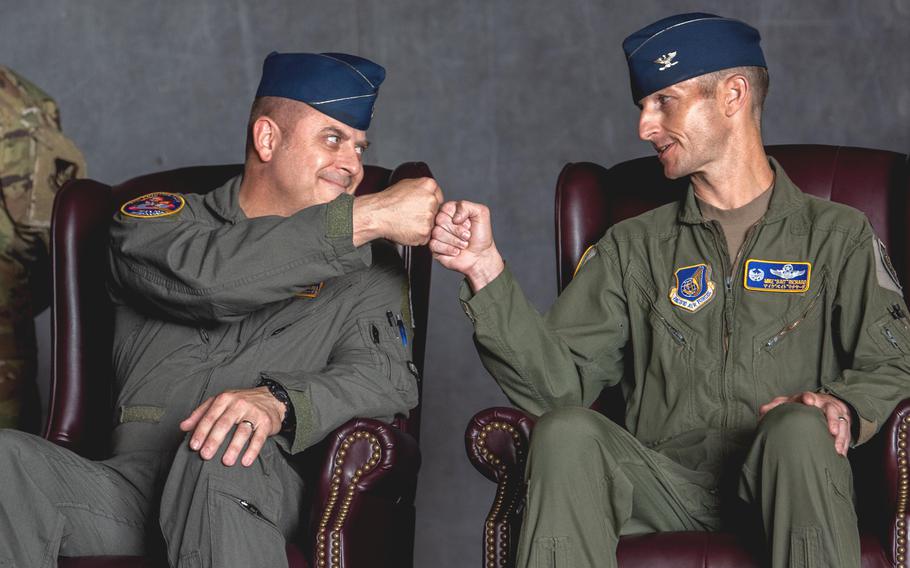 Command of 35th Fighter Wing and Misawa Air Base passed Thursday to an F-16 pilot with more than 400 combat flight hours.
Air Force Col. Michael Richard succeeds Brig. Gen. Jesse Friedel, who pinned on a star at the end of his three-year stint as Misawa's commander. His tenure was marked by increasing tensions between the U.S. and China, and the global COVID-19 pandemic.
Friedel will remain in Japan as deputy commander of 5th Air Force at Yokota Air Base in western Tokyo.
"As I step into the role as a 5th Air Force deputy commander, I look forward to another opportunity to work side alongside our Japanese partners, as I've experienced over the last two years," Friedel said. "So that if our nations are ever called upon, we will be able to be synergized towards the one goal that might be put in front of us."
Richard, of Beverly, Mass., most recently served as vice commander of 8th Fighter Wing at Kunsan Air Base, South Korea, which includes two squadrons of F-16 Fighting Falcons and 2,700 personnel, according to the Air Force.
He pledged to make his Misawa tenure as memorable as a championship season in baseball.
"We will set that environment so that when you look back, you will have that 35th Fighter Wing patch in that memory hall of fame," Richard said during the ceremony in a hangar at Misawa Air Base. "You will have that; I promise that we will not let you down."
Commissioned through the ROTC program, Richard is a 2002 graduate of the University of Notre Dame with more than 2,200 hours in the F-16, according to his Air Force biography. He flew in Iraq during Operations Iraqi Freedom and New Dawn and over Libya during Unified Protector in 2011.
He also attended the National War College, earned a master's in public administration at the Harvard Kennedy School and completed U.S. Air Force Weapons School.
At Misawa, Richard assumes command of a wing of F-16CM Fighting Falcons with 3,100 personnel and an installation in northeastern Japan with 11,400 people and eight associated units from the Army, Navy and Japan Air Self-Defense Force, according to the Air Force.
The 35th Fighter Wing's primary mission is to protect U.S. interests in the Pacific and defend Japan, Friedel said. "We're in a fairly critical location, we deter the adversaries through our presence here, on top of our readiness and the ability to project combat air power," he said.
Friedel in December told his command to expect the most cases of COVID-19 that it had seen during the pandemic. Until then, Misawa, guarded in its public reporting of COVID-19 cases among its population, had seen relatively few compared to other U.S. installations in Japan.
In January, during the omicron wave of coronavirus, the base reported its highest public count, 484. By March 31 that number had grown to nearly 700 cases of the respiratory disease. Although it produced record numbers of infections, the omicron wave generated far fewer hospitalizations than preceding coronavirus variants.
"Although COVID presented its own additional set of challenges throughout the world we didn't treat it differently than any other kind of adversity that we might be exposed to any given day," Friedel, a native of Atkinson, Neb., told Stars and Stripes after the ceremony.
---
---
---
---