Wright-Patterson's AFMC wants your game-changing ideas
By
Dayton Daily News
June 12, 2022
---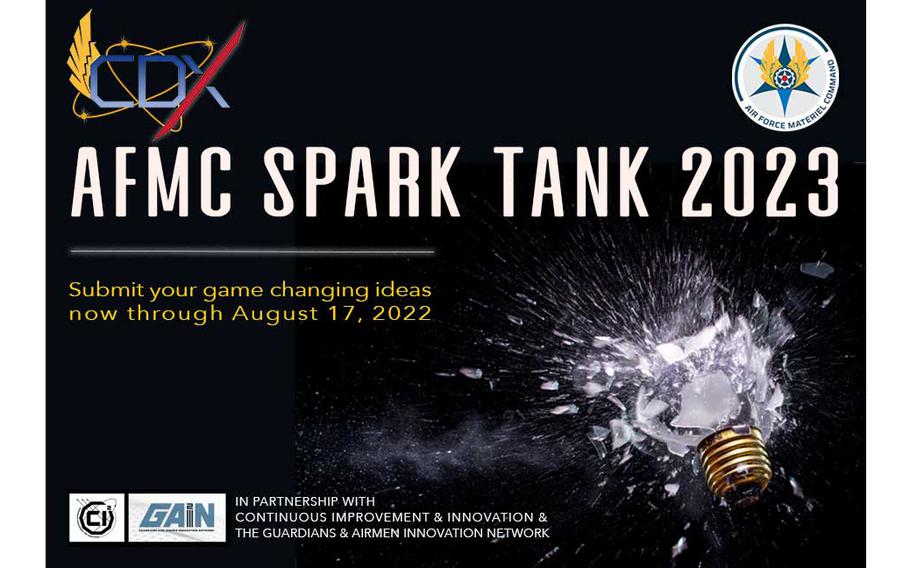 (Tribune News Service) — A major Air Force command is looking for a few good ideas.
Air Force Materiel Command, headquartered at Wright-Patterson Air Force Base, is opening the doors to its "Spark Tank" competition for the third year, inviting airmen and Space Force guardians — uniformed and civilian — to submit ideas on how the force can operate better and more efficiently.
Last year's winner was Master Sgt. Justin Bauer, of the 355th Fighter Wing at Davis-Monthan Air Force Base in Arizona, who suggested a new approach to repairing the wheels of C-130 cargo planes.
Ideas must be submitted via the Department of Defense GAIN app, and they should have the potential to make big impacts on Air Force missions in six months to two years. Three-minute explanatory videos, cleared by local Air Force public affairs offices, should accompany the submissions.
Five finalists will get a chance to explain their vision before a panel of six senior leaders, including three- and four-star Air Force generals, this fall.
David Tyler, chief of the Continuous Process Improvement & Innovation Cell at AFMC, said the contest wants not just engineering ideas.
"We're looking for any Airmen out there," Tyler said. "Any civilian out there. A lot of ideas have been presented over the last couple of years on a wide range of things."
Beth Weiser, a program consultant for AFMC, said previous entries have benefitted the medical community, with one idea resulting in a tactical anesthesia work station, which is getting attention from the 711th Human Performance Wing at Wright-Patterson.
Other ideas have produced liquid plate coolers for Airmen deployed to desert environments and new software on legacy aircraft.
"There's no limit really to what we're looking at," Weiser said. "There's no standard per se to what we're looking for with Spark Tank ideas. They can be personnel, human resources. It can come from the medical community."
AFMC is "just thankful that we're creating that voice for airmen to speak up, to show them that their ideas matter to our command," she said.
In two years, the campaign has seen almost 200 submissions, Tyler said. More will be welcome. Weiser wondered aloud what might result if closer to a third of the active-duty force participated.
"We're trying to change the culture," Weiser said. "We're trying to be more radical in how we think."
Submit proposals in the first 30 days, by July 1, and participants will get help from a mentor who can refine an idea further, Weiser said. She urged participants to try to summarize a problem properly, with data to support a proposed solution.
"Without the story, we can't solve the problem and get them off the ground," she said.
For questions, contact the AFMC Commanders Accelerated Initiatives team at afmc.cdx.workflow@us.af.mil.
(c)2022 the Dayton Daily News (Dayton, Ohio)
Visit at www.daytondailynews.com
Distributed by Tribune Content Agency, LLC.
---
---
---
---