Power, precision of Air Force on display at Alamogordo air show
By
The Santa Fe New Mexican
May 8, 2022
---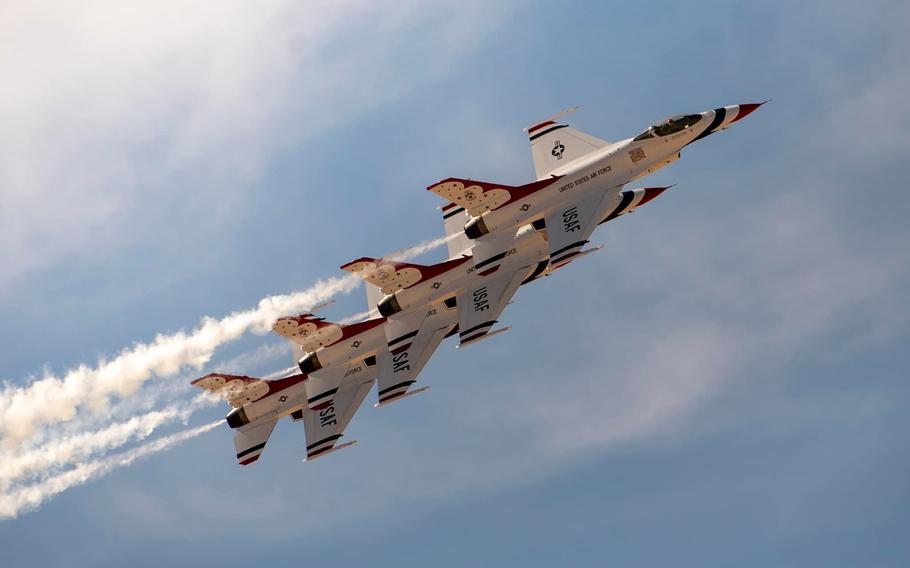 ALAMOGORDO, N.M. (Tribune News Service) — Leslie Peterson tried to hold back the tears.
But as Tech Sgt. Destiny Holloway sang the national anthem to kick off the 2022 Holloman Legacy of Liberty Air Show, Peterson, a U.S. Army veteran, was overcome by a growing feeling of pride. Her eyes welled up.
"I get teary-eyed every time I hear it," said Peterson, an Alamogordo resident who joined thousands of others at the Holloman Air Force Base to watch Saturday's aerial display of military precision.
One of her two sons, 8-year-old Isaiah Peterson, pulled out his toy model of a vintage fighter plane as he reclined on his back to watch the show above him.
He hopes to become a pilot when he grows up, Isaiah said.
His position on the ground was not just a tactical move to improve his view of the military planes. "He can feel the ground vibrate below him," his mother said. "The power of the vibration gets to him."
The show — the first the air base has held in four years — featured an array of contemporary and vintage military aircraft parked on the taxiway and in flight overhead.
The goal, base leaders said in an interview ahead of the show, is to give people a chance to see the U.S. Air Force in action.
The event comes as the Air Force celebrates its 75th anniversary, and Holloman, a training base for pilots and sensor operators for fighter jets, observes its 80th.
The show — four hours of dives, rolls, aerial acrobatics and simulations of attack and rescue operations — allows people to "see the power, precision and skill that goes into creating these machines and operating them and really seeing the combat capabilities of the U.S. military," said Maj. William Camp, the air show's director.
Many people in the crowd said the show pulls back the veil on aerial combat maneuvers — even if it's simulated.
Steve Tarro, a U.S. Air Force veteran who served in the 1970s, said he was seeing some military aircraft for the first time. "The stuff you read about is here," he said, his face exuding delight.
The names of the planes spoke to their fighting power — Thunderbolt, Falcon, Phantom, Mustang, Viper and Reaper. The latter is primarily known as a reconnaissance craft used to help rescue downed pilots and crew members — but it can cause trouble for the enemy with air-to-ground weapons, if necessary, said Staff Sgt. Tim Young, a spokesman for the air base.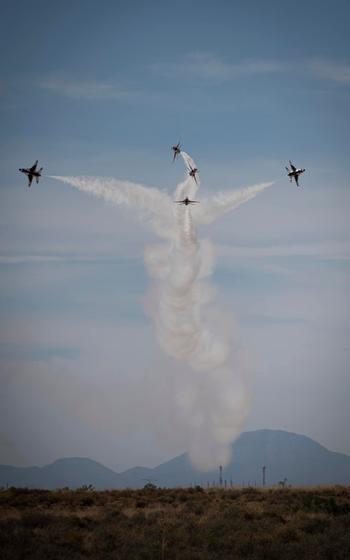 The distant roar of planes rolled in like a thunderstorm, so powerful it made the ground shake.
A band of military experts and historians on a grandstand offered blow-by-blow commentary of the action — such as when several planes joined forces to fend off invisible invaders and rescue a downed pilot.
Many people in the crowd used smartphones, cameras and video equipment to document the show, an aerial rodeo of military might.
Crowd members ranged from infants in strollers to those likely in their 80s and 90s, sitting in lawn chairs and shielding themselves from the sun with umbrellas or perched in the shade of a parked aircraft's wings.
U.S. Army pilot Leonard Johnson, dressed in civilian clothes, watched with his wife and two children.
"For the general public, they get to see military aircraft in a way they don't usually see it," he said.
Looking at his children — ages 2 and 5 — gazing upward, Johnson said, "Every kid is fascinated with flying. When kids hear a plane flying over their house, they look up. It gives them that 'awe' feeling."
Capt. Nichole Palyok, a pilot in training at the base, gets that.
"There's something inherently inspiring about seeing an aircraft over our heads," she said. "When you hear the plane, you just have to look."
Though she set out for studies in the medical field at the University of Virginia, she shifted direction after taking ROTC courses and decided to join the Air Force.
Her father was an Air Force veteran.
Piloting a jet over the southeastern part of the state in training missions brings a feeling of freedom, Palyok said, adding
it's powerful and humbling at once.
The jet, Palyok said, becomes "like an extension of my body, like an extension of me."
When she hears planes fly above her around Alamogordo, Leslie Peterson said she has no choice but to pull over and watch them move gracefully through the sky.
Planes, she said, fascinate us because "we all secretly want to fly maybe, to be up there with them."
Many in the crowd identified themselves as active or retired military and said they love watching the military in action.
Dave Richards of Las Cruces arrived early to land a good viewing position — close to the air field and under the wing of a plane.
An Air Force veteran of the 1970s who worked as a mechanic on fighter jets, he said attending air shows is a way of "backing up my country."
"It instills a lot of pride in me," he said. "This is my life; it's what I do. Even though I'm not in the military anymore, I still find ways to support them. That's what people should do."
When he heard Holloway sing the national anthem, "it made my day; it made my month; it made my year," he said.
Others, like Kristin Fairey of Albuquerque, have children or relatives serving in one of the military branches.
Fairey wore a blouse in red, white and blue. She said she raised her children to take part in Independence Day parades and to love their country.
Fairey loves air shows because "just seeing the power and beauty of what our country can do, the U.S. Air Force's commitment to standing tall for America, fills me with pride. It represents the heart of our nation and those who stand strong."
She said she wears the American flag, not just on her blouse, but "in my heart. I love this country.
"I just love this country."
(c)2022 The Santa Fe New Mexican (Santa Fe, N.M.)
Visit at www.santafenewmexican.com
Distributed by Tribune Content Agency, LLC.
---
---
---
---