Wright-Patterson moves to health protection condition Alpha, allowing 100% of workforce on base
By
Springfield News-Sun
April 18, 2022
---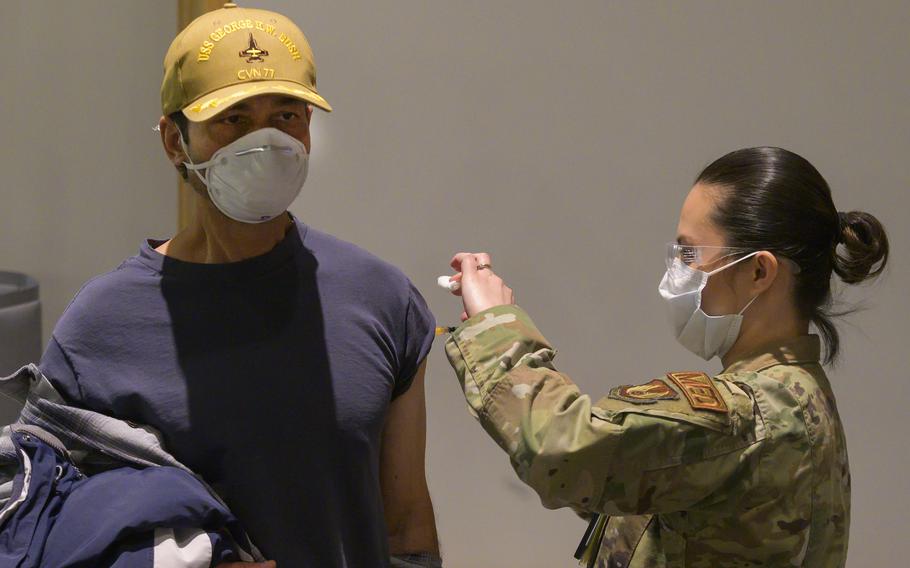 Stars and Stripes is making stories on the coronavirus pandemic available free of charge. See more stories here. Sign up for our daily coronavirus newsletter here. Please support our journalism with a subscription.
(Tribune News Service) — Wright-Patterson Air Force Base commanders will be allowed to bring up to 100% of their workforce back on base, after the military installation shifted its health protection condition (HPCON) from Bravo to Alpha on Monday. The public health emergency declaration remains in effect.
The base dropped its mask mandate and has been in health protection condition Bravo since March 9, and this is the first time the base has been under HPCON Alpha since June of last year.
The transition comes as the base enters a "new phase of the pandemic," Col. Patrick Miller, commander of the base's 88th Air Base Wing and Wright-Patterson installation commander said in a video update Monday.
"It doesn't mean we're in the clear though, folks" Miller said. "We still need to follow the basic health protection guidance of good hygiene, maintaining physical distancing when possible, if you're not feeling well, get tested and stay home and continue to look out for each other.
Military bases have a health protection condition or HPCON ranking of conditions.
HPCON 0 is "routine," meaning the routine maintenance of everyday actions to stop the spread of germs is expected.
The next condition, HPCON Alpha, is based on limited community spread, and workers are expected to routinely disinfect frequently touched surfaces. If they're sick, they should call a medical provider for instructions before going to a clinic or hospital.
The Department of Defense has changed how Wright-Patterson and other installations determine their COVID response, now using the community levels determined by the Center for Disease Control, Miller said.
"We are at a great place right now with health protection condition alpha," Miller said. "I'm thrilled to be here, and I can't wait to see how we continue along in this journey and keep opening up operations across this installation."
(c)2022 Springfield News-Sun, Ohio
Visit Springfield News-Sun, Ohio at www.springfieldnewssun.com
Distributed by Tribune Content Agency, LLC.
---
---
---
---