US, Japan display their fighter and bomber power in series of demonstrations
By
Matthew M. Burke and Mari Higa
Stars and Stripes
March 4, 2022
---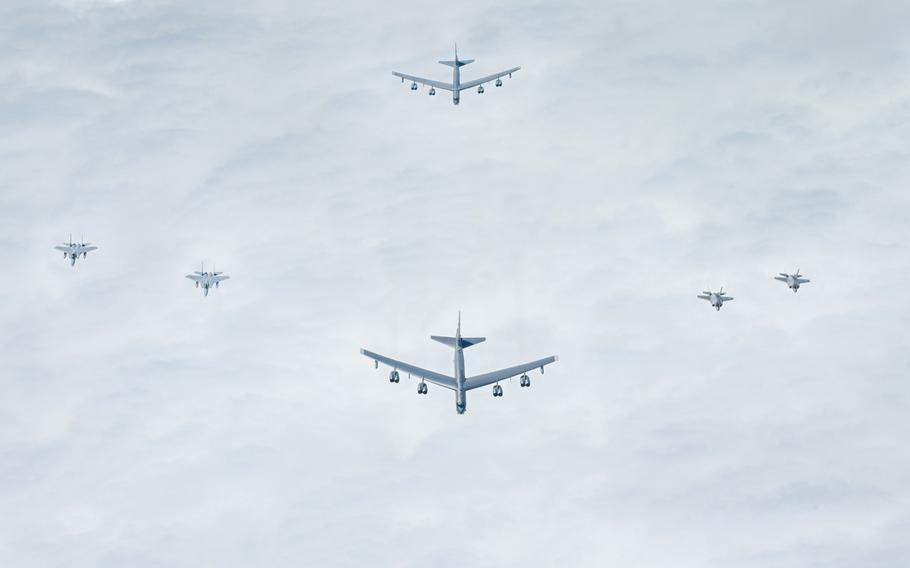 The U.S. Air Force showcased the strength of its fighter and bomber fleets in Japan the past two weeks as tensions increased around the globe.
A pair of F-35A Lightning IIs from Alaska and two B-52 Stratofortresses from Louisiana joined Japanese F-15 fighters in the skies "near Japan" on Feb. 24 to practice "critical warfighting capabilities," according to an email to Stars and Stripes from Pacific Air Forces and a statement from the Japan Air Self-Defense Force.
The 18th Wing at Kadena Air Base on Okinawa followed those drills with a show of force Wednesday by nearly 30 fighter jets, tankers and helicopters.
The unrelated exercises are "routine," according to PACAF and 18th Wing statements, but one expert on Pacific military affairs believes the uptick in activity is a message to China as the world's attention is fixed on Russia's invasion of Ukraine.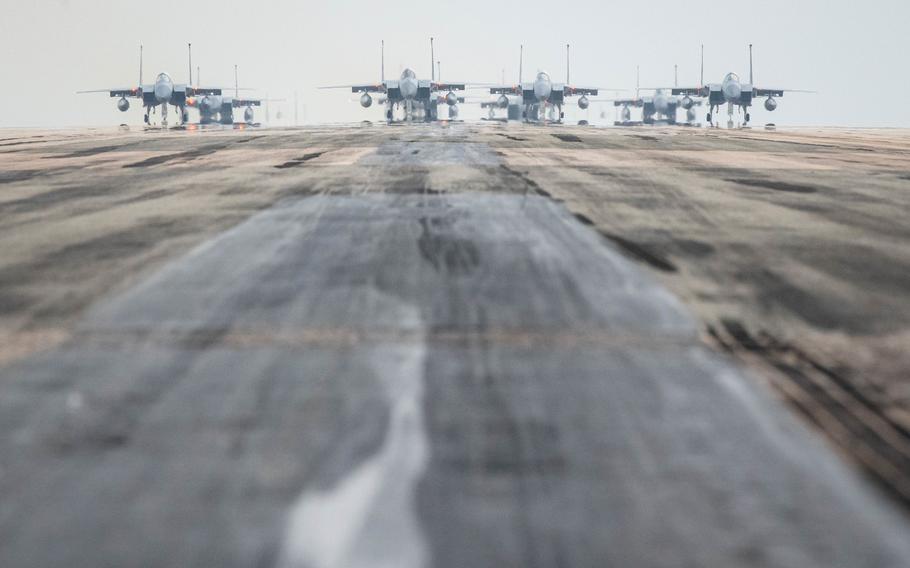 "The U.S. is sending a message to China that the security of the Asia-Pacific is not forgotten," Toshiyuki Shikata, a former lieutenant general in the Japan Ground Self-Defense Force, told Stars and Stripes by phone Wednesday.
Chinese President Xi Jinping is looking toward this fall's Communist Party National Congress, where he wants to cement his place as China's leader, Shikata said.
"He wants to be Mao Zedong," Shikata said. "The first thing he wants to do after the National Congress is to make some move on Taiwan. The U.S. is aware of that."
Nothing about the exercises and the February deployments of Air Force and Japanese stealth fighters to Okinawa are routine, Shikata said.
F-35s from Eielson Air Force Base, Alaska, deployed to Kadena on Feb. 20 for "integrated air operations" with the Japanese F-35s, PACAF said at the time.
Earlier in February, four B-52s and more than 220 airmen arrived on Guam from Barksdale Air Force Base, La., PACAF said Feb. 15.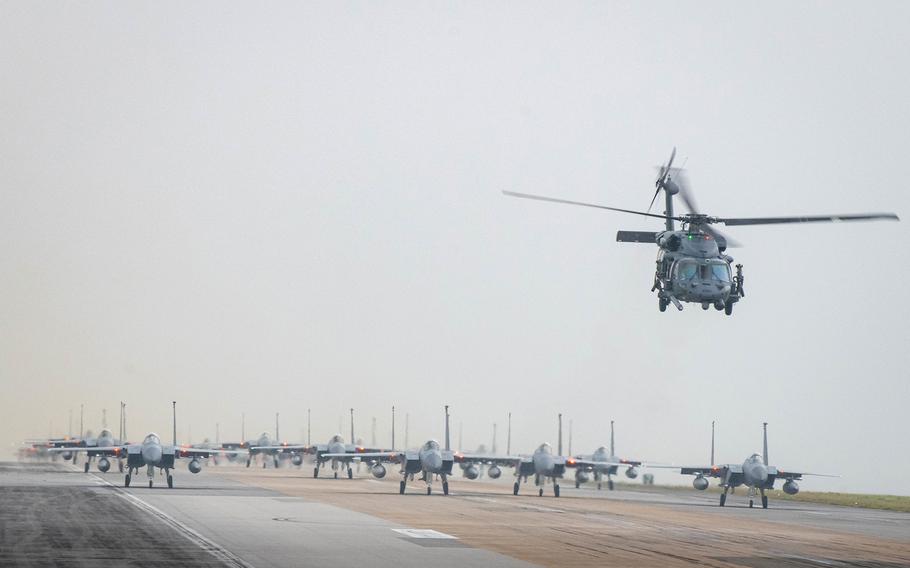 The bomber task force focused on refining joint command-and-control abilities, "global reach" and working together, PACAF said Thursday. The exercise was "not in direct response to another country's actions."
On Wednesday at Kadena, two dozen F-15C/D Eagles from the 44th and 67th Fighter squadrons, a KC-135 Stratotanker from the 909th Air Refueling Squadron, an E-3 Sentry from the 961st Airborne Air Control Squadron and an HH-60 Pavehawk from the 33rd Rescue Squadron moved in formation down the runway.
Several aircraft took off for an "air superiority training mission," while the rest taxied back to the flightline, according to a wing statement Friday.
"The large formation movement was part of a routine exercise scenario that tested the 18th Wing's ability to generate airpower in support of the defense of Japan and other partner nations, ensuring the stability and security of a free and open Indo-Pacific," the wing said in a Facebook post.
The conflict in Ukraine raised concerns in the Pacific, where China and Taiwan remain at odds. If the West fails to defend Ukraine's sovereignty, British Prime Minister Boris Johnson said in Munich on Feb. 19, it sends a dangerous message about Taiwan, Reuters reported that day.
---
---
---
---