AMC passenger terminals are saying bon voyage to flight schedule updates on Facebook
By
Stars and Stripes
January 31, 2022
---
Passenger terminals on U.S. military bases are moving their flight schedule information off Facebook and onto official Air Force public websites in February, according to Air Mobility Command.
For 10 years, military passenger terminals have posted 72-hour and 30-day flight information on individual Facebook pages managed by staff at each terminal, Air Mobility Command spokesman Tech. Sgt. Zachary Boyer told Stars and Stripes by email Wednesday.
Soon, that same information will be available on Air Force websites, with a directory on the AMC website with links to the individual base websites, according to Boyer's email. Once passenger terminals have transitioned to the official Air Force websites, they will indicate the date they will no longer utilize Facebook and include a link to the website.
"Many terminals advised AMC Passenger Policy Branch of challenges they encountered while using Facebook," Boyer wrote, "such as account lockouts, revalidation problems when pages reached a certain number of likes and passengers being given inaccurate travel advice in the comments section."
Flight schedules and other passenger information will migrate from Facebook to the American Forces Public Information Management System, or AFPIMS, which will provide travelers easy and organized access to that information.
AFPIMS is a website content management system for all Air Force public websites, according to Defense Media Activity.
"AMC Passenger Terminals will fully transition to the command's official website by February 28, and all terminals are engaged in website creation and training to meet this deadline," Boyer said.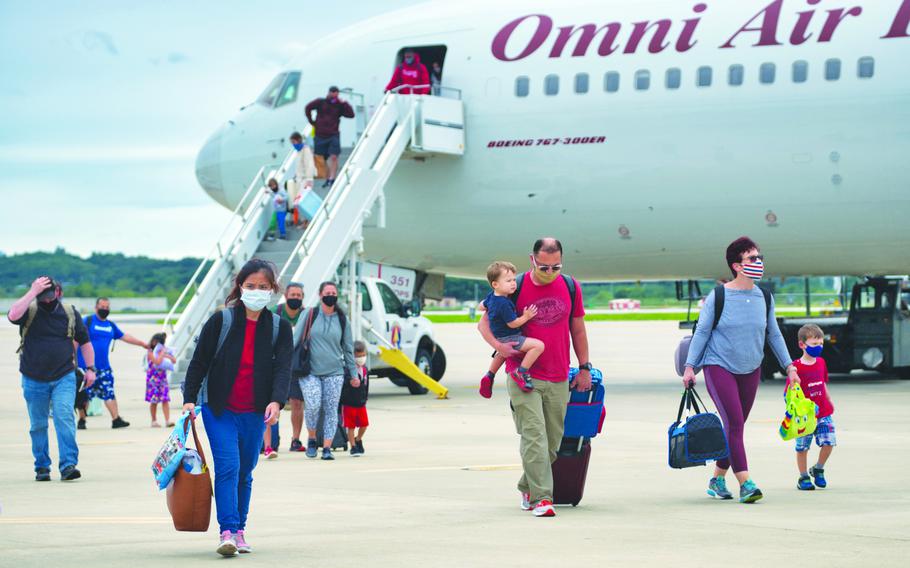 The passenger terminal at Misawa Air Base, Japan, has already begun posting passenger flight information on the base website.
"We implemented this about a month ago when our AMC terminal personnel reached out to us, and we said, 'Happy to help.' So, we have been updating ever since then," base spokeswomen 1st Lt. Josephine Rios told Stars and Stripes by phone Thursday.
Only the public affairs office may post updates on the base website, Rios said.
Air Mobility Command contractors at the passenger terminal provide the 72-hour flight updates to public affairs to input into the system, Master Sgt. Corydon Coombs, Misawa's contractor officer representative, told Stars and Stripes by phone Thursday.
The only recent delays in updating flight information occurred over the holiday, Corydon said, "but it really didn't affect anything since there were no flights."
Air Force spouse Erica Curtiss, a veteran and frequent space-available flier aboard the Patriot Express, said she's skeptical of the benefit of moving flight schedules to Air Force websites. The Patriot Express is the government-contracted passenger air service between the U.S. and its overseas military bases.
"The upside to keeping it on Facebook is that when the Air Force network is down, we are still able to plan trips," she said by Facebook Messenger on Wednesday. "I've used Space-A so many times, and I'm always open to improving the process. All in all, if the information is easily accessible, I'm indifferent in how I receive it."
The directory of AMC Passenger Terminal webpages can be found at www.amc.af.mil/AMC-Travel-Site/
---
---
---
---