Air Force Viper tactical flight demonstration to headline Westmoreland County Airshow in Pa.
by
Paul Peirce
Tribune-Review
January 12, 2022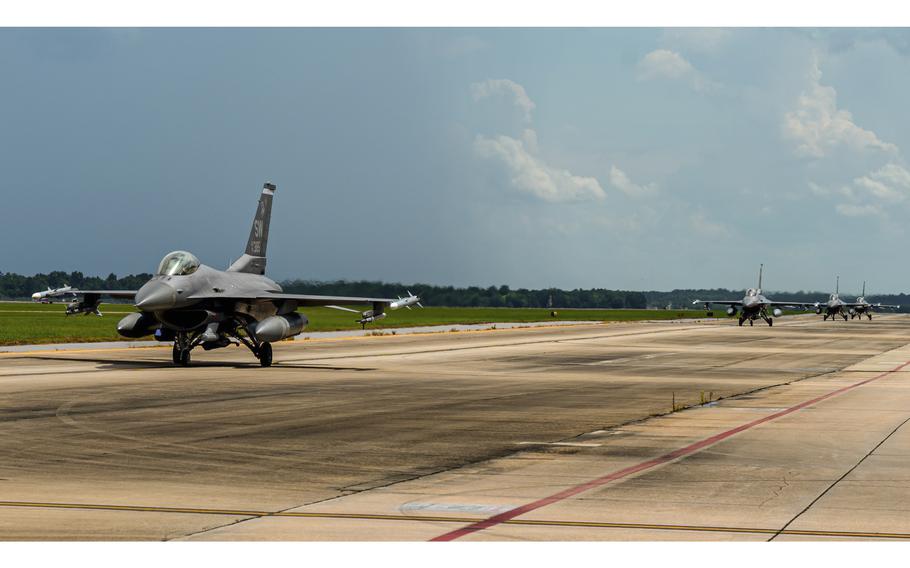 LATROBE, Pa. (Tribune News Service) — A tactical flight demonstration by a U.S. Air Force F-16 Fighting Falcon jet, more commonly called a Viper, will highlight the 2022 Shop 'n Save Westmoreland County Airshow June 11 and 12, the airport authority announced .
The F-16 Fighting Falcon, a single-engine supersonic fighter aircraft, can fly twice the speed of sound, according to the Air Force. Originally developed in the 1970s by General Dynamics for the U.S. Air Force, it is highly maneuverable and has proven itself in air-to-air combat and air-to-surface attack.
The jet, based at Shaw Air Force Base in South Carolina, will team with a P-51 Mustang, a single-engine American fighter-bomber used during World War II and the Korean War, for a "Heritage Demonstration Flight" both days, according to the authority's Executive Director Gabe Monzo.
"We're looking forward to it," Monzo said.
The 2022 edition of the air show at Arnold Palmer Regional Airport in Unity will not be a vehicle drive-in event like 2021, when spectators drove on to airport grounds by car due to COVID-19 restrictions, airport authority member Donald Rossi added.
"We intend to hold a good, old-fashioned air show this year with plenty of ground exhibits and activities for the kids to enjoy too," Rossi said.
By pushing the show back two weeks, the authority is hoping "better and warmer weather" will accommodate the planned aerial activities, Monzo said.
The U.S. Navy Blue Angels Flight Demonstration Squadron out of Pensacola, Fla., headlined the 2021 air show last May 29-30. Bad weather grounded the flight team that Saturday, and the show was limited again due to weather that Sunday.
Monzo estimated about 1,500 vehicles were on the airport grounds May 29 while about 2,000 were at the May 30 show.
"This year, we're hoping the weather cooperates and we'll do a whole lot better," Monzo said.
The last full-scale show was held at the airport in 2019 when the U.S. Air Force Viper was among the acts. The air show was canceled in 2020 due to airport construction and COVID-19.
Monzo said the authority is in the process of negotiating with a number of other aerial demonstration acts and aviation-related ground static displays. Nothing has been finalized.
(c)2022 Tribune-Review (Greensburg, Pa.)
Visit Tribune-Review (Greensburg, Pa.) at www.triblive.com
Distributed by Tribune Content Agency, LLC.
---
---
---
---