Air Force gives service members four-hour pass to get COVID vaccine booster
by
Thomas Gnau
Dayton Daily News
January 2, 2022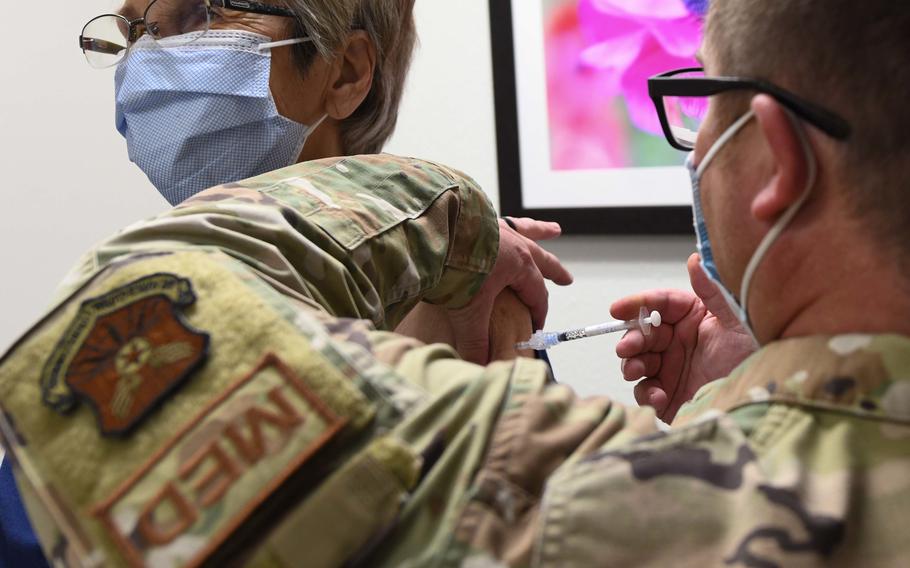 (Tribune News Service) — The Department of the Air Force is authorizing a four-hour pass for vaccinated Airmen and Space Force Guardians to get boosted.
"We strongly encourage all Airmen, Guardians, and DAF federal employees to receive a booster to protect ourselves, our families, and our communities — that means getting a booster," Under Secretary of the Air Force Gina Ortiz-Jones, said in a statement released Dec. 30.
"The four-hour authorized time may be applied retroactively for those who have already received the booster," she added.
The Office of Personnel Management authorizes federal employees up to four hours of administrative leave to receive a vaccine booster shot, which is designed to cover the time it takes to travel to the vaccination site, receive the vaccination dose, and return to work, the Air Force said.
If federal employees take less than four hours to receive their booster shot, they should be granted only that amount of time in administrative leave, the government said. Employees cannot receive leave or overtime if they get their booster shot outside of their normal work hours, the Air Force also said.
Federal employees are also authorized up to four hours of administrative leave to accompany family members who are receiving any dose of a COVID-19 vaccination.
Federal employees should obtain advance approval from their supervisor before using administrative leave to get a vaccine booster.
As of Dec. 30, more than 95% of "total force" — active-duty, Reserve and Guard — Airmen and Guardians have been vaccinated.
(c)2022 the Dayton Daily News (Dayton, Ohio)
Visit the Dayton Daily News at www.daytondailynews.com
Distributed by Tribune Content Agency, LLC.
---
---
---
---