Oklahoma National Guard pilot honored for staving off Taliban fighters in little-known 2018 battle
by
Chad Garland
Stars and Stripes
December 9, 2021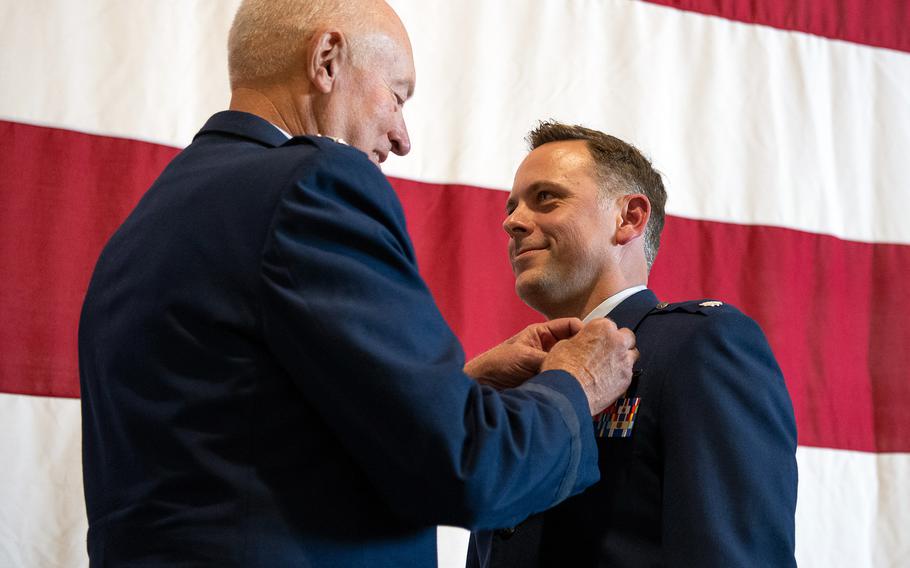 New details of a harrowing 12-hour battle in Afghanistan emerged this week as an F-16 pilot was awarded the Distinguished Flying Cross for helping to repel an elite Taliban unit during the deadly firefight.
Dozens gathered Sunday in the main hangar of the Oklahoma Air National Guard's 138th Fighter Wing to honor Lt. Col. Michael "Fist" Coloney, more than three years after the actions that earned him the nation's fourth-highest medal given for valor.
In an awards ceremony speech, Coloney called April 30, 2018, "a very stressful day."
"I could have used some Gold Bond powder," he added.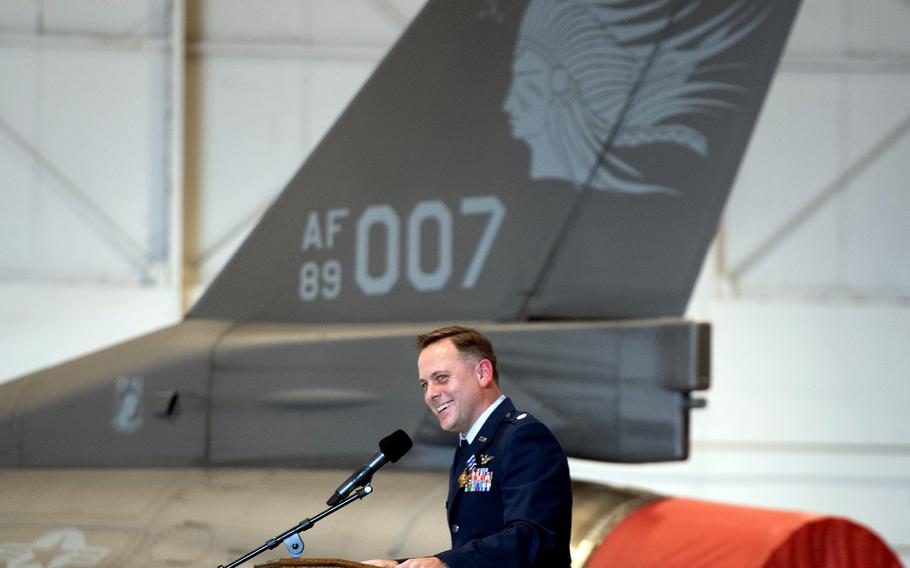 On that day, Coloney provided five hours of "dynamic and concentrated-danger close attacks" to support embattled special operations troops fighting alongside Afghan counterparts, Col. Ryan "Coma" Jones said. 
Commanders on the ground later attested that Coloney's actions that day saved American lives.
But there was no ignoring the fact that the awards ceremony came just three months after the U.S. withdrew from Afghanistan as it fell back into Taliban hands.
"It certainly wasn't the outcome that any of us had hoped for, that we worked for all those years," Brig. Gen. Derek O'Malley said in recorded remarks played at the ceremony. "But honoring Fist today, it's good for us. It reminds us that what we did there mattered."
At Jones's urging, the general had helped push through Coloney's award package, which had fallen through the cracks when unit commanders swapped out sometime earlier.
It was one of many awards packages O'Malley saw in the final days of the airwing, but Jones "knew that this wasn't a typical combat sortie," the general said. Both he and Jones are fighter pilots themselves.
Coloney was serving with the 125th Expeditionary Fighter Squadron on its 12th F-16 combat deployment to Bagram in the spring of 2018, a time of fierce fighting.
But when Coloney awoke before dawn on that April day, he was merely expecting to take his wingman on an orientation flight, Coloney said in his speech. It was the wingman's first combat mission.
Within 30 minutes, they'd be called to support ground troops in a firefight, and within two hours his wingman would drop ordnance in combat for the first time, a 560-pound GBU-38 guided munition.
The coalition forces on the ground had cleared the Pashakari village in Kapisa province the day before and set up in three compounds, Jones said.
But then some 80 members of the Taliban's elite Red Unit and Haqqani network surrounded them in a retaliatory attack, first with fire from heavy machine guns, AK-47s, snipers and rockets.
A second wave maneuvered to within 3 feet of the main compound and began throwing grenades over the walls.
A senior airman attached to the Special Forces team called for "lethal air support," Jones said. Coloney and his wingman were the closest to the fight.
But because the F-16 pilots hadn't previously been tasked with supporting them or received mission materials, they first had to get situational awareness, and quickly.
Complicating that were "ineffective" communications streams to the ground forces, Jones said, so Coloney made several low passes to break up the Taliban attack and get a better idea of friendly positions.
Coloney then made a high-angle strafing run, giving him time to dial in on the Taliban positions, two of which he and his wingman then destroyed with bombs.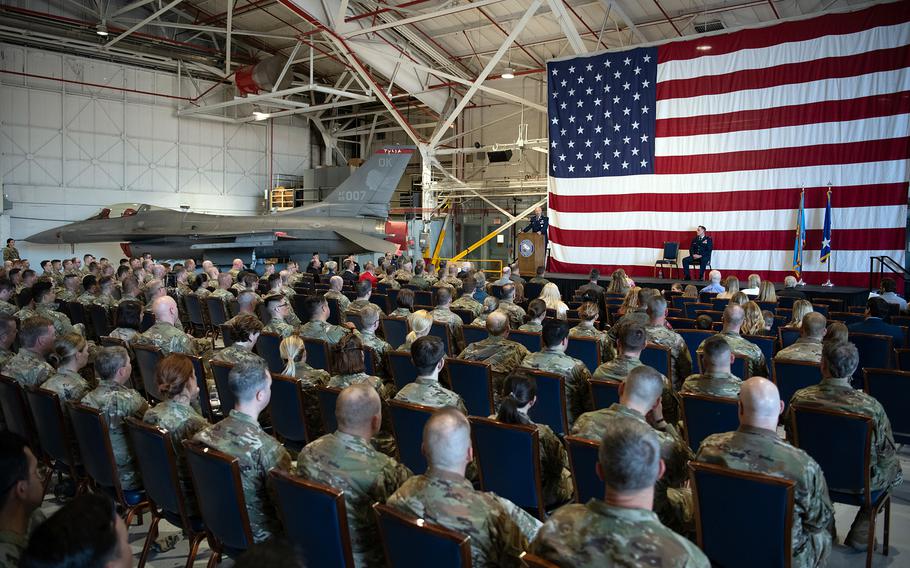 The strikes gave coalition forces the chance to regroup. Meanwhile, "a new onslaught of enemy fire" was preventing medical evacuation helicopters from retrieving at least eight wounded troops.
Coloney set up for more strafing runs and coordinated with attack helicopters to provide cover for the pinned-down friendly forces.
Justin Prack, the combat controller, who is now a staff sergeant, then told the pilot they'd lose radio contact when some of the troops moved through 100 meters of enemy fields of fire to consolidate their positions.
Prack designated anybody moving toward them as hostile and gave Coloney clearance to engage them so long as he did so outside danger-close range for his weapons.
For the next two hours, Coloney worked with the reconnaissance aircraft to identify enemy positions and repeatedly strafe within the populated village.
During the firefight, Army Spc. Gabriel D. Conde of Colorado was killed and one other American soldier was wounded.
But Coloney's overwatch and coordination when they all moved into one compound prevented more casualties and allowed for resupply and evacuation, giving them "a pathway home that distressing day," Jones said.
Several Afghans were also killed or injured, officials with the U.S.-led NATO coalition said in the days after the battle, though military officials declined to provide details about the operation at that time.
A father of two, Coloney enlisted in the Oklahoma Air National Guard in 2005 and was commissioned the following year.
He's clocked over 2,200 hours in the F-16 and is a third-generation fighter pilot. His grandfather flew P-51 Mustangs over Europe during World War II.
Coloney thanked his father, who was in the audience at the awards ceremony, for instilling in him the fighter pilot ethos. The elder Coloney flew F-4s out of Hahn Air Base in Germany and F-5s as an aggressor pilot out of RAF Alconbury in England.
He also thanked Prack, the combat controller, noting that they knew each other only by callsigns the first time they met.
While Prack was dodging bullets and grenades, Coloney was over a mile high above him, he said, but "we had instant and absolute trust in each other."
"Unlike most friendships, we didn't have the time to get to know each other," he said. "At the time, we only cared about making a bad situation better."
---
---
---
---