Flight chief at Ramstein draws notice with flag-bearing distance runs in memory of friend
By
Stars and Stripes
December 8, 2021
---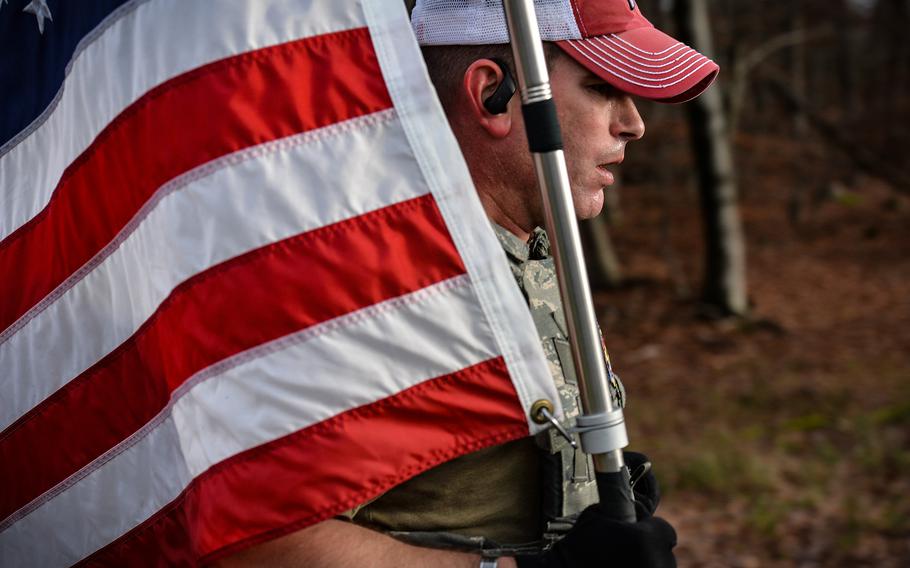 RAMSTEIN AIR BASE, Germany — During breaks on most days, Master Sgt. Trevor Derr grabs his American flag and heads out from the hangar where he works to go for a 3- to 5-mile run.
A photo of Derr, the flight chief for the 721st Aircraft Maintenance Squadron, running on a cold, rainy day was recently posted on a local military spouses Facebook page, where people lauded his dedication with 582 likes and 49 supportive comments.
But Derr wants people to know that his commitment "is more for the cause" than for him personally. Derr runs to honor Tech. Sgt. Daniel Swaney, a friend who died by suicide in 2015 while suffering from post-traumatic stress disorder.
"I just run to keep his memory alive ... and to do whatever I can to raise awareness to help our veterans out there that are going through a tough time," he said.
The idea to run for Swaney evolved from a lofty New Year's resolution Derr made in 2018 to run 1,000 miles in a year. That goal became unattainable, though, because of work, school and family commitments.
"I needed a motivator," he said.
Derr and Swaney met in 2004 at Shaw Air Force Base in South Carolina. They bonded while working as F-16 mechanics. Swaney was "one of those guys always willing to help regardless of the job," Derr said.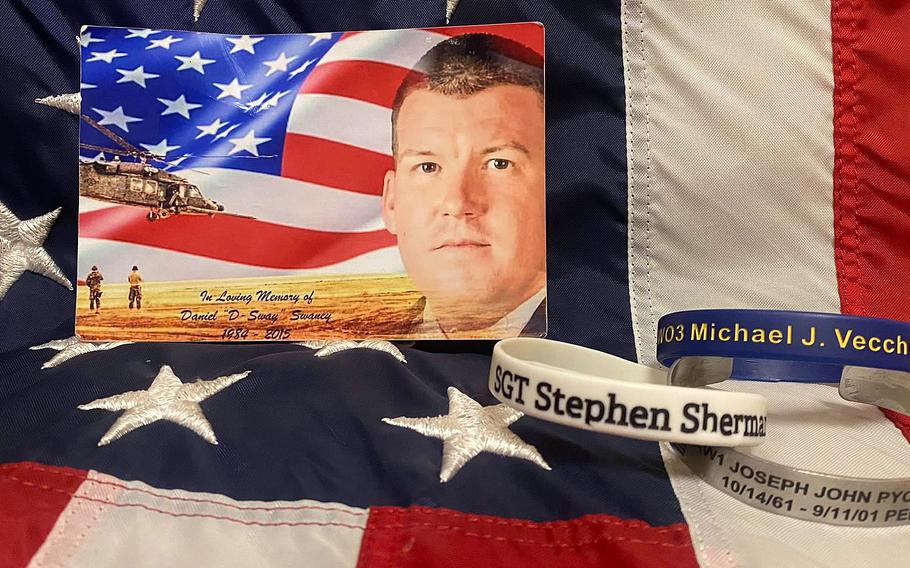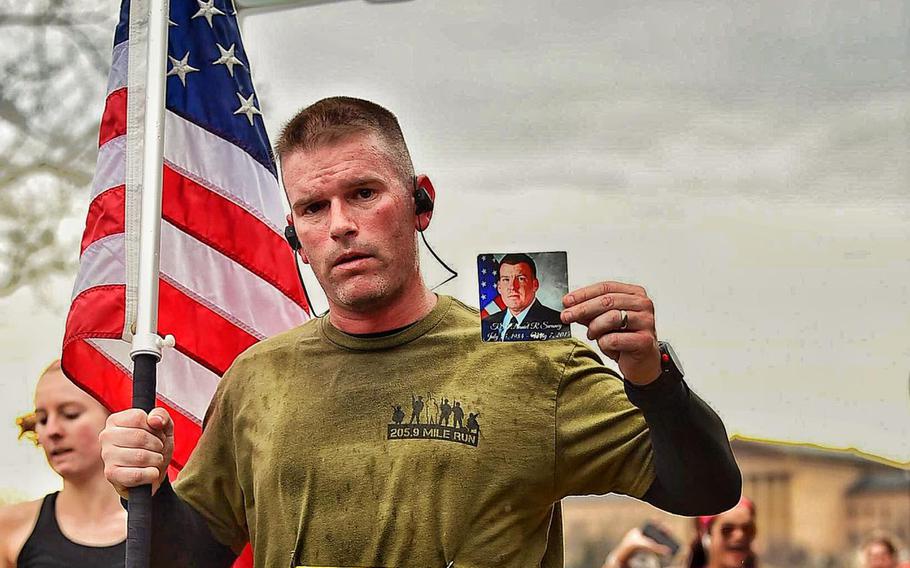 Swaney retrained as a helicopter flight engineer and flew with Air Force combat search and rescue teams.
When he returned to Nellis Air Force Base in Las Vegas after his second deployment to Afghanistan in January 2015, his life started to spiral out of control, his mother, Kathy Williams, told Stars and Stripes.
"He had a very difficult time there and came back broken and depressed," she said.
He sought help from mental health professionals and "was immediately grounded from flying, lost his job at the squadron and was given a desk job facing a khaki wall," Williams said. "He felt everything he had done and trained for was wasted."
Swaney died May 7, 2015, three days before Mother's Day. He was 30 years old.
"I am so thankful for Trevor and proud of him for his efforts to bring PTSD into the forefront to educate the military and hopefully bring about much-needed change," Williams said.
Derr thinks a "peer-to-peer program" that trains airmen to talk to someone in their unit who needs help would be beneficial.
The program wouldn't replace base mental health counseling but would provide "an outlet that the person is familiar with, not just a 1-800 number to call and talk to someone," he said.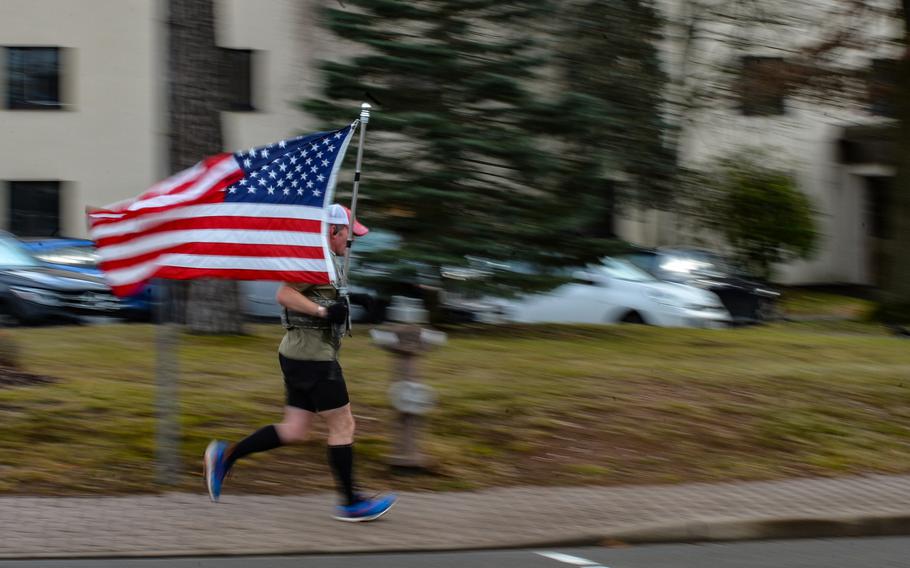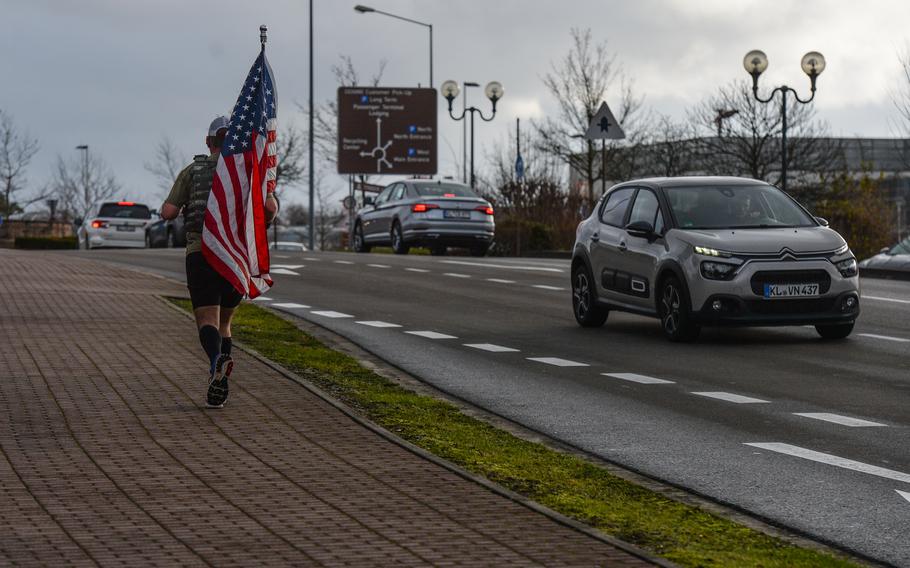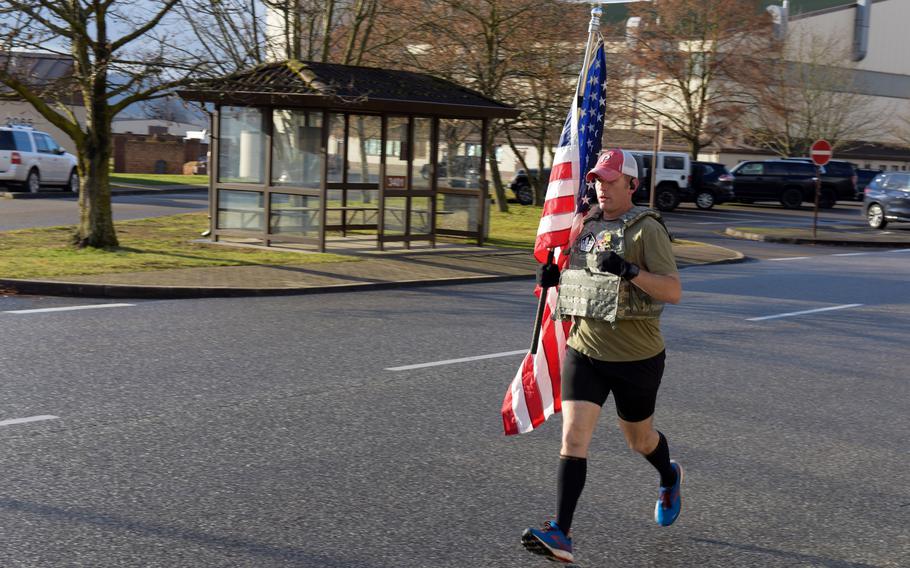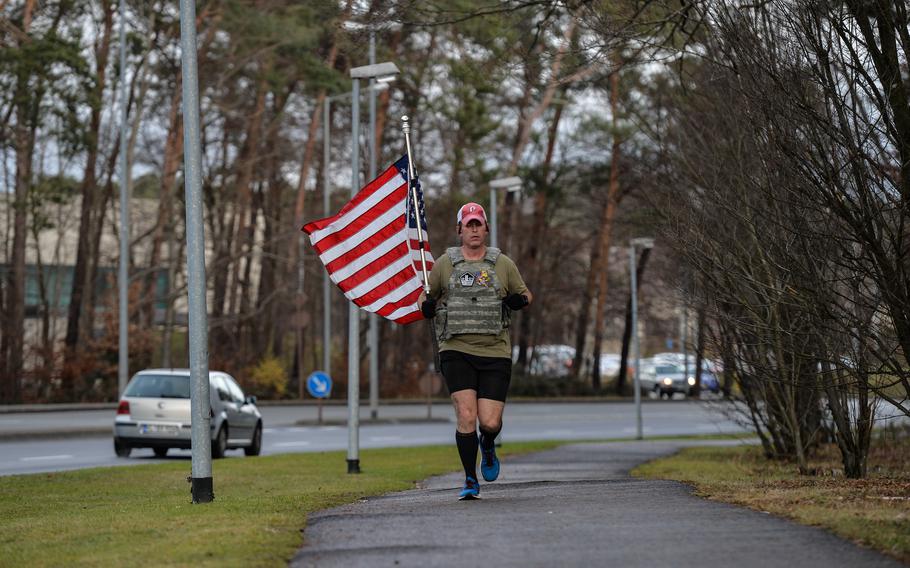 His idea was pitched to the Air Force resiliency team at the Pentagon a few years ago but wasn't adopted, he said.
"In the military, we see each other almost every day," he said. "If something's not right ... I would hope someone would say, 'Hey, let's talk' or 'Is everything OK?'"
Running for his friend with Old Glory over his shoulder has powered him through hundreds of miles at Dover Air Force Base, Delaware; through sub-freezing temperatures at Thule Air Base in Greenland; and dreary winter days at Ramstein, where he's been stationed since August.
"I always tell myself a full heart will keep the legs moving," he said.
---
---
---
---