Massachusetts senate passes bill that could help bring F-35 jets to Barnes Air National Guard Base
by
Jim Kinney
masslive.com
October 21, 2021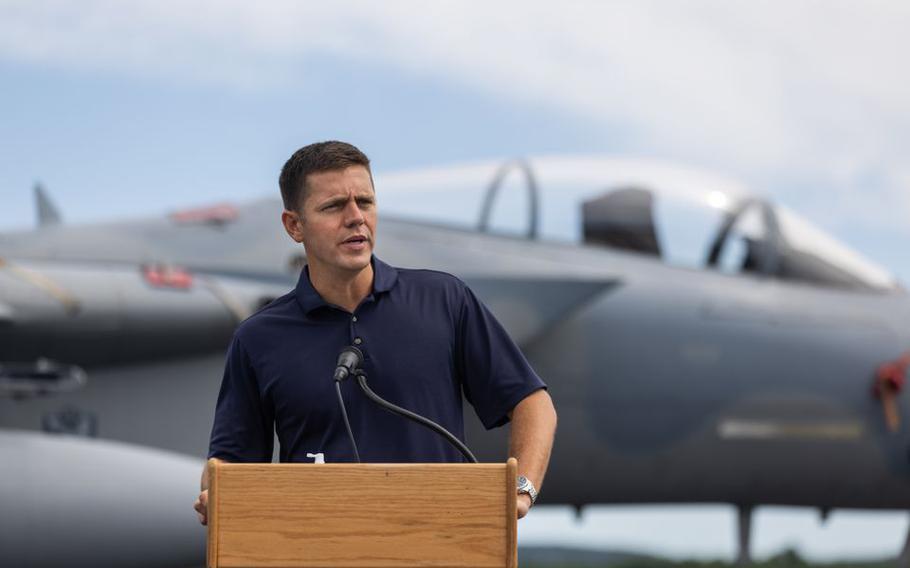 BOSTON (Tribune News Service) — The state Senate passed a measure Thursday that makes it easier for military families relocating into the Commonwealth, and by doing that make Westfield and its Barnes Air National Guard Base an attractive place to station the latest F-35 fighter jets.
The measure, backed by state Sen. John C. Velis, D-Westfield, now goes to the state House where a similar bill has already been OK'd in committee.
"I strongly believe that there is more we can do for the spouses and children of service members who also call Massachusetts their home. Anyone who has worn the uniform or has a family member who has worn the uniform knows that the sacrifice of military service goes far beyond the individual service member," Velis, a member of the Army Reserves, said Thursday. " These families have made their own great sacrifices."
Gov. Charlie Baker has a similar proposal that would create a series of interstate licensure compacts.
Velis' bill, modeled on what the Pentagon wants to see as it makes multimillion-dollar decisions about what goes competing bases, would:
— Require Massachusetts agencies to inform service members or their spouse within 30 days if an application for licensure is approved or does not satisfy the requirements.
— Require Massachusetts Commissioner of Education to issue a military spouse a valid certificate for teaching if the spouse holds a valid teaching license from another state. The temporary certificate would be good for three years and would be counted toward receiving a teacher's license. However, these teachers will still need to pass the Massachusetts certification test.
— Waive proof of residency requirements for school enrollment of military children, letting them register for classes and enroll at the same time everyone else does.
— Create Purple Star school districts that are "military kid friendly" with resources and points of contact for military families.
— Close a loophole that made it hard for military families to take advantage of in-state tuition.
"This legislation is not only the right thing to do for our military families, it is a signal to our Federal Officials that we have our military members' backs and that Massachusetts is a viable state for future investments," Velis said.
In 2020, Barnes Air National Guard Base and its 104th Fighter Wing were included on a short list of candidates for new aircraft to replace its aging F-15C fleet. The possibilities are the better F-15EX planes or the latest F-35As.
The Air Force says it will replace the current F-15 fighters at Barnes and at other bases — Fresno Yosemite Airport in California and Naval Air Station Joint Reserve Base New Orleans — with either F-15EX planes or, preferably, the F-35As.
The bill also helps Westover Air Reserve Base in Chicopee and the state's other bases — Fort Devens, Hanscom Air Force Base, Joint Base Cape Cod, the U.S. Army's Natick Soldier Systems Center — compete for new roles and federal investment, Velis said.
Westover and Barnes are reserve and National Guard bases, but they require active duty service members who often move around. There are 4,382 active-duty service members with collectively 2,285 active-duty spouses and 3,827 children.
©2021 Advance Local Media LLC.
Visit masslive.com.
Distributed by Tribune Content Agency, LLC.