Texas-based Air Force agency converting to mostly telework in 'Office of the Future'
by
Rose L. Thayer
Stars and Stripes
October 21, 2021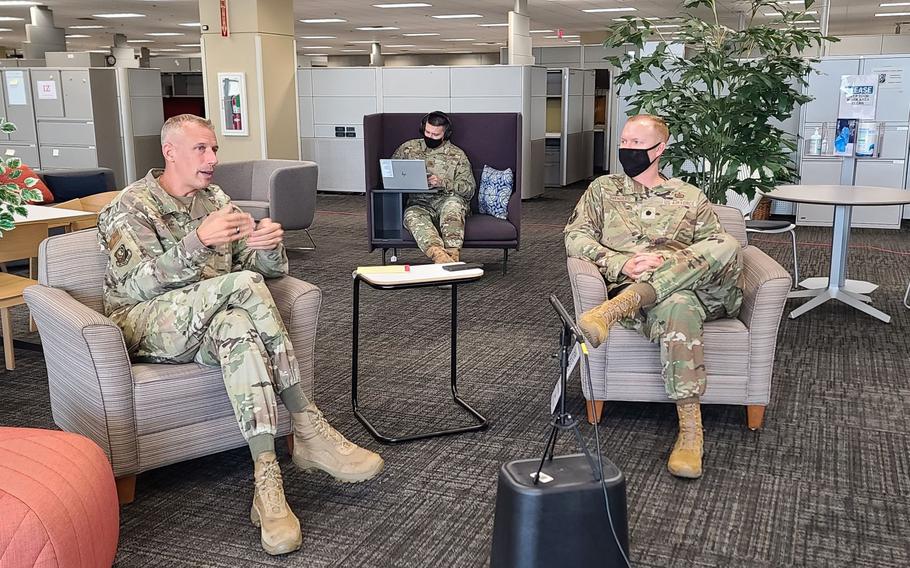 Before 2020, Candice Velazquez had the option to telework one day a week with her job at Joint Base San Antonio, Texas. She declined.
"I was dead-set against it. I was one of the ones holding out, I didn't want to do it," said the retired Air Force reservist who has spent the past 22 years in civil service. She'd spent her entire career going into an office and saw no reason not to continue doing so.
After the coronavirus pandemic forced her to work from home, Velazquez, a government information specialist with Air Force Installation and Mission Support Center, or AFIMSC, said she was happy to learn the agency is retooling to become up to 70% telework. She now only goes into the office when the work of the day requires it — about twice a week.
She said working from her home limited distractions and interruptions, allowing her to complete work at a faster pace.
Throughout AFIMSC, supervisors were noticing that many employees were like Velazquez, meeting the same standard of work, but from home — and they were happy to be there.
"What we found over time … was that we were very successful if not as successful working from home, as we were when everyone came into the office every single day," said Col. Kevin Mantovani, AFIMSC vice commander. Without the pandemic forcing the agency to switch to telework, he said the plan to keep the majority of personnel working from home might never have been taken seriously.
"For the government, it was probably a bridge too far to say, 'Hey, we wear uniforms, and we're going to work from home,'" he said.
Following guidance from the Department of the Air Force released in May to incorporate more telework options into the post-pandemic workspace, AFIMSC is hoping to create and test a model that can be incorporated at other service agencies and bases where the local mission allows for it.
Positive impacts of telework were seen across the Defense Department, according to a March report from the Defense Department inspector general. Of more than 54,600 survey respondents, 88% said their productivity level remained the same or increased during telework, regardless of any initial challenges faced when adjusting to the sudden shift in operations. About two-thirds of respondents said they'd like to telework regularly in the future, with many citing benefits such as commuting less often, better work-life balance and more flexibility in their work schedule.
However, the Defense Department has not issued any specific guidance to the services regarding telework.
'More efficient'
AFIMSC oversees and provides support operations to 78 Air and Space Force bases around the globe and employs about 3,200 people. Of those, about 2,000 work from offices at Port San Antonio, formerly Kelly Air Force Base, and about two-thirds are civilians tasked with base services such as civil engineering, financial management, logistical readiness and security forces.
Velazquez wasn't alone in her reservations about telework — or her change of heart. As employers gauge how, and if, to bring personnel back to an office environment as the coronavirus pandemic loosens its grip on American society, they must also understand many employees are happy at home.
Early in the pandemic, Velazquez said she purchased a desk and a new chair and carved out a work area in her home. Without her 30- to 40-minute commute, she starts the workday earlier, usually at about 6:30 a.m., takes an actual hourlong lunchbreak, then ends the day by 4 p.m.
During work breaks, she said she cooks her own meals instead of eating fast food lunches at a desk and uses quick household tasks, such as ironing, to clear her head when she's stuck on a work problem or struggles to organize her thoughts to write a memo. It clears her head and allows her to refocus, she said.
Velazquez's job is centered on filling information requests, mostly through the Freedom of Information Act, and it requires she go into the office to sort through classified paperwork. As telework continued, she found the days she went into the office were more productive than in the past. She entered the building with set goals and achieved them quicker.
"It gave me time without the stressors of the office to review everything and it helped me to be more efficient," Velazquez said.
While there are some cost savings included in reducing the physical space required to provide everyone a desk, it's also about retention of personnel, said Lt. Gen. Brian Kelly, Air Force deputy chief of staff for manpower, personnel and services, who in May released a statement on the service's expanded telework policy.
"Telework and remote work provides additional tools and options to help us recruit and retain the right talent to compete in the high-end future fight," he said. "We recognize the value these flexible work arrangements can have, in some circumstances, to enhance work-life balance and maximize organizational productivity."
About 54% of employed adults said they would like to continue telework once the pandemic ends, according to a Pew Research Center poll released in December. However, the poll also found there are some people who said they faced difficulties, such as finding adequate workspace, having the technology necessary and feeling motivated. This is, in part, why Mantovani said AFIMSC will move forward with a hybrid approach.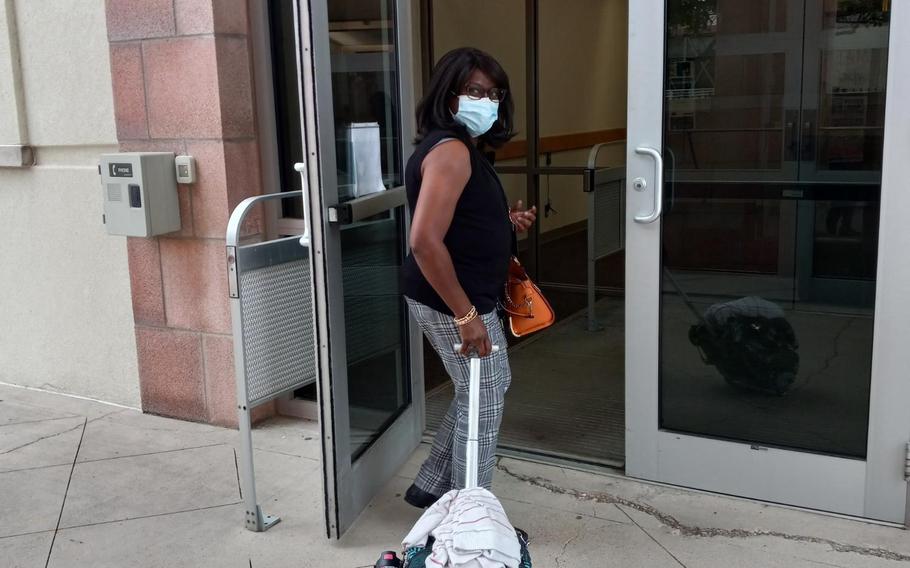 He said he is also aware that some jobs just don't allow for workers to be at home even part of the time. There's no "one-size-fits-all," he said. He's asked leaders in various departments and sections of AFIMSC to coordinate with personnel to create a plan and adjust and adapt as needed.
Prior to the pandemic, AFIMSC was looking at plans to expand the number of desks in its 130,000-square-foot headquarters to accommodate more workers. Now, Mantovani said they have scrapped those plans and started a new plan to make the office more open and sharable.
First thing to go, about 100 cubicles, with more to follow.
They've removed assigned spaces for the majority of employees and created "hotel" desks that people can reserve for the days that they plan to come into the office. Otherwise, they can work freely from an open area with a variety of chairs, tables and small booths that offer varying degrees of privacy.
Personnel can also book conference rooms and certain collaborative spaces to bring together teams and host in-person meetings as the pandemic conditions allow for more group settings.
Renovations are ongoing as AFIMSC waits for furniture deliveries and a few technology updates, but personnel are already taking advantage of the new concept, Mantovani said.
'Move fast and experiment'
Named the "Office of the Future," Mantovani said they will continue to adapt the space as employees provide feedback on what they like and what they don't.
"You know the Department Defense keeps saying, innovate, innovate, innovate. Move fast and experiment. This is our culture now. It didn't used to be this way, so I think the culture plus the pandemic encourages us not to have it 100% right on day one," Mantovani said.
Because AFIMSC oversees bases, he said he knows they aren't alone in navigating through this new telework environment. As a headquarters, they want to provide guidance to other bases and offices as quickly as possible, he said. Mantovani has fielded calls from other Air Force offices to give advice, share ideas and collaborate on telework.
"We're trying not to let everybody reinvent the wheel. Let's work together and figure it all out together. What works? What doesn't?" he said.
The challenge is making certain everyone at AFIMSC feels like a valued member of a team, he said
"The culture and the camaraderie has been absolutely hurt by telework," Mantovani said. "In our minds, it has to be hybrid. In order for us to create that culture that we enjoy in the military, that you're part of a higher purpose, you have a mission."
Velazquez, who leads the training team in her section, said they've been able to maintain a sense of camaraderie through video conference meetings and off-site meetups that could move into the open-office environment once it's complete.
"You appreciate the time, the off-sites, when we all get together to talk," she said. "As far as the team concept, we still have it."