B-1 bombers deploy to Diego Garcia in Indian Ocean for first time in 15 years
by
Wyatt Olson
Stars and Stripes
October 20, 2021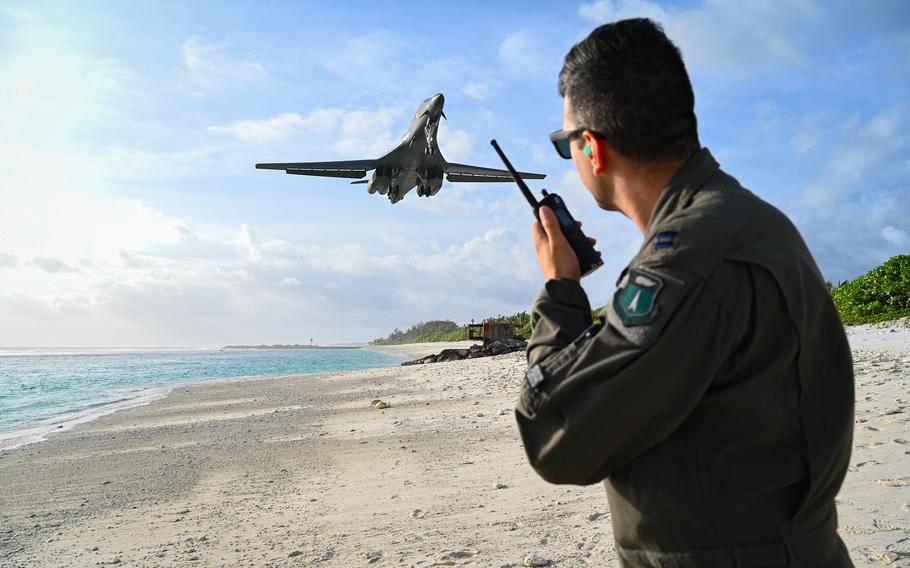 B-1B bombers and about 200 airmen deployed recently to the island of Diego Garcia in the center of the Indian Ocean, the first time Lancers have operated there in over 15 years, the Air Force said Tuesday.
The bombers arrived late last week to support Pacific Air Forces' continuing Bomber Task Force mission, the service said in a news release Tuesday.
Lancers of the 28th Bomb Wing flew from Ellsworth Air Force Base, S.D., to Naval Support Facility Diego Garcia, the Air Force said.
Citing operational security, Pacific Air Forces declined to specify the number of bombers sent to Diego Garcia, which is a territory of Great Britain, or how long the deployment would last.
Airfields in Diego Garcia and Andersen Air Force Base on Guam are key hubs in the Air Force's effort to maintain a bomber presence in the Indo-Pacific region.
The bomber missions demonstrate America's commitment to allies and partners through the employment of military force, the Air Force said.
Sorties flown during the deployment support differing objectives of geographic combatant command and training requirements.
The task force missions are an "opportunity to showcase the unmatched range, speed and lethality of the B-1," Lt. Col. Ross Hobbs, 37th Bomb Squadron director of operations, said in the news release.
"It's been over 15 years since B-1s have operated out of this location and the 37th Bomb Squadron is beyond proud to be back," he said. "We are extremely grateful for the opportunity and well prepared to meet our nation's call."
Great Britain forcibly expelled the native inhabitants from Diego Garcia beginning in the late 1960s to establish a military base on the island for British and American forces.
Former inhabitants have sought to regain control of their former home, and in 2019 the International Court of Justice in The Hague ruled that the U.K. had not legally separated Diego Garcia from Mauritius in 1965.
The U.N. General Assembly subsequently ordered the U.K. to help resettle Mauritian nationals to the island.
---
---
---